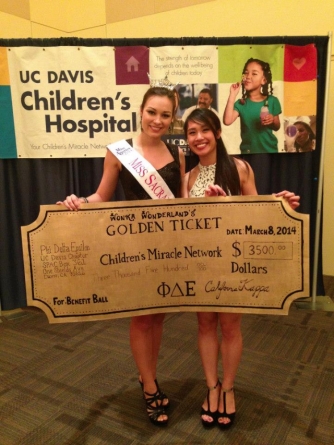 UC Davis produces Miss Sacramento County winner, again
According to Ashley Ott, a fifth-year cell biology major at UC Davis, expectations are high for contestants in the Miss Sacramento County pageant. This year, Ott came the closest to meeting them, as she is the fourth UC Davis student in a row to win the competition.
She continued the relationship between Davis and the pageant, which includes a history of winners and finalists from the school, as well as a connection with charitable organizations that are active on campus.
The history of UC Davis students competing in the pageant has been motivated by two key factors. The first involves money. The Miss Sacramento County program director, April Smith, said the Miss America program gives out over $45 million a year to contestants, and Ott said that it is the largest provider of scholarships to women in the world.
Ott won over $2,000 this year alone as a contestant, and a total of about $3,000 in the two years she's been competing. A portion of that was from winning, the rest was from individual achievements within the competition.
"I got additional scholarships for getting top interview, community service and academic achievement awards," Ott said.
The second factor is the students' involvement in their platforms. Smith said the organization is partnered with the Children's Miracle Network (CMN), which functions on campus as part of the UC Davis Children's Hospital.
Ott said she has been raising money for CMN for the past five years, even before she began competing and working with them on her platform, "Trading Cope for Hope." Her goal is to work with CMN to help kids with cancer. She said she hopes to go to med school and plans to focus on pediatric oncology.
Julianna Johnson, a fourth-year human development major, won the competition in 2012. Although she stated that the scholarship was a motivation for competing, she too appreciated the opportunity to get involved with charitable organizations and promote her personally chosen platform.
"Having the title of Miss Sacramento County opened a lot of doors for me, and I was able to work closely with the UC Davis Children's Miracle Network, the Salvation Army and the One Sight Organization," Johnson said.
Two years after winning, Johnson still works with the One Sight Organization on her platform "The Gift of Sight."
"So far I have collected and donated over 740 pairs of prescription eyeglasses, originally valued at more than $210,000," Johnson said. "All of these glasses have been hand delivered to patients in the United States, Ghana, Gambia, Paraguay, Mexico, India, South Africa and Thailand. I continue to collect glasses at the 'donation locations' I have set up in various optical clinics and hospitals in the Bay Area and the Sacramento region."
Ott and Johnson credit both the Miss Sacramento County program and UC Davis for their opportunities to achieve.
"A huge component of becoming Miss Sacramento is promoting your platform, being involved in student activities and using your involvement to help the community. And I think UC Davis provides those opportunities," Ott said.
Although both students believe the school has helped them to win the pageant, Smith believes there is another way to view the cause and effect relationship.
"I think the UC Davis students do so well because they are so prepared," Smith said. "Typically, in order to get into UC Davis you have to have good education and organizational skills and this carries over to this program."
The preparation required is the source of the high expectations Ott mentioned.
"They want someone who's extremely smart," Ott said. "They want someone who's really driven, who's done a lot of philanthropies and they [have] this unrealistic expectation of what a woman should be. And they're not telling us to become that, they're telling us to strive towards achieving greatness in all areas of your life."
The competition consists of multiple, differently weighted stages. Contestants are expected to appear physically fit and express a sense of confidence and attractiveness.
"We have the fitness competition which, though it's controversial, I personally appreciate, because it's taught me how to eat better and how to treat my body with respect," Ott said.
The contestants should also be able to demonstrate a talent.
"I practice piano every day for at least an hour or two," Ott said.
They are also tested on their communication skills and their knowledge of current events.
"I have to remain aware of what's going on," Ott said. "I think what's cool about this organization is that they don't really care what opinion you have, they just want to make sure that you are aware and you do have an opinion and that you can translate and communicate your opinion to an audience."
Ott is currently preparing for the next step in the pageant circuit. She will be competing for the title of Miss California this June.
 NICK FREDERICI can be reached at features@theaggie.org.
Courtesy photo.