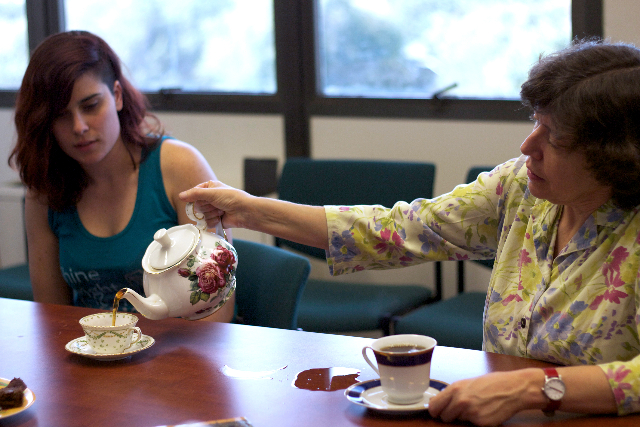 Every Tuesday afternoon in the Walen Lai Library on the seventh floor of Sproul, the tallest
building on campus, the Department of Religious Studies holds a small gathering complete with
tea, biscuits and conversation.
Originally started ten years ago by religious studies Professor and Department Chair Naomi
Reshotko, the Tea Meeting has since grown to accommodate regular and new drop-in students
and professors on a weekly basis in Sproul Hall.
"It's a common tradition to have time set aside in the afternoon for tea," Janowitz said. "There
is no limit to the time you spend working while being a student or a faculty member, so this is a
way to break away from that dilemma."
Though the tea events are open to all, most of the attendees are affiliated with the Religious
Studies Department. The goal is to create a dialogue between professors, faculty members and
undergraduates within the major's department.
"You don't meet people in classes normally, you probably meet people in the dorms, or as
roommates, or if you are a member of a club," said Director of Middle East/South Asia Studies
(ME/SA) program Baki Tezcan. "There is really no opportunity to meet fellow students in an
environment that is related to the university in an educational setting."
According to Janowitz, many students have a hard time carving out time to meeting faculty,
and when they do, they feel intimidated by attending office hours just to chat. The tea meetings
provide a low pressure environment for students to engage with professors without feeling like
they have to talk about something school-related. Janowitz said that students who engage more
with professors are generally more connected to campus life.
In a laid back and relaxed environment conducive to discussion, the Tea Meeting hosts
anywhere from five to 30 people each week over tea and baked goods. Tezcan said topics
discussed during teatime vary from California politics to daily issues and general questions
pertaining to religious studies courses.
"I think it could be thought of an opportunity to network, but that was not necessarily what
we had thought of [initially]," Tezcan said. "We thought it would be good to meet faculty and
students. If people who aren't in the major decide to join Religious Studies, we would be very
happy."
UC Davis Religious Studies alum, and last year's Tea Server for the event, Francisco Ortega,
said the tea event was one of the best parts of the Religious Studies Department.
"The meetings allow students to really get to know their instructors and meet other instructors in
their major," Ortega said.
Although the Tea Server position is funded by the Religious Department, other aspects, such as
the tea being served and the handing out of books, are provided by departmnetal faculty.
Ortega was inspired to attend the meetings after taking a Religious Studies course taught by
Janowitz, who encouraged her students to attend. Since joining, Ortega spent three of his years
in UC Davis as an attendee and his last year as a server, rarely missing a meeting.
"I participated more when I was not the host back in my freshman through junior years," Ortega
said. "Keeping the tea brewing, cutting and serving pastries and serving all the attendees keep
me busy so in these last few years of serving that I have not been able to discuss topics as
much."
Tezcan said that faculty members also benefit from the tea meetings, as it is an opportunity to
meet with people part of the Religious Studies Department.
"I'm fifty percent in history and fifty percent in Religious Studies. The university doesn't give
more than one office, so I'm stuck in one office," Tezcan said. "The only time I see my faculty
colleagues is during department meetings. Tea gives me a chance to see people."
The Religious Studies Department is one of the few that holds meetings for everyone in the
department, but Tezcan hopes that more departments will participate to bolster students-to-
faculty and faculty-to-faculty communication. While some other universities receive grants for
holding similar events, UC Davis does not, and it is up to the department to come up with the
money, meeting space and faculty to run the event.
Tezcan cites Janowitz as the driving force behind the meetings. He said that since UC Davis
is a research-oriented university, professors have a hard time balancing student needs and
research, but Janowitz often puts much thought into engaging students.
"In that sense, it's not unusual thing that such a thing is in the Religious Studies Department."
Tezcan said. "It is to her credit."
Photo by Katie Lin.