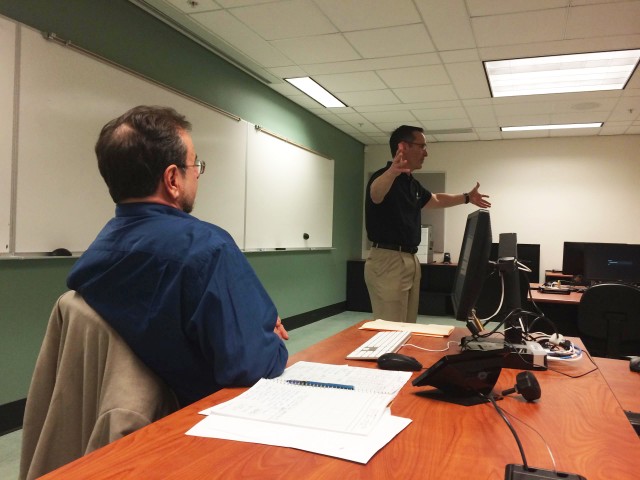 Students fervently jot down clues in their reporter notebooks as their mystery guest speaker answers questions in the University Writing Program (UWP) 111B Investigative Journalism class on Wednesday. They are determined to crack the case.
The Chief of Police from the Sacramento Police Department (SPD), Samuel D. Somers Jr. spoke to the students in a press conference style from 6-9 p.m. in a basement Shields classroom discussing topics among which included the decrease in Sacramento crime rates, the effect of technology on criminals and the police, gun control and mental health in the police force.
"You can't arrest away a problem," Chief Somers said in response to a student question on the transient/homeless community in Sacramento, which has seen an increase in recent years.
During his talk Somers shared his career path as a police officer. He was promoted to Chief of Police of the SPD in Feb. 2013. He has served in the police force for 31 years beginning his career as a Field Training Officer in January 1985. He graduated with a B.A. in communications from Sacramento State, later graduating with a  Masters from California State University, Long Beach. Chief Somers has been involved with SWAT assignments, Internal management, teaching, and served as the Director of Homeland Security for the Urban Area Security Initiative (UASI) for the Sacramento Region. He also has three daughters, one of which is a Journalism major at California State University, Chico.
The Investigative Journalism class is taught by lecturer Stephen Magagnini, a longtime writer for The Sacramento Bee who has taught journalism to college students since 1988.
Chief Somers closed the three-hour dialogue listing the many diverse opportunities that working for the SPD offers — be it in the media, management, technology, public relations and generally serving the greater Sacramento community.
Photo by Anisa Bashiri