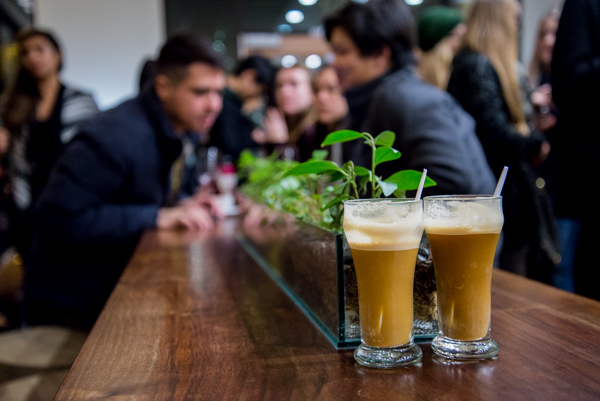 Temple Coffee Roasters hosts opening party for new location in Davis
Temple Coffee Roasters, with their unique take on coffee, has arrived in Davis. Residents from across town flocked to the well-lit café, located at 239 G St., for the Opening Party held on Nov. 11.
Complimentary beverages, a live jazz band and a photo booth were just some of the festivities  showcased during the event.   
"We're doing something different that Davis hasn't seen before. We're very quality focused — we buy the top percent coffee in the world and we're really excited to bring it to Davis," said Cole Cuchna, Temple Coffee's director of Creativity and Barista Education.
Temple's unique dedication to slow-drip brewing and large selection of coffee beans from around the world shows that quality is the name of the game. Memorabilia displayed around the café highlights the strong relationships Temple has built with their trusted bean farmers.
Temple currently has three cafés already in Sacramento and a fourth planned to open in the next year.
"Davis is our next-door neighbor.  It seemed like a natural fit, and we thought there was a need for us here," Cuchna said.  "There is no one doing it how we do it."
There was much hype surrounding the Opening Party, as many eager customers formed a long line outside of the café.   
"It's about time a place like this [came] to Davis," said second-year economics major Jacob Glazer.
Temple is well-known for their large variety of coffee beans and dedication to perfection.
"It's nice to see a cafe respecting coffee from around the world.  Temple is a perfect place where I can be with my thoughts," said second-year chemistry major Eugene Lee.
It appears that Temple Coffee Roasters has already found a niche in the hearts of many Davis residents and is proving to be an outlet for casual coffee drinkers as well as java junkies alike.   
Written By: TRISTEN THALHUBER – citynews@theaggie.org