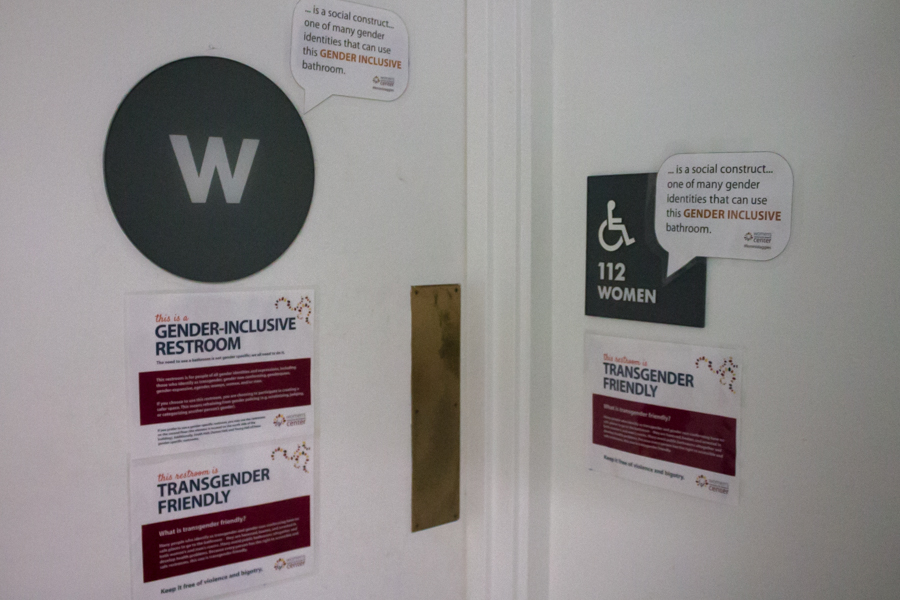 Massive change part of UC President's plan to create more gender-inclusive facilities across all UCs
By March 1, UC Davis expects to convert 83 of its on-campus single-stall bathrooms into gender-inclusive facilities, which is part of a system-wide plan called the University of California (UC) Guidelines for Providing Gender Inclusive Facilities — a project that UC President Janet Napolitano and her LGBT advisory panel have worked on since June 2014.
According to UC Davis Provost and Executive Vice Chancellor Ralph Hexter, who served as co-chair of the UC Presidential LGBT Task Force and is currently a member of the LGBT Advisory Council that meets with Napolitano, the conversion of single-stall bathrooms to gender-inclusive facilities is just one recommendation made by the council that is currently in action at UC Davis.
"Other recommendations include asking people to identify sexual orientation and gender identity when they apply to a UC, so we can track data on those demographics," Hexter said. "We are also urging that sufficient attention be paid to the medical and mental health issues of all members of our community, including [LGBT] populations, because there are a lot of problems that our healthcare providers need to be aware of and prepared to deliver to our students."
According to Hexter, he was not involved in the facilities management process to meet the March 1 deadline to change the single-stall bathrooms into gender-inclusive facilities, which made him impressed that other members of UC Davis faculty are working to execute this plan on their own. To Hexter, this independence shows the LGBT council's impact across UC faculty.
"The counsel is made up of experts from the UC community who would offer the best advice for policies on improving the climate of LGBT faculty, staff and students," said Kate Moser, a spokesperson for the University of California Office of the President (UCOP). "UC campuses have been ranked among the most LGBT friendly campuses in the country."
Specifically, at UC Davis, Project Manager Brandon Chan is working with the university's facilities management department to convert at least one single-stall restroom to a gender-inclusive facility in approximately 120 buildings. According to Chan, the bathrooms will be on UC Davis' core campus as well as in the Health Sciences District. Additionally, he said that the bathroom door will have a sign with a circle and a triangle, accompanied by the word "Restroom" under it or a wall sign that simply states "Restroom."
"The scope of restroom conversion is replacing the exterior signage and installing door hardware if necessary to make it a private lockable space," Chan said. "The sign will not contain pictograms, unisex terminology or the phrase 'Gender Neutral.' We don't want to limit the space to any sort of [gender] classification. We just want to leave it to what it is: a restroom that anyone can use."
The absence of gender indicators in the restrooms' signage is meant to be inclusive of those who are gender-nonconforming, and for small children and disabled people who may need assistance.
"The whole idea of gender-inclusive restrooms is supposed to be for a wide range of people," said Lisa Brodkey, the director of UC Davis' Harassment and Discrimination Assistance and Prevention Program. "A lot of parents may need to help their small children use the restroom, and it's an awkward situation when the parent and child are different sexes. Also, which gender-specific facility is a disabled person supposed use if they have an assistor of a different gender?"
However, Brodkey said that she has dealt with a higher number of people who have been caught in uncomfortable situations in gender-specific bathrooms in past few years.
"In recent years, we've gotten a higher number of calls from people who are looking for a restroom on campus that feels safe and appropriate for them to use," Brodkey said. "Some employees, students and faculty members don't feel comfortable using multi-gender facilities. In general, they have felt scared, offended and sometimes even intimidated."
Brodkey emphasized that this plan is not meant to create any sort of divide between gender-conforming people and gender-nonconforming people but rather meant to make UC Davis more inclusive and comfortable for everyone.
"This initiative is not designed in any way to take rights away from anybody," Brodkey said. "There aren't many spaces at all on campus for people who aren't comfortable using a gender-specific bathroom. This isn't about taking things away; this is about providing access to facilities for everybody."
Many students have responded positively to the proposed restroom changes.  
"It's really nice that [UC Davis] considered the voice of the [LGBT] community and cared enough to respond with this measure," said Adaku Ume, a post-baccalaureate biological sciences major. "I do think it shows that UC Davis supports the community that has expressed this sentiment about gender identity issues. It's a step in the right direction."
According to Elizabeth Coté, director of the LGBTQIA Resource Center, undergraduate scholars have vigilantly catalogued the existing gender-inclusive restrooms.
Single-stall restrooms are just the beginning of UCOP's plan to generate more gender-inclusive facilities. As a part of Napolitano's plan, locker rooms, changing rooms and shower rooms will be reviewed, but the current focus is on restrooms. This gender-inclusive plan will be implemented in the design of future infrastructure projects at UC Davis as well.
"We will be creating gender inclusive bathrooms for new buildings such as the International Center, the Shrem Art Museum and the [Ann E. Pitzer] Music Center," Chan said.
The emphasis of adding gender-inclusive facilities to both existing and future buildings is a major step in the process of fostering LGBT inclusivity at UC Davis.
"I think it's great that we will do away with this unnecessary division when it comes to single-stall [restrooms]," Hexter said. "It personally makes me, as a gay man, particularly proud to be part of a university that pays attention to these details at such a high level."
Written by: JULIAN LEUS – campus@theaggie.org