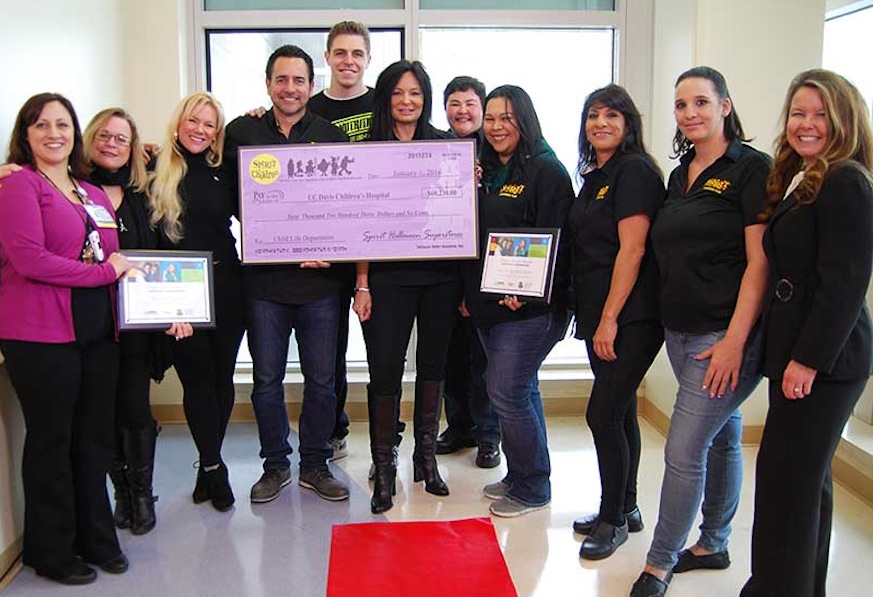 Halloween franchise to continue dedication to child-life departments in hospitals across the country.
For its sixth consecutive year, Sacramento's Spirit Halloween Superstores donated to the Child Life and Creative Arts Therapy department at the UC Davis Medical Center. According to the department's director, Diana Sundberg, this $60,230 donation is a part of the franchise's program called "Spirit of Children," which is committed to funding child life departments in hospitals across the country.
"[Spirit Halloween] actually contacted me about six years ago, asking us if we'd be interested in participating in this program," Sundberg said. "I mentioned this program at a director's conference I attended, and the other directors told me that this was a program that I could not miss out on. The first year they donated about $16,000, and at that point in time I had never received a check that large."
Shanda Pierce, who manages the seasonal store in Sacramento, said that the Spirit of Children program is meant to make hospitals "less scary for children and their families."
"The corporate headquarters in New Jersey actually came up with the program," Pierce said. "The mission of the program is to bring Halloween to children in hospitals since they can't celebrate it otherwise. Spirit Halloween gets their vendors to donate things like costumes, hats and wigs, and we hold a Halloween party at [UC Davis'] hospital every year."
In addition to offering Halloween parties for the children, Spirit Halloween provides enough costumes for patients to choose from throughout the whole month of October. Using the money from the donation, Sundberg has also created a fellowship program for child specialists.
"There are no stipulations to the donations," Sundberg said. "We could have used the money to buy more things for the hospital, but instead we chose to create the Child Life Fellowship program. This is for folks who've completed their internship to be a child life specialist, and it gives them an opportunity to gain more experience in developing programs that work with children in the hospital setting."
Sundberg said that the Child Life and Creative Arts Therapy department's goal is to make the hospital setting less intimidating for its child patients.
"Our overarching goal is to decrease the stress of hospitalization and to help children cope with the hospital environment," Sundberg said. "We celebrate holidays and events, and we use [playing] as our biggest tool to get the children comfortable. We play games that tap into their experiences and their five senses."
People in the UC Davis community were happy to hear about Spirit Halloween's generosity to the child life department.
"It's great that a nationally well-known company is donating their money to the child life department at UC Davis," said Alexandra Fontanilla, a first-year neurobiology, physiology and behavior major. "Especially for children who may not be able to have a lot of fun in the hospitals."
Pierce said that a lot of the donation money actually comes from the shoppers themselves.
"We as a company seem to get so much credit, but it's our customers who really deserve it," Pierce said. "They're the ones that come into all of the Spirit Halloween stores and purchase our products, and we get those donations one dollar at a time. In our eyes, we are giving back to the community that helps us."
Written by: Julian Leus – campus@theaggie.org