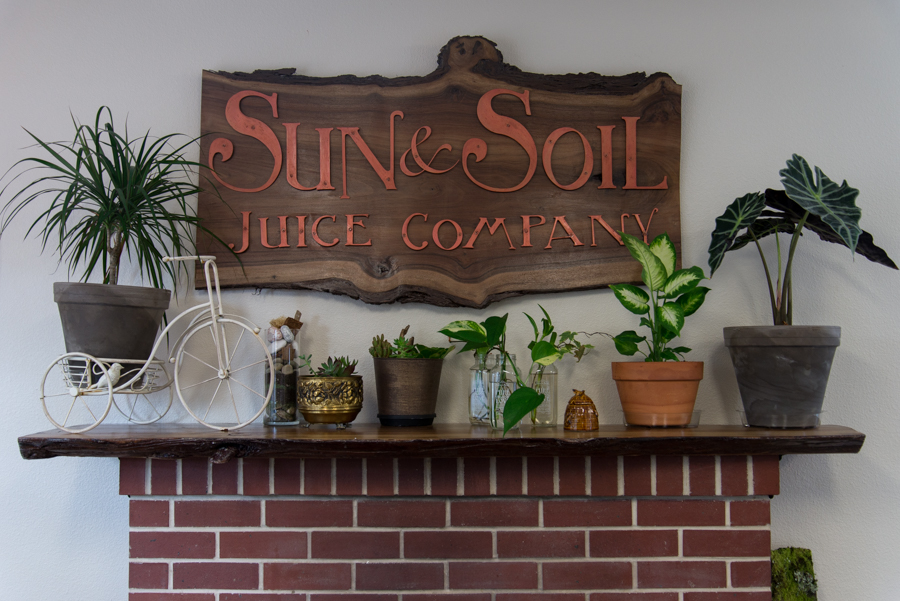 First local, all-organic juicery now open in Downtown Davis
The City of Davis gave a long overdue welcome to its first juicery in the beginning of March. Sun & Soil Juice Company, located on 527 G St. in Downtown Davis, serves local, all-organic, raw cold-pressed fruit and vegetable juices as well as house-made trail mix, granola and spices prepared using minimal heat.
After their own personal journeys toward health and well-being, co-owners Molly Brown and Tatiana Kaiser founded Sun & Soil in Sacramento in 2014. Brown and Kaiser are dedicated to helping others achieve a healthy lifestyle through their raw juices and plant-based products.
After being diagnosed with colitis, a chronic autoimmune disease, Kaiser borrowed Brown's juicer in 2012 to help digest and get the nutrients her body needed. Juicing helped Kaiser alleviate pain and quickened her healing process by about three times than is normal for the diagnosis. Soon after, Brown and Kaiser decided to bring their method of treating symptoms of colitis and promoting healthy eating habits to their community.
"We want to educate people on how to eat better, [whether] they are chronically ill or not, so they can prevent becoming sick in the future," Brown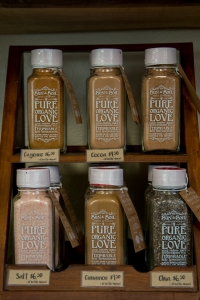 said.
Sun & Soil offers a medley of fresh fruit and vegetable juices, cashew and coconut milks, which are pressed using high pressure cold plates, as well as cold-brew coffee. Single-flavor juices are available in apple, carrot and orange. The juicery also offers two-ounce juice shots for a quick fix. Flavors include apple, ginger and turmeric as well as apple, lemon, garlic and oil of oregano immune boost for $3.50.
Sun & Soil pressed juices have no processed sugars and minimal fiber, helping the digestive system recover from consuming processed foods. The juicery also offers juice cleanses, which customers can partake in for one day or as long as five days, depending on recommendations from nutritionists or doctors.
"[The point of a juice cleanse] is to just give your digestive system a break. People tend to eat a lot of fast food and processed foods right now, so it's a good way to reboot your system and clear out some of the processed foods out of your intestines […] and give your body a nutrient-dense drink," Brown said.
According to Courtney Lee, Productions and Operations Manager at Sun & Soil Juice Company, on a typical bottling day, several hundred juices are bottled. She explains that it takes three days to complete the juicing process, from the time products are ordered, delivered, pressed and bottled.
"In cold-press, the way the produce is ground down, no heat is produced, so it maintains all of the micronutrients and phytonutrients found in the juice," Lee said. "That's the cool thing about cold-press. Not only does it not apply heat like your regular centrifuged juicers, it also pulls out more of the juice from the pulp and it allows for a long shelf life, because the juice always stays at an even temperature."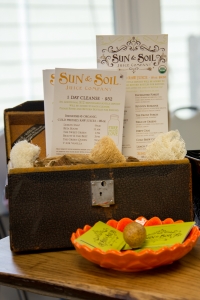 Sun & Soil Juice Company uses high quality fruits and vegetables from local farmers in Yolo County and other parts of California. All of the products used at the juicery are certified organic and non-GMO. However, according to Brown, it can be more challenging to find organic growers compared to conventional growers because organic farming is expensive and time-consuming.
"There really aren't organic options in Davis. It's not as healthy as you might think it is. It's a hippie town, but we have a lot of ice cream shops, thai food and novel foods. I know that students crave that kind of high salt, sugar, oil and carb food to help get them through finals, but that's skewed thinking. You can fill yourself with raw, organic nutrients and still get that same energy. Afterwards, you'll still feel better and you won't crash," said Ciera Gaddis, sales associate at Sun & Soil Juice Company.
Sun & Soil also wants to ensure affordability to college students in Davis and offers a punch card for customers to receive their twelfth juice for free. The juicery charges a bottle fee, pricing all the juices at $11.50, but when the bottle is returned, customers receive cash or credit back, equating the bottle of pressed juice to $9.50.
"Even though on the surface it may seem a little pricy […] these juices in a 16-ounce bottle, have a minimum of five pounds of produce," Gaddis said. "So for one or two juices, you're getting, depending on the juice, your daily allotment of vitamin C or a huge punch of B vitamins, and that's what's going to fill you."
Written by: SHIREEN AFKARI – city@theaggie.org