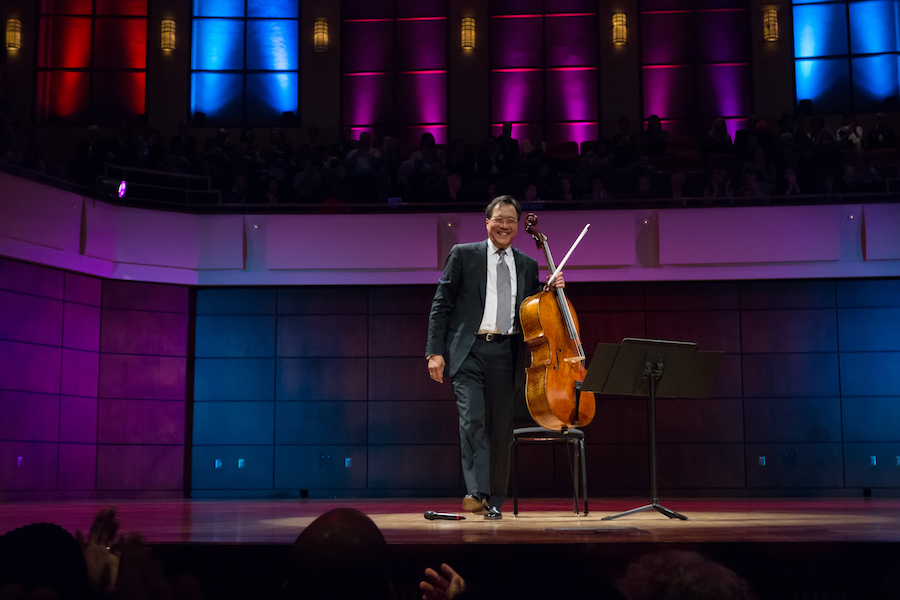 Yo-Yo Ma and Kathryn Stott play timeless pieces during their performance at Mondavi Center
Yo-Yo Ma performed at the Mondavi Center last Wednesday, May 11, bringing with him an array of enthusiastic listeners and, of course, a selection of timeless cello music rivaled only by his performance companion, the renowned pianist Kathryn Stott.
But the night brought more than two world-class musicians; I was also granted the company of a season subscriber who chatted with me during intermission. Though her commentary on Ma's increased waist size was entertaining, she mentioned more — she caught my attention by telling me about a side of Ma slightly more striking and pertinent to the night's event.
She told me of the time he allegedly brought a middle school band onto the stage during one of his performances, granting them VIP seats in place of their absent tickets; of the respect he endows all musicians, regardless of their skill level; of the graciousness that, without him uttering a single word, is so abundantly apparent to anyone that listens to him play.
For the entirety of the performance, each stroke of his bow was only more noticeably graceful and elegant, yet with a sturdiness that both looked and sounded self-assured. He paused only after the first piece to say a few words regarding one of music's powerful tools: remembrance.
Playing classic pieces like Debussy's Beau Soir and Schubert's Ave Maria, D. 839, it is not surprising that this is the message he chose to relate to the audience. With much ease, these timeless pieces brought about emotions and memories that only music could arouse; these songs brought the audience into the past without allowing them to forget their present situation — listening to the genius that is Yo-Yo Ma.
But it is no surprise that he, the child prodigy and musician of 56 years, could produce such a complex message that both excites and chills. His work with Kathryn Stott only made this more beautifully apparent.
His diversity of talent, however, is something that should not go unnoticed. Unbeknownst to most, Ma has also been involved in the widely successful bluegrass project The Goat Rodeo Sessions. Paired with world-recognized mandolinist and lead singer of Punch Brothers, Chris Thile, as well as the talented Stuart Duncan and Edgar Meyer, their album is best described (and recognizable by their Grammy win) as classical folk. Check out the tracks "Attaboy" and "Quarter Chicken Dark" to hear this immense collaboration of talent.
The show concluded with four encores, if I counted correctly. And as a few audience members trickled out, the ones who remained were more than abundantly grateful for a few more minutes of the two's time on stage.
But perhaps we were just practicing the gratitude Ma had so skillfully demonstrated himself.
Written by: Ally Overbay – arts@theaggie.org