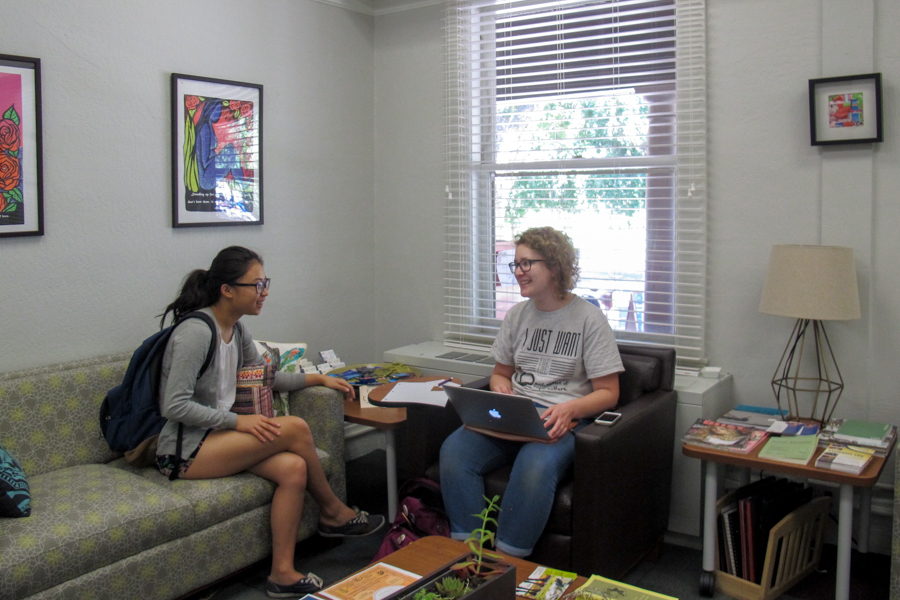 Five assets that will help you achieve success in college.
The Teaching Kitchen
The Teaching Kitchen, located at the Student Health and Wellness Center, offers various cooking classes throughout spring that students can sign up for online. These classes are free for UC Davis students, and are especially designed to cater to busy college lives.
"There are some classes that are hands-on when they actually teach you how to cook the food and also about the nutritious value of the food, and some have a guest chef," said Sonja Chesnutt, a first-year human development major. "You watch the chefs cook the food as they teach you how to use zero waste. For example, they show you how to use all parts of foods or reuse water for boiling."
The goal of the kitchen is to prepare students for life without the dining commons, and to prove that cooking is not truly as hard or time consuming as it seems if you follow short recipes.
2. National Alliance on Mental Illness (NAMI) club
NAMI is not an academic resource, but it is a very active and influential club on campus. This mental health club strives to destigmatize mental illness and promote mental health.
"On a day-to-day basis, we are just trying to get the word out, [providing an] open space so that people can have a more comfortable area to talk about what's bothering them," said  Jackie Leonardo, third-year neurobiology, physiology and behavior major and NAMI publicity director. "We offer a lot of things to create a safe space to talk about mental health, such as communication workshops in which faculty, staff and students all come together to learn how to communicate, and overpass that student-teacher barrier."
Another resource offered by NAMI is a mental health first-aid training, from which students can receive a two-year certification. Instead of physically saving someone's life as the words "first-aid training" may suggest, students learn how to deescalate a person in distress. Additionally, the organization puts on events that are announced on their Facebook page, such as an annual mental health fair on the Quad.
3. Math and science workshops
The Student Academic Success Center (SASC) offers various math and science workshops for students who need extra attention on topics they may be struggling with. These workshops are free and take place throughout each quarter; a schedule with locations and times can be found on the SASC website.
"The workshops have been beneficial, especially when we were going over difficult topics in class, because workshop leaders would recap and explain key concepts and procedures," said Ella Queen, a first-year cognitive science major. "They definitely helped me succeed and understand what I was learning, and I would definitely recommend the workshops for students to go to regularly if they are struggling."
The workshops are led by specialists in chemistry, mathematics and physics, and provide students with worksheets that contain extensive practice problems. In addition, students can benefit from the workshops' small setting since they can easily ask questions and maximize their learning time.
4. Internship and Career Center (ICC)
The ICC is arguably one of UC Davis' most beneficial assets for students planning their lives after college. While major advisors help students to plan course schedules, the ICC provides extensive services for students and recent alumni to achieve success beyond their university years.
"We offer [hour-long] workshops that anyone can attend in which we cover topics from Linkedin, cover letters and resume basics, finding internships and much more," said Tiffany Lin, fourth-year managerial economics major and ICC peer advisor. "We also have drop-in advising with student advisers […] where we can help you with interview preparedness, finding internships or anything of that sort. You could also make a 30-minute appointment with a coordinator which is a more in-depth session of trying to figure out what you want to do with your career."
An extensive description of all of the ICC's resources can be found on their website. Drop-in advising hours are Monday through Friday from 10 a.m. to 4 p.m in their office in South Hall.
5. The Women's Resources and Research Center (WRRC)
The WRRC, located on the first floor of North Hall, is dedicated to promoting gender equity in the UC Davis community. This is a place for students of all genders to talk, study and read while learning about the importance of gender equity.
Open from Monday to Thursday from 9 a.m. to 5 p.m. and Fridays from 9 a.m. to 4 p.m., the WRRC also serves as a confidential support unit for individuals who have experienced sexual trauma or gender-based violence.
"Our goal is to expand the ways in which we understand gender and sexism and to address misogyny," said Leilani Kupo, director of WRRC. "We've got all of these really great resources, both on-campus and off-campus, to help students overcome some of the barriers and obstacles that make college and university even harder."
The WRRC is a unique and free asset that UC Davis students can benefit from. Students looking for a safe space to study, access resources, learn or find support can access all of that and more in the WRRC.
Written by: Gillian Allen — features@theaggie.org