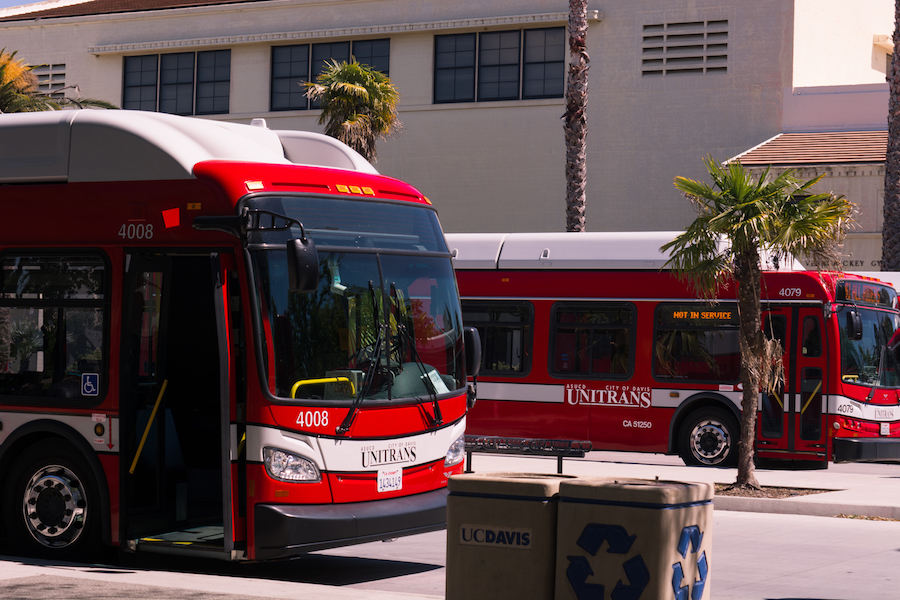 Campaign promoted in response to recent hate speech incident on Unitrans
On May 10 and 11, Unitrans conducted a Safe Space Initiative, a new campaign to raise awareness in creating a safe experience for passengers using Unitrans buses.
The initiative was created after a May 3 incident in which an African American UC Davis graduate was the victim of hate speech while riding a Unitrans bus.
Breanna Pasqua, a fourth-year communication major and human resources manager for Unitrans, said that finding ways to make university space more welcoming for people is an important aspect of using the transit system.
"We had an incident on one of our buses that prompted us to take a closer look at our policies and training and everything that goes into the way our drivers handle situations where our passengers might feel uncomfortable," Pasqua said. "The safety of everybody that I serve in transit is really important and I think that the psychological safety is just as important, and so I know that I want everybody to feel welcome when coming onto my bus and I want them to feel equally valued."
ASUCD Senator and third-year political science and philosophy double major Ricardo Martinez, who adopted the Unitrans unit for his term, said that advocating for student safety is always an important issue.
"Student safety should always come first," Martinez said. "I think it's a good thing [Unitrans is] putting student safety first and allowing students to have that safe space when they go home or when they come back to school."
The campaign began as a project for a communication course that Pasqua and her co-workers are taking this quarter. They hope to demonstrate the steps that Unitrans is taking to promote its safe spaces, including training for employees and increased student awareness of safety procedures.
"We chose to do [the project] for Unitrans," Pasqua said. "We chose to do kind of like a PR campaign that helped really bring awareness to all of the things that we, as a company, really wanted to promote with everybody riding our buses and participating in the Unitrans service so that we could all be active participants in making the buses a really safe spot."
Devon O'Shea, a fourth-year English and communication double major who worked on the project and campaign, said that although the initiative was for their class, she hopes that it extends into Unitrans' future.
"I think we definitely want to continue it," O'Shea said. "It's something we want to make more knowledgeable to the public. I think what we did was a really good start to it, but I think Unitrans as a whole definitely wants to continue that knowledge that we want our passengers to feel safe."
Martinez said that he hopes that other parts of the university can emulate what the campaign is trying to do for students at UC Davis.
"I think that this is a great initiative and other departments or organizations should take the lead on making students feel safe on campus," Martinez said. "I don't think that this is going to be the only initiative that's going to happen. Maybe there will be more because as long as we keep making students safe on campus, I think that's the best that can happen."
When talking about what the initiative means to Unitrans and the community, Pasqua said that each person can have a place to make a difference.
"I personally feel like the buses are an extension of the campus and the student body," Pasqua said. "Especially because it's student run and I think that our principles of community say that we accept the role that we play in being really respectful to other people; I think that's really important."
Written by: Ivan Valenzuela –campus@theaggie.org