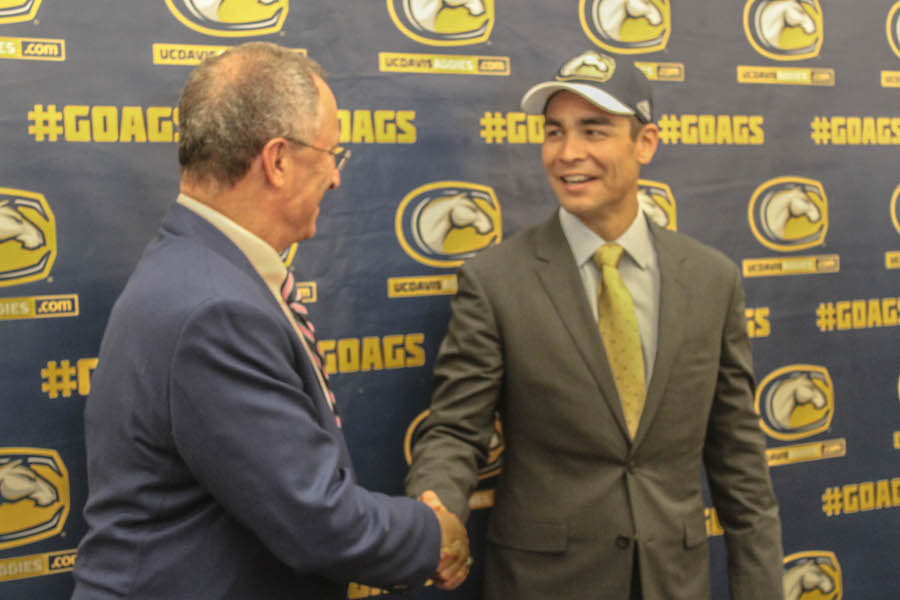 New UC Davis athletics director Kevin Blue to begin June 21
Terry Tumey announced his resignation as UC Davis athletics director in early April 2016. Teresa Gould was appointed just days later by Chancellor Linda Katehi in an interim capacity. An 11-person search committee was soon established to deliver no less than three candidates — suitable replacements who met a set of criteria that were deemed essential to leading the Athletics Department.
According to notes from the search committee, the next athletic director should have proven experience in developing effective business strategies and generating income, strong management experience, a high regard for academics, and be someone who can effectively work with the student government, Academic Senate and Council of Deans and vice chancellors. Additionally, the group was looking for a candidate who would embrace and be involved in the surrounding community, a strong and impassioned leader and someone with integrity.
That someone was Dr. Kevin Blue. The former senior associate athletics director of Stanford was introduced as the new UC Davis athletics director on May 17, and will effectively take the position on June 21.
Blue was a student-athlete at Stanford, where he played for the men's golf team. He later attended Michigan State University to earn a Ph.D. in sports psychology, returning to his alma mater in Palo Alto to work for seven years in the athletics department. As Blue comes to UC Davis, he leaves behind a job that gave him extensive experience in the business side of athletics, overseeing the Cardinal's external business units, which satisfies the search committee's finance-related requirements.
"In general, the two institutions approach Intercollegiate Athletics in a philosophically similar manner," Blue said. "That, obviously, will make me feel comfortable immediately, and it was one of the reasons why I wanted to get this job."
Acting Chancellor Hexter, in lieu of Chancellor Katehi, conducted interviews for the final four candidates for the position and is confident in his final decision.
"[Blue] is absolutely in alignment with our ideals and our values about the importance of competition in the sport, coupled with academic success," Hexter said. "Above all, I sense that he would be extremely dedicated to working with all the campus constituencies, to enable the change that he will lead us on."
In his first press conference as acting chancellor, Hexter confirmed that he would indeed appoint a new athletics director, a decision that could affect the university for the foreseeable future. Though Hexter will potentially only be chancellor during Katehi's investigation, he is steadfast in his long-term decision to appoint a successor to the Athletics Department, citing the fact that he has been a part of the university leadership for five years, and the matter was too important to delay any longer.
"UC Davis is many things more than a chancellor," Hexter said. "As important as a chancellor is, and we have had a great one, this is really something that we can and must move forward on, so I'll take the responsibility of doing it."
Scott Carrell, faculty athletics representative and associate professor in the Department of Economics, lauds Blue's experience at Stanford and his plans for the future of the Athletics Department.
"My opinion is that Kevin was the best fit for UC Davis," Carrell said. "If you think about the way he views and values athletics, his values are exactly in line with UC Davis' values in terms of the student-athlete model. He also is innovative and progressive in his business operations, has great experience there and has done great things at Stanford, and then finally he was an athlete himself."
As his official start date looms, Blue is working to familiarize himself with the inner workings of the department. Gould will aid in the transition, assisting Blue until Aug. 1.
"I look forward to just really listening and learning as much as I can," Blue said. "You can't make intelligent decisions without full information, [and] it's my task in the beginning to get full information."
With Blue at the helm, many believe that the future of UC Davis athletics is in good hands. Time will tell, but based on statistics alone, an extremely qualified and passionate individual is set to assume his new position before the month is out.
"The reason I'm in college sports and not another line of work is because I really enjoy the intellectual vitality that goes along with being part of the university community," Blue said. "Just getting the community excited about Davis athletics even more than they already are is going to be a fun process too."
Written by: Bryan Sykes — sports@theaggie.org