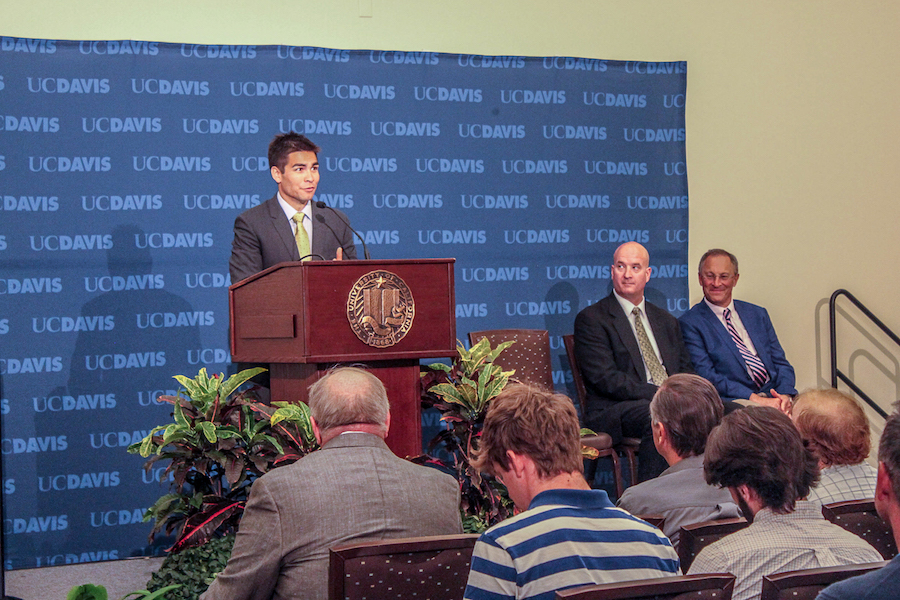 As the academic year kicks off, UC Davis moves to improve competitiveness and student involvement
With the induction of new athletic director Kevin Blue, UC Davis Athletics can expect big changes to the department's overall involvement in student life. The Athletics Department hopes to increase the degree to which UC Davis is competitive in Division I, while maintaining its traditional core values as a sports program.
For the 2015-2016 academic year, UC Davis spent over $26.8 million and made back $28.1 million in revenues, according to the latest Equity in Athletics (EADA) report. This gave UC Davis the opportunity to capitalize on building the school's brand.
"We have an opportunity to professionalize what we've been doing and I think one of the aspects of our athletic program is that there's an opportunity to modernize the business side of it — and that's revenue generation," Blue said.
Blue's primary vision has to do with cultivating relationships with students and alumni in order for the program to take a more active part in the community. With that in mind, Blue hopes to emphasize the program's commitment to a "positive culture of togetherness," to scholar athletics and to an ethical conscience that is both proactive and active when it comes to complying with NCAA policies and rules.
Although it is too early to have any "specific, granular goals," Blue said the department is very much focused on increasing the competitive nature of the athletics program.
Blue named Rocko DeLuca as deputy athletics director over the summer. DeLuca has 14 years of experience, having previously worked as athletics administrator for the University of Colorado and the Denver Broncos. He most recently served as senior associate athletic director and executive director of development at University of Massachusetts.
As the deputy athletic director, DeLuca will head external affairs by overseeing program development and sponsorships, making him one of the key players in building the UC Davis name, and implementing Blue's platforms for the coming year.
As far as scholar athleticism goes, 61 of UC Davis' student-athletes received Big West Conference Academic All-Conference honors last academic year. In order to be considered for the award, student-athletes must maintain a GPA of 3.0 or higher, compete in 50 percent or more of their respective team's competitions, as well as have completed a full academic year at their school.
One of the premier changes in UC Davis sporting events has manifested itself through this year's football season's promotional purposes. For instance, the annual Hall of Fame Ceremony that is usually held in the spring is scheduled to be part of the Homecoming Day game in order to give the ceremony more visibility.
Mike Robles, assistant athletic director and communications coordinator, emphasizes the importance of the partnership between athletics and the university.
"Athletics is a part of the university," Robles said. "[Blue] has been trying to build that partnership up and ASUCD is obviously a big part of that, but even beyond that. We want to be part of the experiences — part of the university."
Written by: Nicolette Sarmiento — sports@theaggie.org