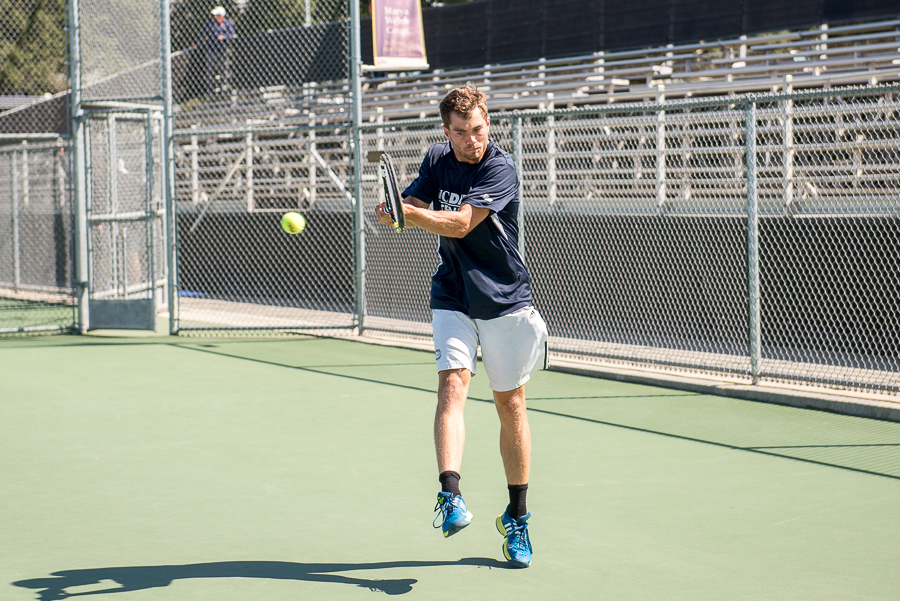 UC Davis men's tennis hosts annual Aggie Invitational tournament during start of fall season play
Players from around the West Coast competed at the Marya Welch Tennis Center from Sept. 30 to Oct. 2 as the UC Davis men's tennis team hosted the 2016 Aggie Invitational for early fall match-ups. Student athletes came out to the three-day event, which featured three singles and three doubles brackets.
Each player of the UC Davis men's team competed in the tournament except for senior Alec Adamson, who traveled to Tulsa, Oklahoma to compete in the ITA All-American Championships.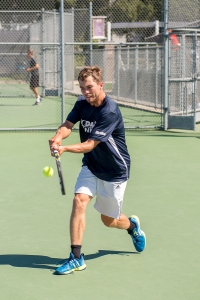 On opening day, the Aggies looked good, featuring senior Eli Whittle, junior Everett Maltby and freshman Max Pham — one of the newest additions to the team. All posted straight-set singles victories in their brackets to advance to the quarterfinal round. The Aggies' four doubles teams also rolled easily into Saturday competition. Freshman David Goulak and junior Tommy Lam, seniors Bryce McKelvie and James Wade, and Maltby and senior Jesse Ross all defeated their opponents 8-3, while Pham and Whittle skirted by with an 8-7 win.
All of UC Davis' doubles teams advanced to Sunday's championship round, with Goulak and Lam taking down Sac State, 8-5. McKelvie and Wade rolled over Portland, 8-1, in the Flight 'A' Bracket, but were edged out 8-7 in the semifinal. In the Flight 'B' Bracket, Pham and Whittle beat their Portland opponents, 8-5, and Maltby and Ross sent Santa Clara home with their 8-3 victory.
In singles play, Maltby fell to Portland in the quarterfinal round. McKelvie and Ross both won their individual matches in the quarterfinal, but when they met in the semifinal round, McKelvie knocked Ross out with a 6-2, 6-4 win.
Pham won his quarterfinal singles match in the Flight 'B' Bracket, 7-5, 6-4, but he lost in his semifinal match. Whittle made his way into the championship round after a 7-6, 6-4 upset in the quarterfinal and a straight-set 6-1, 6-4 victory in his semifinal match.
During the final day of play, UC Davis had four representatives in the eight final matches. Doubles team Maltby and Ross claimed their Flight 'B' Bracket doubles crown with an 8-7 victory over their teammates Pham and Whittle in the championship match. Goulak and Lam lost their Flight 'A'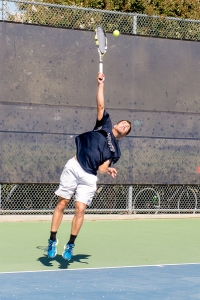 Bracket championship doubles match, 8-7.
McKelvie lost his Flight 'A' singles championship match, 4-6, 6-3, 1-0, while Whittle came back from his doubles defeat and was crowned singles
champion with his victory.
The Aggies have five more events on their fall schedule before finally opening spring season play in January against Pacific and Fresno State. UC Davis will be on the road for 10 games straight, including its match-ups against top-seeded University of Southern California and University of San Diego.
With a tough schedule ahead, head coach Eric Steidlmayer said that, this early in the season, the team is just trying to figure out where they stand in competition.
"What we're trying to do in the next three weeks is see where we're at," Steidlmayer said. "We have a chance to evaluate where we are — what we do well, what we don't do well, and how we fix it."
The Aggies will travel to UC Santa Barbara to compete in the UCSB Classic from Oct. 7 to Oct. 9.
Written by: Nicolette Sarmiento – sports@theaggie.org