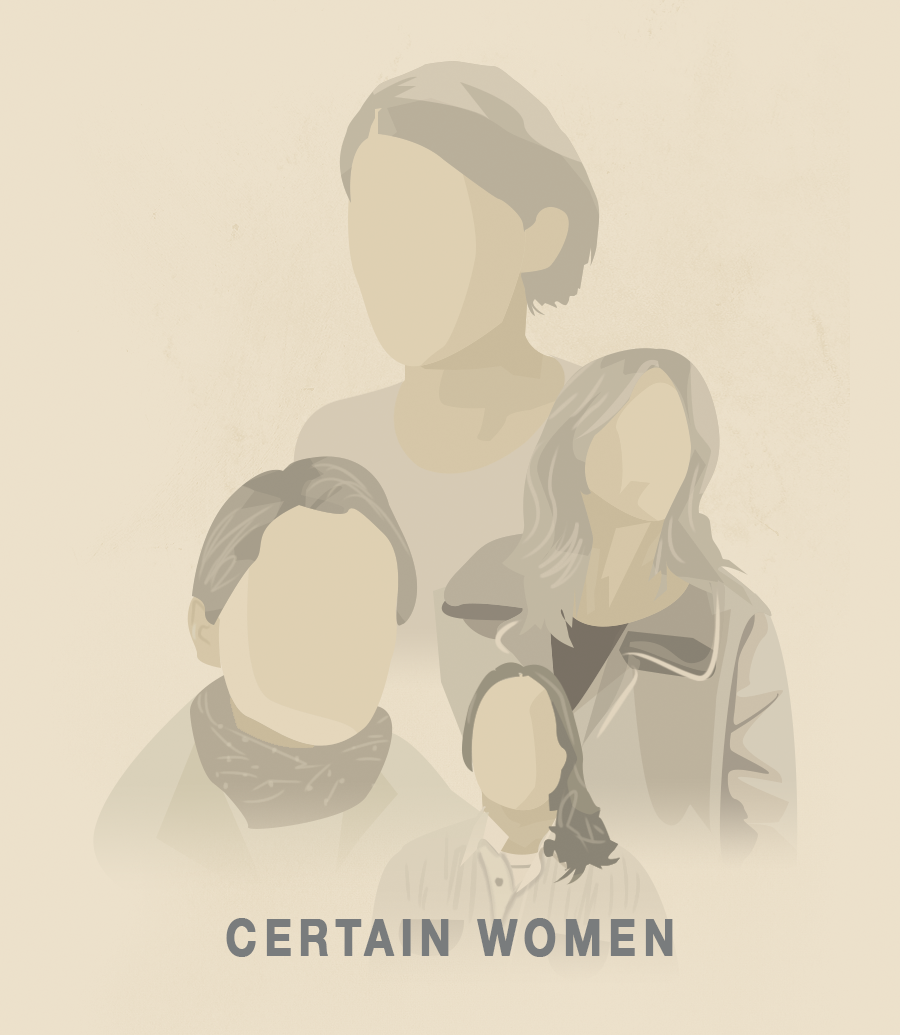 Michelle Williams, Kristen Stewart give excellent performances
Certain Women is an understated drama written and directed by acclaimed indie director Kelly Reichardt (Old Joy, Night Moves).
Set in the beautiful, vast, snowy landscape of Montana, the movie follows the intersecting lives of four women: Laura Dern as a frustrated and empathetic lawyer, Michelle Williams as a quietly determined wife and mother, Kristen Stewart as an exhausted lawyer-teacher and newcomer Lily Gladstone as a lonely ranch worker. The film follows the lives of these women with a quiet gaze which many aren't used to in an age where the loudest and brightest movies make the most money.
Michelle Williams gives an impressive performance as the silent yet powerfully determined Gina, who is intimidating even to her own family. Gina is bent on building a home from the ground up, and sets her eye on acquiring sandstone from the front yard of a lonely, elderly man named Albert. It's clear that Albert has some emotional connection to the stone, but Gina convinces him to sell it, suppressing her feelings of guilt from manipulating him.
This moment portrays a complex, well-written female character: empathetic, yet resolute enough to accomplish what she wants. Often, women in film are either portrayed as caring to a fault, putting everyone else before themselves, or as masculine, emotionless and ruthless. There seems to be a lack of women in movies who act like real humans, so Gina's character was incredibly refreshing.
The cinematography was also stunning, often lingering on a character's face, which at first made me impatient and uncomfortable. However, as the film progressed, I started to enjoy the long takes. The lack of dialogue forces the audience to decipher what the characters are feeling by carefully studying their faces, and the cinematography allowed for many beautiful, subtle moments during which we see emotions play out on an actor's face.
There are, however, some aspects of the film that I personally didn't enjoy.
I'm always hesitant to call a movie "slow," because films nowadays are filled with non-stop action, fast-paced dialogue and quick editing that doesn't leave time to contemplate a scene. But there were far too many long and stationary location shots, and once the monotony of everyday life in a small town of Montana had clearly been established, any additional time that was spent on those shots took away from moments that could have been used for character development.
I also wasn't satisfied with the exploration of the characters, and wish that we would have gotten additional time with them.
Maybe we're meant to get only a glimpse into the lives of these women, who are in ways so different and yet so similar. All four are lonely and misunderstood, and we're informed of this in such small, silent moments; there is no self-indulgent, pseudo-intellectual dialogue about why and how these characters are suffering. The audience sees it in quiet moments, such as Gina's quick and heartbreaking reaction when her husband and daughter dismiss her desire to be included in whatever joke they were just laughing about. Or when Jamie, played by Stewart, continues to attend a night class she isn't enrolled in, hoping that the teacher might notice her.
The film doesn't make a big show of the important moments, preferring to let the audience come to their own realizations and because of this, I recommend this to anyone who thinks they'd enjoy a change of pace in their movies.
Written by: Pari Sagafi — arts@theaggie.org