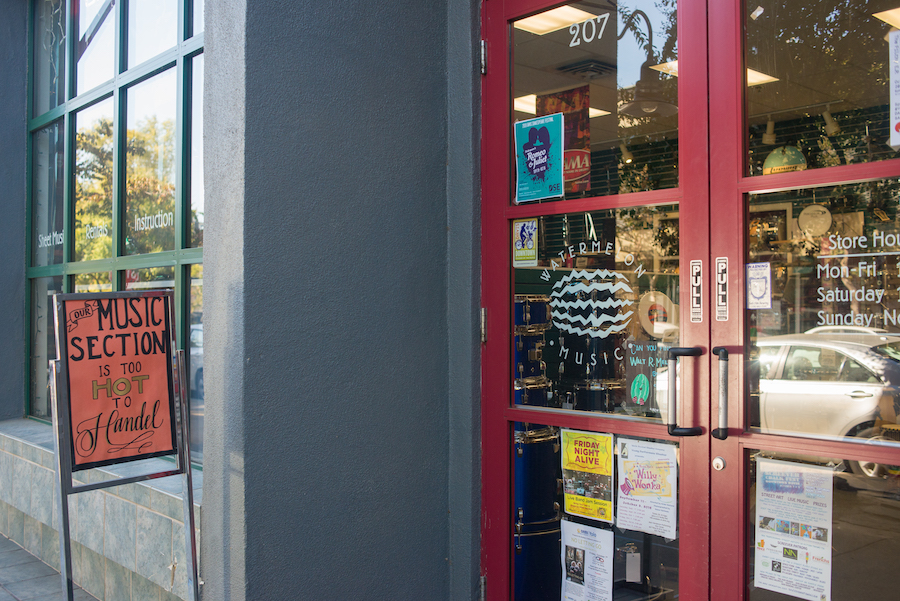 Helping the community through Davis Community Meals is Watermelon Music's forte
One thing that Davis certainly doesn't have treble with is helping out the community. For the past 15 years, Watermelon Music, a local music store downtown, has held a strings-for-food drive, in which people can get a free set of D'Addario strings if they bring in at least two non-perishable food items, limited to two instruments per household.
This benefits Davis Community Meals, a non-profit, non-denominational volunteer organization that gives food to people in financial distress or those without homes. This year's drive will be the last one held at Watermelon Music's current location in downtown Davis.
Every year, the second Saturday in November is dedicated to this food drive, which aims to collect about 200 instruments — this would mould mean at least 400 cans of food. In a four-hour time span, this 200-instrument goal has been achieved three times in the past.
Volunteers consist mainly of community members who are knowledgeable in restringing instruments.
"[It started] long ago, over 20 years ago, and there was a representative from a company that made strings, who wanted to give [out] free strings to promote their company," said Jeff Simons, manager of Watermelon Music. "But we wanted to have it for a cause, so someone suggested doing a food drive."
Simons is also a member of the Independent Music Store Owners [IMSO], an online forum that shares ideas pertaining to their storefronts. About five or six years ago, the group started talking about which promotions they did that were successful. Upon someone mentioning the strings-for-food drive, the group jumped on the idea, looking to do something of the sort on their own fronts as well.
Although the minimum amount of non-perishable items per instrument is two, some people bring in shopping bags of food, the total amounting anywhere from 800 to 1,000 cans. Others decide to drop off food without even getting the free strings.
"The line goes out the door," said Adam Portocarrero, a Watermelon Music employee.
Food pantries tend to run especially low approaching the colder months, so the food drive is a good way to replenish the stocks and get community members involved in  helping each other. Due to the rising costs of their current storefront, Watermelon Music is relocating to a bigger space on the intersection of Lake and Covell Boulevard, where there will be a live music performance venue inside in addition to a grand piano. However, the food drive will continue to happen every year.
"[We will] definitely [continue the food drive], it's a big part of what we do," Simons said. "Anytime you get a hundred musicians in a room, it's cool. It's a bonding kind of community thing. And at the same time, everyone is contributing. It's not about getting free strings, it's about helping out the community."
Bill Pride, executive director of Davis Community Meals, explained that the organization serves around 165 to 175 meals per week by working with a soup kitchen staffed by high school or school group volunteers, in addition to partnering with food drives like Watermelon Music's. Strings-for-food, however, is one of the larger food drives that Davis Community Meals is involved with, producing about six to seven large boxes filled to the brim with non-perishable items.
"The food drive is really great. It's great to get re-stocking of food for various locations to help tie people over," Pride said. "It's always been an important thing to help people in our community."
Written by: Kaelyn Tuermer-Lee – city@theaggie.org