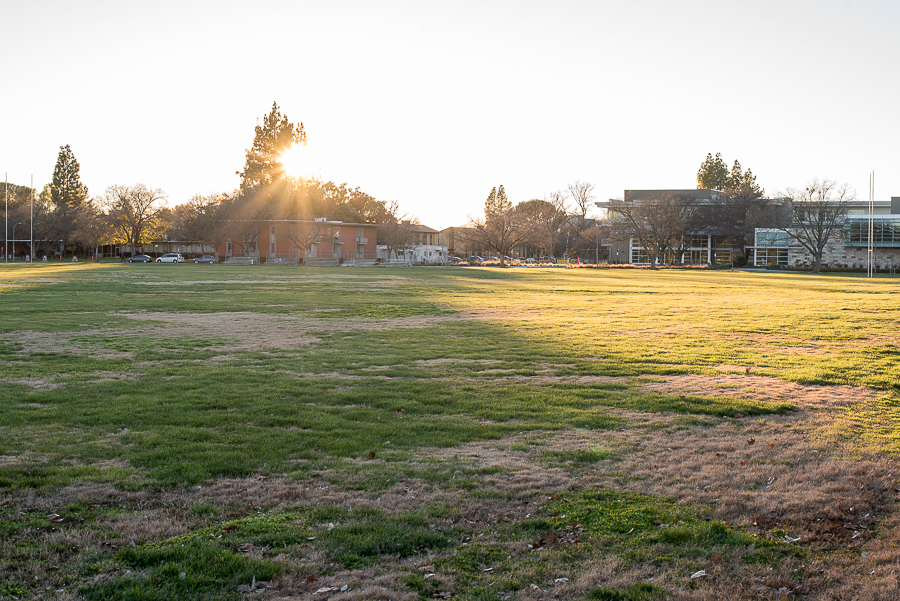 LRDP update preserves Russell Boulevard fields for athletics
UC Davis has confirmed that it no longer plans to construct student housing on the Russell Boulevard intramural fields (IM). At a public city council meeting held on  Dec. 6 to focus on the Long Range Development Plan (LRDP), Bob Seger, the assistant vice chancellor who is head of Campus Planning and Environmental Stewardship, said that Toomey, Howard and Russell Fields will all be maintained as athletic fields.
After Seger announced the Russell Boulevard withdrawal at the town hall meeting, he explained the alternative plan: demolishing existing inefficient, low-density housing and building tall high-density housing to utilize acreage and ease Davis' low vacancy rate. Construction will occur at empty West Village fields and on campus at Tercero, Orchard Park, Segundo, Solano Field and Cuarto. The map can be seen on the Campus Neighborhoods section of the LRDP draft, in which Russell Field is no longer designated for housing.
The Notice of Preparation Environmental Impact (NOP) report issued on Jan. 4 also confirmed the preservation of Russell Fields.
Davis Mayor Robb Davis and the City Council of Davis signed a resolution on Dec. 20 agreed upon by Davis community members to adjust the 2017-2027 LRDP. The resolution commits Ralph Hexter, UC Davis interim chancellor, to "remov[ing] all construction from Russell, Howard and Toomey Fields and retain[ing] those fields for community and athlete use."
This 2017-2027 LRDP seeks to "accommodate 90 percent of enrollment growth in campus housing and 40 percent of the Davis-based students in campus housing by 2027-28." The LRDP predicts 39,000 students will be enrolled by 2027, compared to the 32,663 students from 2015-2016.
The decision to no longer create housing on these fields comes after public backlash from students, athletes and members of the Facebook group Friends of Russell Blvd. Fields, all of whom resisted the development plan to take away the fields. They protested and advocated for athletic and community use of the fields through a petition, sending comments via e-mail to the LRDP planners and calling for town hall meetings.
Advocates for both saving Russell Fields and increasing student housing encouraged the LRDP planners to consider the the Nishi Gateway as an alternate housing proposal. This proposed 45-acre mixed-use Davis district could increase student housing and provide commercial connectivity and walkability near the university, similar to the housing at West Village. The prospective development is nestled in the open space between Old Davis Road and Highway 80.
After UC Davis withdrew its plan to build on Toomey, Howard and Russell Fields, the Friends of Russell Fields Facebook page posted a message of appreciation.
"UC Davis has come to understand that the IM fields on Russell Blvd. are greatly valued by the broad community," the post read.
Student-athletes who play on Russell Boulevard Fields are proud that they were able to help preserve the fields.
"We are very excited that the University is preserving Russell Field," said Harrison Morrow, a third-year wildlife, fish and conservation biology major and UC Davis' rugby team captain. "Not only is it important to various sport clubs at UC Davis, [but] Russell Field [also] serves as a recreation area for the entire student body."
However, a large concern for students, the community and the university remains — a growing, low-vacancy Davis still needs more student housing. Friends of Russell Blvd. Fields have proposed a 100 percent student enrollment growth and a 50 percent in on campus housing, higher than UC Davis' 90/40 plan 2017-2027 plan.
"We are, however, disappointed to learn [that] UC Davis continues to resist building student housing on par with most other UC campuses," a Friends of Russell Blvd. Fields Facebook post reads. "The proposed '40 percent of the Davis-based students' to be housed on campus pales in comparison to the 50 percent most other UCs are striving for. There is a backlog of on-campus housing need that has not been provided yet by UCD, significantly impacting the Davis community. Even Interim Chancellor Hexter recently admitted to the UC Regents that UC Davis has 'completely saturated' the Davis housing market, leading to extremely low vacancy rates. Davis is the largest UC at 5,300 acres and unquestionably has room for both the Russell Blvd. fields and more student housing."
Colin Walsh, a former UC Davis athlete who graduated in 1996, is an advocate for preserving the fields. He described how the Davis community collaborated with the city council and mayor to save the fields.
"The city council last month passed a resolution and sent a letter to the university calling for the university to build more student housing," Walsh said. "As the campus is getting so much larger, students are still living so far away. Compared to when I was a student, there are so many students coming from far parts of Davis or Woodland."
Despite the need for increased student housing, Walsh hopes that the fields can continue to be preserved.
"[I have] lived in Davis off and on my whole life," Walsh said. 'My father was a rugby coach in Davis in the late 60's, and I was a student playing on the field too. At every step of the way we simultaneously advocated for saving the fields, and building more student housing. UC Davis is the largest university, but provides less student housing than almost any other UC."
Written by: Aaron Liss — campus@theaggie.org