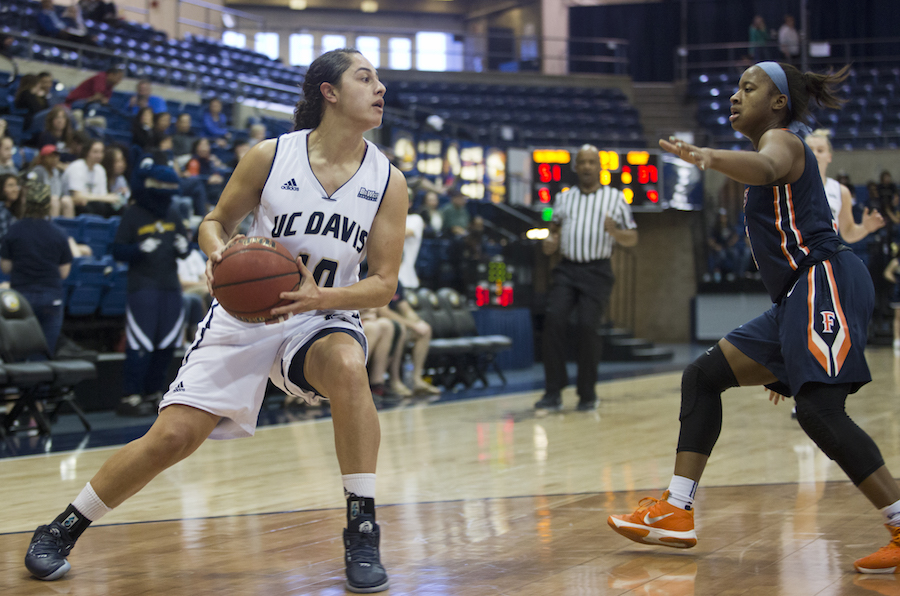 With conference play in full swing, Aggies look to continue strong start against UC Riverside
Heading into Thursday night's home game versus UC Riverside, the UC Davis women's basketball team will have a tough hill to climb. While it has been a successful season up to this point, the Aggies will need to make sure they show up and compete so that they do not have a repeat of their loss to Long Beach State on their home floor on Jan. 12.
At 13-6 overall at press time, the team has entered conference play looking strong, sitting comfortably at a 4-2 record within the conference. All season, the team has benefitted greatly from sophomore forward Morgan Bertsch's stellar play, but as the Aggies learned during their loss to Long Beach State, they need to step up in the games in which their leading scorer's shots may not be falling. Junior guard Dani Nafekh and junior forward Pele Gianotti have been doing their parts, providing scoring as the second-and-third leading scorers, respectively.
UC Riverside has struggled to find a consistent groove all year, collecting a fair amount of winning streaks and losing streaks throughout the season. The team has an overall record of 10-8 — 4-1 in conference — and hopes to gain some momentum as it heads into the final month of the regular season behind its leading scorer, senior forward Réjane Vérin.
With UC Riverside holding a 4-6 record away from its home court, the Aggies will need to take advantage of games like this.
Heading into the final month of the regular season, the Aggies must take advantage of games in which they may have the upper hand from the outset. The team has won many of its games by double digits, and many have been blowouts. The Aggies lead the Big West Conference in points per game and rank fourth in points allowed, and they will need to keep up this effort on both ends if they want to finish the season on a high note.
UC Riverside comes to the Pavilion on Jan. 26 at 7 p.m.
Written by: Bradley Geiser  — sports@theaggie.org