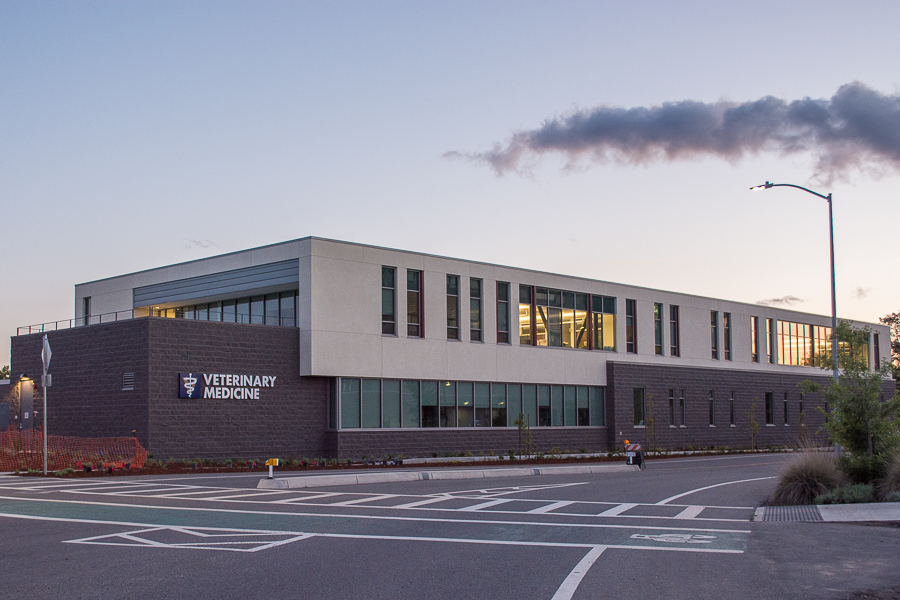 UC Davis' Veterinary Medical Center to undergo 10-year process of upgrades, additions
UC Davis' Veterinary and Animal Science departments rank number one in the world, due in large part to the state-of-the-art Veterinary Medical Center (VMC) and its staff. However, with such prestige comes great demand, and in recent years the workload and student population of the VMC has overwhelmingly exceeded its holding capacity. The Veterinary Medical Teaching Hospital, located within the VMC, opened in 1970 and had around 74 students per class and saw around 3,000 cases per year during its inception. In 2016, those numbers were 145 and 51,000, respectively.
David Wilson, an academic administrator and director of UC Davis' Veterinary Medical Teaching Hospital, began noticing a need for more space around 1996. He and other school administrators developed a plan for renovating the VMC, but it never materialized. Since then, the VMC's overcrowding issues have been direly exacerbated.
"We have a very big shortage of exam rooms, so exams were being done in hallways," Wilson noted. "Confidential conversations with owners were also being held in hallways, and students were forced to conduct their rounds in makeshift spaces. Essentially we ran into a problem of not only facilities becoming old and less functional, but also not having enough room to meet our current programs, let alone handle future expansion."
In 2011, another plan was developed, and the directors are currently in the midst of raising funding for its $508 million budget. Wilson, who is overseeing the project, has already raised $65 million through foundations, corporate support, school fundraising and most of all, individual donors.
"We have a lot of individuals who bring animals into the hospital and really appreciate the care that we give to the animals," Wilson said. "They become friends with the school and want to give back."
The overhaul, which is expected to begin in 2018, is not solely an effort to create more space. New facilities are being planned that would extend the educational capabilities of the center as well as allow for better and more precise care for its animal patients.
The project will be separated into 17 main projects and nine minor ones. Some of the main projects include an equine performance center, a large covered arena which would allow horses to be examined while being ridden under saddle; an All Species Imaging Center, which would hold a centralization of advanced imaging capabilities (CT, PET CT, MRI and nuclear scintigraphy) and new surgical suites intended to improve safety and efficiency for patients and personnel.
The renovations will also aim to improve the accessibility and efficiency of the center. Plans include clustering the small animal services that require anesthesia in adjacent areas in order to reduce the need to transport anesthetized patients over long distances, as well as relocating the small Animal Emergency Service adjacent to the new east door of the Small Animal Clinic, which will allow clients to drive right up to the front door when unloading their ill or injured pet.
Consequently, the extensive amount of construction necessary in order to build the new facilities and renovate current ones will lead to a lengthy developmental period — 10 years to be exact. One of Wilson's main concerns is ensuring that the continuous construction does not disrupt the natural ongoings of the VMC.
"Maintaining a hospitable, client-friendly and work-friendly environment is the biggest challenge I see," Wilson expressed. "Having high quality patient care and excellent instruction of students and residents during this prolonged process is of utmost importance."
Since its early days, UC Davis has had a reputation as one of the premiere universities for those looking for a career in the veterinary field, attracting students such as Michelle Higuera, a first-year animal science major.
"I've known I wanted to work with animals since I was in second grade, and when choosing colleges Davis was the only one I considered because it's just that much better than the rest when it comes to animal science," Higuera said.
According to Wilson, avoiding complacency is vital in order to stay on top, and revamping the VMC is one way to ensure that UC Davis will stay on the cutting edge of the veterinary science field while also maintaining its elite status.
Tanya Marotta, a first-year animal science major, believes that the VMC can become a prominent part of Davis' attractiveness to future students.
"I think [the new Veterinary Medical Center] will definitely have a big impact on potential animal science students who are on the fence about which college to go to," Marotta stated. "If they hear about the high tech veterinary medical center that we have then they may be more inclined to chooses us."
Renovating the VMC will also be an opportunity to increase resources for students.
"The new facilities they are building [at the Veterinary Medical Center] will open up new research opportunities for students which is definitely a big plus," Higuera said.
If Wilson's ambitious plans for the VMC are realized, the potential impact could reach past the bounds of the veterinary science fields. As Wilson explained, many medical fields such as oncology often use comparative studies with animal cases. Many diseases found in animals are parallel to those found in humans, so a breakthrough in animal medicine can very well mean a breakthrough in human medicine.
"We contribute to animal health, human health and environmental health, and we're interested in all of those," Wilson explained."That defines the concept of 'one health,' and the hospital plays an important role in our advances in 'one health.'"
In the long term, Wilson hopes that the new and improved VMC can continue UC Davis' longstanding pursuit of excellence in the field of veterinary science.
"UC Davis' veterinary program is recognized worldwide currently, and our goal is to have that continue," Wilson stated. "We've got outstanding professors, outstanding residents and outstanding students, but over time if we want to continue to attract the best we need to have facilities that can match their standards."
Written by: Eddy Zhu — campus@theaggie.org