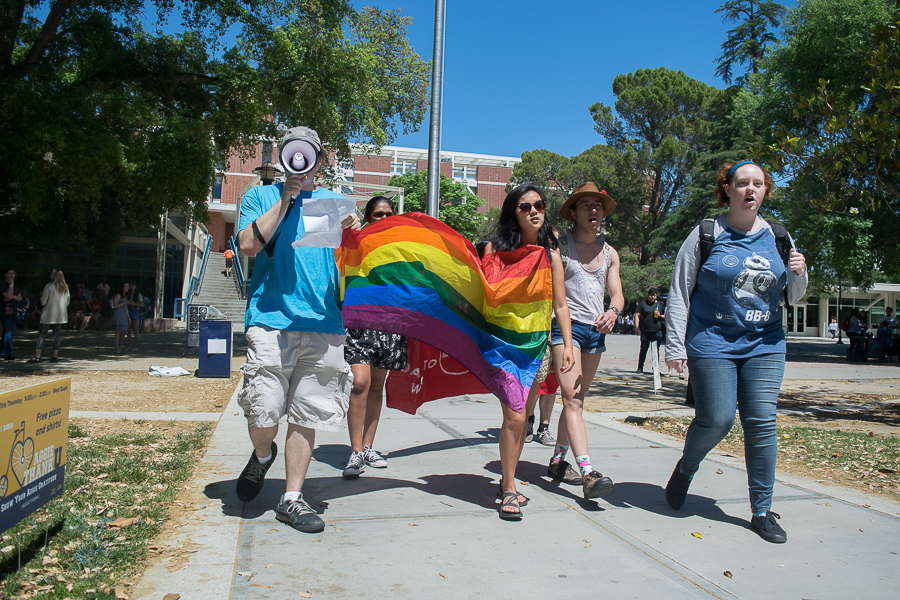 Executive order allows religious organizations to become more involved in politics
Students gathered at the Memorial Union on May 4 to protest President Trump signing a religious freedom executive order that would allow religious organizations to become more politically involved.
"By 'religious freedom,' [Trump] means that religious people who provide goods and services to the public can legally turn LGBTQIA people away due to their religious objections," read the Facebook event page for the protest. "Essentially this executive order legalizes discrimination nationwide, and will create a massive barrier for LGBTQIA people in areas such as housing, employment, academics, and healthcare."
Six students marched to Mrak Hall at about 12:15 p.m., chanting phrases like "LGBT, do not take my rights from me," "hey hey, ho ho, homophobia has got to go" and "when queer people are under attack, what do we do? Stand up, fight back! When trans people are under attack, what do we do? Stand up, fight back!"
At Mrak Hall, one student gave a speech on behalf of LGBTQIA rights in front of a group of students who were camped out at Mrak to protest the UC's involvement in companies that heavily use fossil fuels.
Sam Grusky-Milin, a second-year computer science and music double major who participated in the march, believes that people should separate their religious belief system and personal views.
"In addition to knowing that people can be members of any particular tradition of faith and have their own personal values of equality, those two things don't necessarily have to be mutually exclusive," Grusky-Milin said.
Written by: Alyssa Vandenberg  — campus@theaggie.org