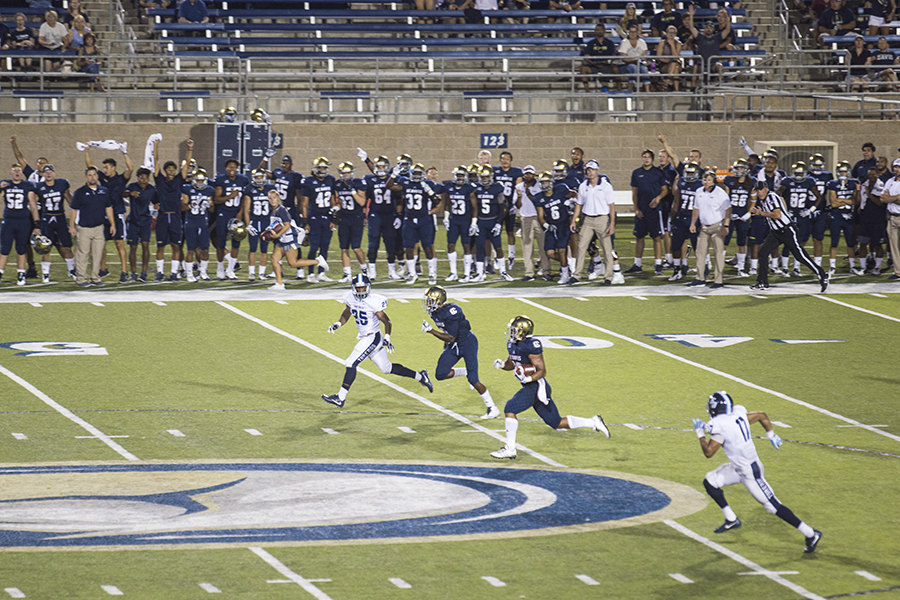 UC Davis football rolls over San Diego in home opener
It sure is nice to come home. Fresh off a 38-17 season opener loss at the hands of San Diego State, the UC Davis football team, led by Aggie-alum head coach Dan Hawkins, returned home on Sept. 9 to collect its first win of the season on a warm night. The Aggies dazzled in front of a lively summer crowd on their way to defeating the University of San Diego Toreros, 35-7.
UC Davis wasted no time in impressing the home fans. On the Aggies' third offensive play, sophomore quarterback Jake Maier stood tall in a tight pocket and delivered a strike deep down the middle of the field to junior wideout Keelan Doss for a quick 75 yard score. This familiar pairing of Maier and Doss — who connected on eight passes for 181 yards and a touchdown in the previous game — kept humming along nicely as Doss added four receptions for 100 yards against the Toreros.
With the Aggies taking an early 7-0 lead, San Diego mounted a seven-play, 84 yard drive ending in a five-yard touchdown run to even the score late in the first quarter. The response seemed to breathe some life into the entire Torero team, as the San Diego defense and special teams forced several Aggie miscues. On the following UC Davis possession, the Toreros turned up the pass rush pressure, sacking Maier for a six-yard loss to force a punt, and then intercepted Maier on an ill-advised pass over the middle on the next drive. San Diego then blocked a UC Davis punt to set up the San Diego offense in Aggie territory. Despite benefitting from these mistakes by UC Davis, the Toreros were stifled by the Aggie defense, which held San Diego to just 34 yards of offense and no scores for the rest of the half. Senior defensive back Keleen Culberson appeared to be all over the field for the Aggies, racking up a team high eight and a half total tackles.
Late in the second quarter, the UC Davis offense snapped out of its slump in time to put together a hard-nosed, 15-play drive spanning 95 yards and eating up over five minutes of the clock. The Aggies converted on four third downs on the drive, including an instrumental third and 19 pickup on a screen pass caught by senior running back Justin Williams. Williams' 19-yard run after catch saved the UC Davis drive, where just three plays later Maier found sophomore tight end Wesley Preece open behind the Torero secondary for a 33-yard touchdown. Preece finished the night with 68 yards on four catches. The Aggies reclaimed the lead and headed into the half up 14-7.
UC Davis started the second half much like how it started the first: with a bang. On the opening possession of the third quarter the Aggies seemed to be stalled on a fourth and one in their own end. Without hesitation, Hawkins made the gutsy call to go for the first down just one yard away. Hawkins' running back was confident in his coach's decision.
"We have a selection of plays for that situation," Williams said. "We practice those scenarios throughout the week. Once the play is called, we feel ready to go out there and execute it."
And execute the Aggies did. On the next play, Williams shot through a crease on the left side of the line, burst into the secondary and sprinted 71 yards virtually untouched to the house. This enormous fourth down score set the tone for how the second half would be played out, tilting the contest overwhelmingly into the Aggies favor.
"If it's fourth and one and we don't go, [my players] ought to be mad at me," Hawkins said. "They shouldn't even look for the special teams coach. If you can't get about six inches there, do you really deserve to win the ballgame?"
The ballgame at this point was still far from over. A fumble by sophomore receiver Aaron Moore on UC Davis' next offensive possession gave way to a promising Torero drive that pushed the ball all the way to the Aggie 16 yard line. Instead of attempting a relatively short field goal, San Diego elected to try to convert on a fourth and six. The UC Davis defense was ready and dialed up a blitz on the next play. Junior defensive back Isiah Olave timed the snap perfectly, dashing from his corner position to chase down and sack the San Diego quarterback, forcing a turnover on downs. Hawkins was delighted with defensive coordinator Robert Tucker's play calling.
"[Tucker] dialed it up at the right time," Hawkins said. "We brought pressure when we had to and got home when we needed to. Modern football is about scoring and not scoring. Let [the other team] drive, let them go down the field and then bow your neck in the red zone and don't let them score a touchdown."
The defensive stop was yet another key turning point in the contest that helped contribute to UC Davis' momentum. While moving the ball just across midfield on the ensuing drive, UC Davis found itself in a familiar situation as it attempted to convert on another fourth and short situation. The play began with a low snap that sent the ball dribbling around helplessly on the ground. But it was quickly picked up by Maier and fired deep down the left sideline to Moore, who made an acrobatic adjustment to haul in the pass for a gain of 23 yards and a first down.
"I saw Jake [Maier] throw it up and I was like, 'I gotta make a play here, it's fourth down,'" Moore said. "I was just thinking in my head that I have to go and make this catch. As receivers, we can't take plays off. So whether or not [Maier] was going to throw my way, I had to run hard. I had the opportunity to make a play and I made sure I did that."
Just two plays after the miracle pass that could have been a costly blunder for UC Davis, Maier completed another pass to Moore, this time for a 15-yard score to put the Aggies up three touchdowns.
"I told [Moore] I was going to make it a point to get him the ball in crucial situations because he has that playmaking ability in him," Maier said. "He's a very confident receiver."
Moore recorded a team high six catches for 90 yards, while his pass-thrower Maier had a monster game in his own right; he completed 23 of 37 passes for 369 yards and 3 touchdowns. UC Davis played the rest of the game on cruise control. Williams added his second touchdown on the ground later in the fourth quarter to cap his night with 102 yards rushing on 14 carries. When all was said and done, UC Davis' 28-point victory moved its record to 1-1 through two games.
"USD is a really good football team," Williams said. "They've won 70-plus games in the last seven years – won their first playoff game last year. We came out there and executed the way we expected to. We weren't perfect out there but we were able to hang our hat on some really good things. It was a great step forward — coming out here, defending our home turf, getting that first win."
Hawkins also seemed pleased with the positive result on his much-anticipated UC Davis head coaching home debut. But he ignored all that circumstance, focusing on his players and the state of the program as a whole.
"I'm just really happy for [my players], I truly am," Hawkins said. "I feel like a father when you see your kids sacrifice and believe in what you're saying, and finally it happens. I'm really happy they get rewarded for that. I'm happy for Davis, I'm happy for the fans. Hopefully we got people juiced up, [the fans] keep coming back here and we continue to build and grow this [program] – and get people fired up about what we are doing."
Hawkins' Aggies certainly kept the momentum from their first win rolling. UC Davis won big in its week two matchup against Portland State, as Maier threw for 316 yards and three touchdowns, two of which were caught by Doss and Moore, and junior defensive back Ryan Parenteau recorded two blocked punts en route to a 37-14 trouncing of the Vikings. However the momentum was not enough to keep UC Davis on top at Utah to take on Weber State this past Saturday, as the Aggies faced a brutal 41-3 loss.
If the Aggies' early success this season is any indication of what is the come for this football team, I would suggest making it a priority to visit Aggie Stadium on Sept. 30 when UC Davis returns home to take on North Dakota as a Fall Quarter gets underway.
Written by: Dominic Faria — sports@theaggie.org