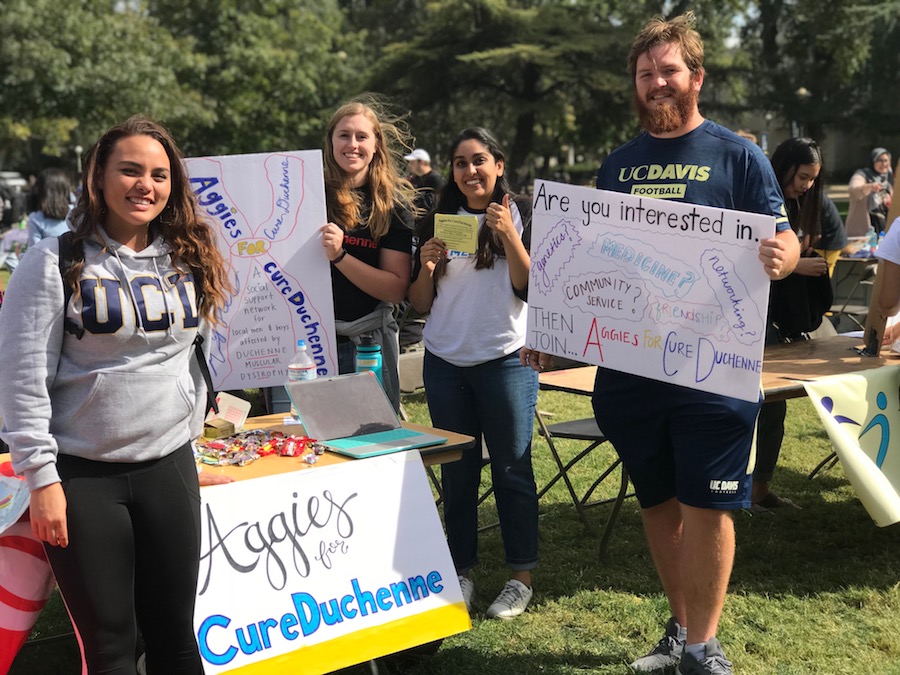 UC Davis forms first university-based organization to raise Duchenne awareness
Duchenne, a fatal muscle disease in children, is a form of muscular dystrophy. Primarily affecting boys, Duchenne leaves most patients in wheelchairs by the age of 12. Cases of boys who have Duchenne all show that they experience social isolation and that most do not live past their mid-twenties. Around 15,000 boys have Duchenne in the United States and around 300,000 worldwide.
Currently, Duchenne does not have a cure.
CureDuchenne is a nonprofit organization that spreads awareness about the disease and raises funds to find a cure for Duchenne muscular dystrophy.
"CureDuchenne has funded nine research projects that have gone onto human clinical trials, and we were an early funder of the first drug that has been approved by the FDA for the treatment of Duchenne, which was approved a year ago," said Karen Harley, the vice president of market communications at CureDuchenne.
CureDuchenne hosts two different types of events: fundraisers and outreach. Funds raised go toward Duchenne research. The outreach events are focused on building a community for children who have Duchenne and informing communities with guest speakers and other events.
Aggies for CureDuchenne (ACD) is a new student organization at UC Davis that centers on building a community for children with Duchenne.
"We help put on fundraisers for CureDuchenne charity to help them find a cure, and the unique part of the club is we are setting up a social support network for local boys and men who have Duchenne muscular dystrophy," said Alyssa Valentine, a third-year genetics and psychology double major and the president of ACD. "We are basically going to try to make them feel as normal as possible, hang out with them, just set up fun events like movie nights and video game tournaments to give them a sense of belonging that sometimes they don't get from their peers because of their physical disabilities."
ACD personalizes its events and activities to individual interests.
"Each person who has Duchenne is different, and what their wants are changes, like if they like sports we try to get them out to football or basketball games. We tailor it to each person," said Ramsey Hufford, a fourth-year religious studies major and the vice president of ACD.
ACD is currently on the lookout for new Aggies wanting to join.
"You're going to make a difference in somebody's life and you're just going to be having fun and hanging out with somebody, but at the same time it's going to be making a huge impact," Valentine said.
ACD is currently working with a power soccer team that consists of people who are in power wheelchairs. Based in Sacramento, the team holds practices in Davis.
Along with raising funds for CureDuchenne, Aggies can get involved by spreading awareness and empowering people with Duchenne
"There is something for everybody," Hufford said.
More information can be found on the club's Facebook page.
Written by: David Soltero — science@theaggie.org