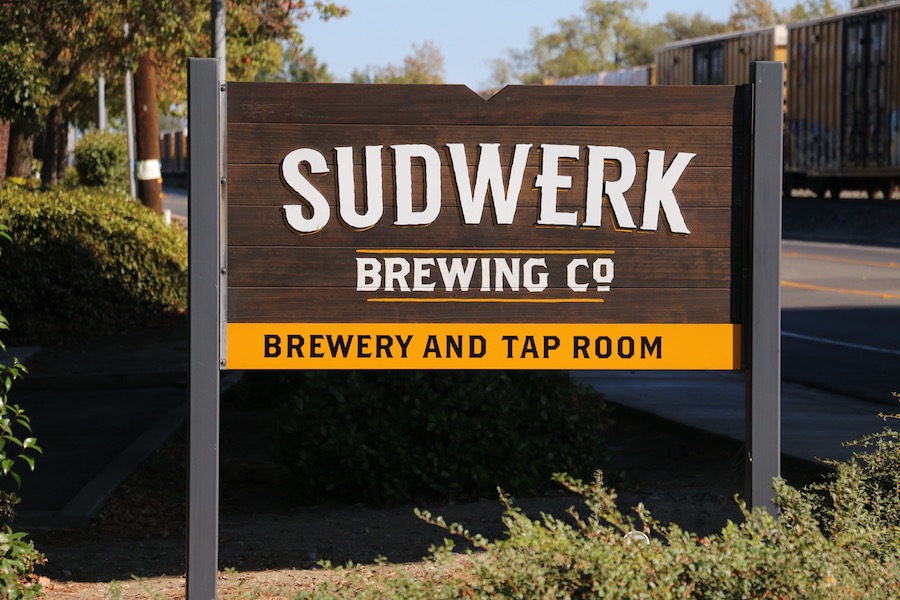 Collaboration between brewery and record store highlights Davis' beer and music scene
Davis is not a city shy on festivities, and Beers and Beats is one event that brings out some of the best features of the city.
Held every fourth Thursday by Sudwerk Brewing Company, Beers and Beats brings together lovers of beer and lovers of music. The event is a collaboration of Sudwerk Brewery and Armadillo Music — the event itself beginning from a friendly relationship.
"We've had a good relationship with Armadillo Music in town," said Caleb Weeks, the business manager at Sudwerk Brewing Company. "We just thought it would be a good idea to sort of combine the live music that's out here."
With that simple relationship, the event took off.
"It mostly started as a community partnership to bring them out here and give them some exposure; same thing for them on our end," Weeks said.
Josh Chapman, the owner of Armadillo Music, similarly spoke of their contributions to the event.
"Paul is the manager here. He's there every single month," Chapman said. "He's there with his dog, records and turntables."
The event highlights a variety of genres, from hip-hop to rock to international. Chapman said the style of music played is dependent on the DJ at the time.
"It's new releases," Chapman said. "We're trying to expose people to different artists, so it's all across the board. Some month we'll have some sort of international band. […] We'll have a rock band; we played Gorillaz, which is hip hop. So, it really is all over the board, just something that comes out that we think people will like or some new and unique stuff that they've never heard of before. We pick that stuff and play it."
But in addition to playing music, Armadillo's inventory is also available for purchase at Beers and Beats. For vinyl lovers, the records being played are available for purchase.
"We bring copies of the new releases that we're playing," Chapman said. "We'll bring usually five artists that have put something out that month, on vinyl. We have copies of each of those available for sale, then we have five or six crates of used records that we bring for people to browse through."
Aside from drinks and music, the event itself is a great time for socializing.
"[It's nice] to hang out outside, listen to good music, drink beer or even just hang out," Chapman said. "It's a good spot. There's always a food truck, always kids running around throwing footballs and things like that. It's kind of bridged all different age groups, so it's been good."
Weeks also spoke to the positive side of such a community-focused event and the positive influence this event has had on small business.
"There's sort of a comradery, I think, around small business," Weeks said. "Small businesses are much more community-focused, willing to peddle their wares out at a brewery. Drink a beer, and give the community a fun little event […] It ties into the local music scene that we have going around here in general."
This event is one of many that highlights Davis's support for the music scene.
"This town has been known for a long time for its support of music," Chapman said. "It's kind of embedded in the culture here."
Dustin Messner, a third-year managerial economics major at UC Davis, highlighted his favorite aspects of the event.
"I've always liked music," Messner said. "I've just been getting into vinyl, too. Pair that with my love of beer, that makes for a good time, especially if they play some CCR."
While the event exists as an important marker of Davis' collaborative community, Weeks makes note of the real relationship that began it all:
"Music lovers tend to like beer, and beer lovers tend to like music," Weeks said.
Whether you enjoy just beer, just music or the combination, Beers and Beats is a casual event with both, perfect for a peaceful Thursday. Starting around 6 p.m. every fourth Thursday, Armadillo Music arrives at the Sudwerk Dock Store and starts spinning records old and new while guests peruse used vinyl and drink craft beer. Bring friends and family because both beer and music are often best enjoyed in numbers.
Written by: Nicolas Rago — arts@theaggie.org