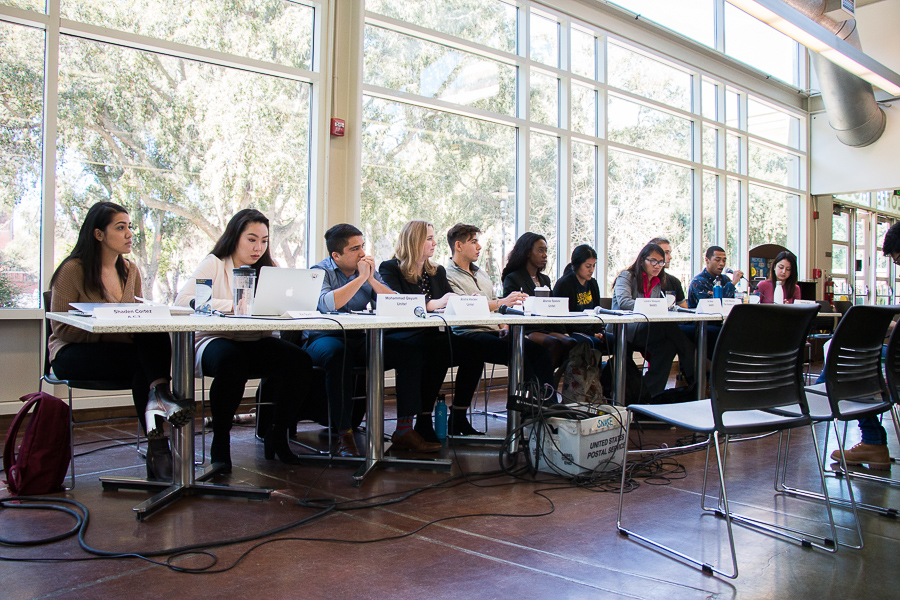 Candidates promoted platforms, few students stopped to listen
11 out of 22 ASUCD Senate candidates sat beside each other on Tuesday, Feb. 20 at the CoHo to debate their platforms and encourage students to vote in the ASUCD elections. The group sat at a lined group of tables, passing microphones between themselves and trying to grab the attention of CoHo patrons.
Five members of the Unite! slate were in attendance, accompanied by two members of the Aggie Community Transfers (ACT) slate, three members of the BASED slate and one representative from The Golden Slate. They conversed about pressing issues for UC Davis students, including the housing crisis, the "forgotten" population of transfer and veteran students, food stability, balancing ASUCD's budget and how to get students to care about student government.
According to Alisha Hacker, a first-year political science major and Senate candidate running under the Unite! slate, ASUCD has one of the largest budgets of any associate student union in the country. In order to balance the budget, Hacker said ASUCD must focus more of their time on the units with more potential for return — primarily the Bike Barn and the CoHo. Daniella Aloni, a third-year transfer student also running on the Unite! slate, agreed that more time needs to be spent on marketing in general, not only for those units but for ASUCD as a whole.
Kim Helen Quach of the ACT slate, a third-year English major, spoke about providing support for the media units that would help promote such marketing. She said, "I realize that none of them really have any name recognition or, to be quite honest, any kind of funding."
Luke Stocker, a second-year English major and the only representative of The Golden Slate in attendance, steered most of his comments toward Davis' housing crisis. He mentioned how members of The Golden Slate and other activists packed Davis City Hall in hopes of showing how serious students and the Davis community take the housing crisis.
The debate lasted for three hours, with all but one student — Lucero Vasquez, a second-year undeclared major running with the BASED slate — staying for the entire duration. The debate was originally supposed to be split into two separate rounds to allow all 22 of the candidates their time.
"I think [the debate] went as best as it could under the circumstances," Aloni said. "Some people just didn't do their job of being here."
Atanas Spasov, a third-year economics and mathematics double major running under the Unite! slate, was also frustrated by the lack of candidate presence. He believes that debates should be mandatory for all running candidates.
"Make it more of a spectacle," Spasov said in reference to how to get more people involved and aware of the debates. "Making that information readily available, making it known that there's going to be a debate in the first place, and sort of reinforcing how much ASUCD really matters in the students' daily lives I feel like would bring out more students to watch the debate."
During the course of the debate, students flitered in and out of the CoHo, with a few people stopping by to listen before going about their day. Mai Xiong, a fourth-year sociology and Asian American Studies double major, said she was listening in every now and then.
As a member of the Hmong Student Union, Xiong said that the topic of community representation is something that is extremely important to her, and during her time listening, she resonated with third-year sociology major and BASED candidate Jumoke Maraiyesa's words about community identity. Maraiyesa said they feel it is important to represent marginalized groups while not giving them precedent over other groups.
"Checking in with new clubs is really needed," Xiong noted, referring to the Hmong Student Union, which struggles with funding. She feels that it is important to have conversations about allocating funds to clubs because of the importance of representation.
Madison Farricker, a fifth-year environmental policy analysis and planning major, watched a good portion of the debate. Having already familiarized herself with many of the candidates' profiles, Farricker said it was interesting to see how similar the goals are of the different slates, but also how there are distinct ideologies within them that prevent the conversation from feeling stale.
"This is a group who has the opportunity to improve engagement," Farricker said. She believes that it is important for students to engage in local elections, especially those outside of the university system.
Written by: Taylor LaPoint — campus@theaggie.org