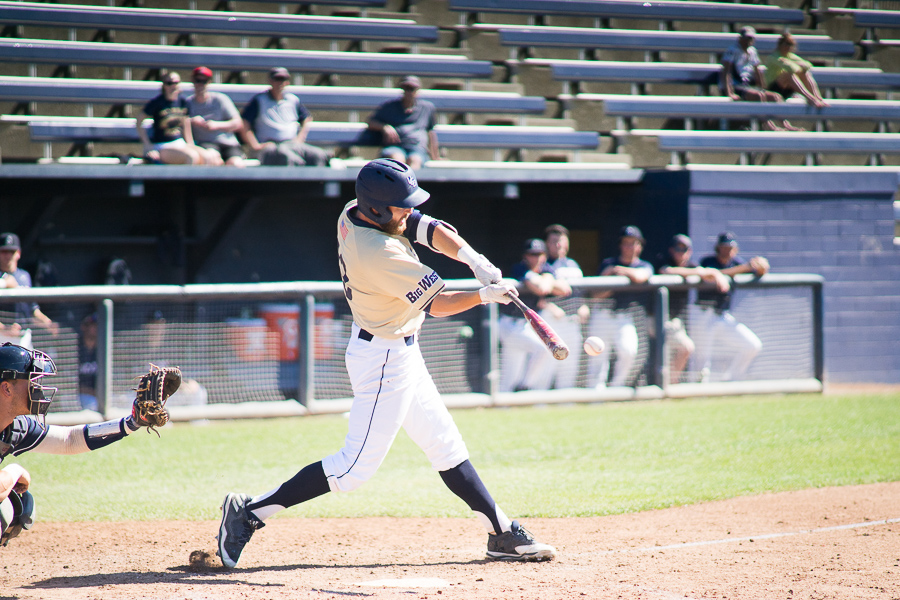 Aggies look to rebuild pitching staff, improve on promising 2017 season
As the UC Davis baseball team opens up another season this month, there is a certain optimism surrounding the program that this could be the year the Aggies take another big step forward and start challenging their Big West foes for a NCAA Regional berth.
Head Coach Matt Vaughn, in his seventh year at the helm, stressed the importance of sticking to the process and continuing to get better each and every day after coming off a 2017 campaign that saw the team finish fifth in the conference.
"We try to play the game one pitch at a time and we try to focus on process-type stuff and getting better at the details and the little things that help you win baseball games, knowing that the results aren't always in your control," Vaughn said.
Vaughn believes that this program is on the cusp of breaking out as long as everyone stays the course and puts in the necessary amount of work everyday.
"If you take a look at our program, we're always really close and we play in a lot of close games but we haven't quite gotten over the hump in terms of winning those games," Vaughn said. "It's a constant process and a daily grind. We expect our guys to stay on that grind, regardless of the results."
Undoubtedly, the biggest challenge the Aggies will face this year is rebuilding a pitching staff that lost its top three pitchers and entire weekend rotation from last season. Justin Mullins, Orlando Razo and Robert Garcia accounted for almost 60 percent of the team's innings pitched in 2017. Razo and Garcia, both left-handers, were selected in last summer's Major League Baseball draft, while Mullins was lost to graduation.
This year's squad will have to get more contributions from up and down the staff to stay competitive in a very talented Big West conference.
"We've got to throw strikes and compete in the strike zone," Vaughn said. "I think we have a couple guys that can eat up innings, but I think it's going to have to be more of a full staff. We normally carry somewhere between 14 and 16 pitchers and I see us this year maybe using all of those guys."
        Senior right-handed pitcher Matt Blais is the only returner on the staff with considerable experience, as he appeared in 17 games last year and made nine starts as the primary midweek starter for UC Davis.
        "In order for us to get to the Regionals, we've got to have good pitching," Blais said. "We have a lot of young pitching this year and we've just got to help the younger guys build on their momentum."
For the second year in a row, the Aggies are projected to finish in last place according to the Big West baseball preseason poll, which is voted on by all the coaches in the conference. When asked about it, Vaughn revealed that he hadn't even seen the results of this year's poll and clearly did not put much stock into it.
"That's where we were picked last year and we finished in the middle of the conference, above four teams," Vaughn said. "We can't worry about all of those things, we've just got to play the game the right way and hopefully the results take care of themselves."
The Aggies will have their work cut out for them, playing in the highly-competitive Big West conference that sent three teams to the NCAA Tournament a year ago. UC Davis compiled a 10-14 record against these opponents last season, but finished strong by winning two of its final three series in conference play.
Nevertheless, Blais believes that the Aggies always have the ability to go toe-to-toe with every one of its Big West counterparts on any given day.
"The good thing about the Big West is that it's all pretty much the same talent level and whoever executes that day is going to be a winner," Blais said. "Every single game is usually a one- or two-run game and it's just all about who's on the upper hand and makes the least mistakes."
       As far as position players are concerned, UC Davis will have returning players starting at every position in the field this year with the exception of first base. This substantial amount of experience will be monumental in allowing some of the young arms to simply focus on going after hitters and attacking the zone while having full confidence in the defense behind them.
"I'm a lot more comfortable this year," Vaughn said. "This is one of the best communicating teams I've had defensively. They're always talking to each other."
The Aggies are looking forward to welcoming back junior catcher Logan Denholm to the roster after he missed all of last season due to an injury. Denholm started 46 games behind the plate as a true freshman in 2016. His veteran presence will be a welcome sight for the young hurlers on the mound.
In the batter's box, UC Davis is poised for another solid season offensively, led by the outfield trio of redshirt seniors Alex Aguiar and Ryan Hooper and junior Ryan Anderson.
"Their progression has been great," Vaughn said. "Those guys are our leaders and they have a lot of experience at this level. We expect them to be consistent and guys that are helping drive us forward."
The Aggies averaged nearly five runs per game last year and proved to be quite disruptive on the base paths as well, finishing second in the conference with 25 stolen bases.
Anderson, a left fielder, started every single game of the season, leading the Aggies with a .313 batting average, 63 hits, and 39 RBI's. He caught fire during a torrid midseason stretch that saw him record hits in 19 straight games and reach base in 21 consecutive contests.
In right field, Hooper also started every game that he appeared in, batting .310 and finishing with a .392 on-base percentage, which was first among the team's starters.
Aguiar made opposing pitchers work extra hard on the mound, drawing 17 walks, and put the pressure on opposing defenses by swiping 11 bases on 14 attempts — both were team highs.
This season, UC Davis had the unique opportunity of signing 13-year-old Jetty "J.J." Huish to the team's roster. Huish is a huge baseball fan, and suffers from a condition known as X-linked Severe Combined Immunodeficiency which requires him to make frequent visits to the hospital for treatment.
"He's facing an incredibly tough situation and you would never know it," Vaughn said. "A lot of our guys have spent time with him. We feel like it's an incredible addition to our program."
Huish has already spent a lot of time around the team and will be alongside throughout the season at practices, games and other events.
"He had no problem gelling with the team," Blais said. "He brings a lot of energy and he fits in well with the older guys."
Vaughn spoke very highly of Huish and reiterated how great of an impact his arrival has had for both parties involved.
"I think it's going to be a great thing for him, but it can be an even greater thing for us as a program," Vaughn said.
Vaughn acknowledged that it's time to start seeing some consistently productive results on the diamond.        
"As you look at our time here, we graduate our guys and we give them a good experience," Vaughn said. "Our guys get good grades and do well in the classroom. We raise money and we're making our program better. We've done everything really well here, except win games, and so we've got to take the next step with that."
Earlier in the offseason, Vaughn received a four-year contract extension to remain the head coach for the Aggies. He has been with the program since he graduated from UC Davis in 1992, serving as an assistant coach before taking full control in 2012.
"I'm very excited about it," Vaughn said. "I'm very humbled and honored that Dr. Blue and the administration here has seen fit to let me continue working. We're building toward something and it's a momentum thing, but we're going to get there. It's just a matter of time."
The Aggies opened up the season on the road over the weekend, winning two out of three games against CSU Bakersfield. Senior shortstop Brad Pluschkell went 10-12 at the plate with four runs scored during the series, earning him the honor of Big West Conference Player of the Week.
UC Davis fell to visiting Stanford 3-2 in the team's home opener on Monday afternoon. The team will remain home for a three-game series versus Creighton starting on Friday afternoon.
Written by: Brendan Ogburn — sports@theaggie.org