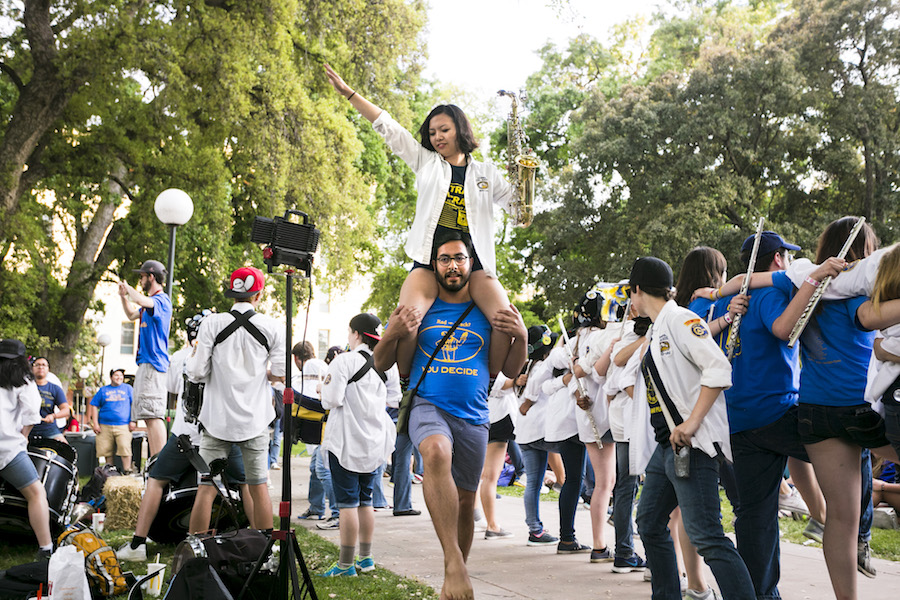 Students shine light on 104 years leading up to this year's Picnic Day celebration
April 21, 2018 marked the 104th year of UC Davis' oldest tradition, Picnic Day. Picnic Day was kicked off by a cow's pilgrimage from the UC Berkeley campus to the University Farm. Today, the University Farm is called UC Davis, and students and faculty showcase their interests and involvement at Picnic Day in various activities through performances and events. This year, the festivities consisted of over 200 events, including crowd favorites such as Doxie Derby, a chemistry magic show, Battle of the Bands, liquid nitrogen sorbet and the Davis Dance Revolution.
UC Davis was founded in 1908 as the University Farm, an agricultural extension of UC Berkeley. The following year, faculty members and students came together to celebrate and picnic at the campus Dairy Farm. In the subsequent years the university expanded, as have the number of events, exhibits and attendees.
Chelsea Falk, a second-year psychology major and the vice chair of Picnic Day, detailed the purpose and importance of Picnic Day to the Davis community.
"Picnic Day serves as our open house, but it is also a lot more than that," Falk said. "We have over 200 events, and it's a chance for our students and faculty to show off what they are most passionate about and what makes Davis special to both the students and the community."
When the first Picnic Day was held in 1909, there were about 2,000 attendees. Since then the number has grown substantially, to over 75,000 people reported. As the university grew in size and more buildings and programs were added to the school, the students and faculty were able to exhibit their interests through new events.  
"It really started off as just a picnic, and there wasn't a lot of events because the campus wasn't as big as it is now," Falk said. "In the following years, [Picnic Day] was showing off the new buildings and departments, and since then we have been adding more and more events to incorporate all the new aspects of the university."
Nicole Deacon, a second-year applied statistics and psychology double major and the special events director, explained how Picnic Day remains such a unique aspect of the UC Davis experience.
It wasn't until 1916 that Picnic Day became an entirely student-run event; today, it is the largest student-run event in the nation. It is supported by 16 directors, over 70 assistants and 200 volunteers. All of the events and exhibits are also organized and run by Davis students.
"I think what sets Picnic Day apart from other open houses is that it is completely student-run, unlike other open houses that are usually run by administration," Deacon said. "We feature all the different departments, student organizations and athletic departments, and then there is a parade that goes downtown that not many other schools have. It's really cool to see everyone come together and support Davis as a community."
However, Picnic Day also has a wilder side and is commonly regarded as Davis' largest party. The event has a history of rowdy behavior, causing city police to patrol the event.
"I think students definitely know that there is another side to Picnic Day that happens off campus and I feel like a lot of students don't really know what is happening on campus, which is something we are trying to change," Deacon said. "It's unfortunate that some students have ruined its reputation a little bit, but the community continues to love Picnic Day because there are just so many cool things to see and experience."
Despite student parties off campus, Picnic Day remains the community's favorite family-friendly event. Aaron Garcia, a second-year psychology and communication double major and the publicity director of Picnic Day, shared his favorite part of the festivities.  
"I really like seeing UC Davis students come out to Picnic Day especially because it is a Saturday," Garcia said. "Seeing so many people come and go to the different exhibits and enjoy what they are seeing as well as having all the family-friendly and community members come in really is the cherry on top."
Grace Gaither, a fourth-year English major and the Picnic Day chair, revealed the evolution and traditions of Picnic Day.
"Picnic Day has changed a lot since 1909 and a lot of that has to do with safety reasons," Gaither said. "We used to have mud pig-grabs where people would go in the mud and try to grab pigs and we also had bodybuilding competitions as well as food-eating competitions. We have always had fraternities and sororities involved in the parade but in recent years we have also had lots of clubs participate as well, which is really cool for potential Aggies to come and see."
It wasn't until 1916 that Picnic Day earned its name and simultaneously became a student-run event. Each year since 1923, the Picnic Day Board also bestows a theme that highlights something important to the directors regarding Picnic Day and to Davis as a whole. This year's theme was "Where the Sun Shines."
"Picnic Day is for everyone just like the sun and that is where our theme came from," Gaither said. "The warmth and brightness that the students show is the coolest part of the event."
Written by: Sneha Ramachandran — features@theaggie.org