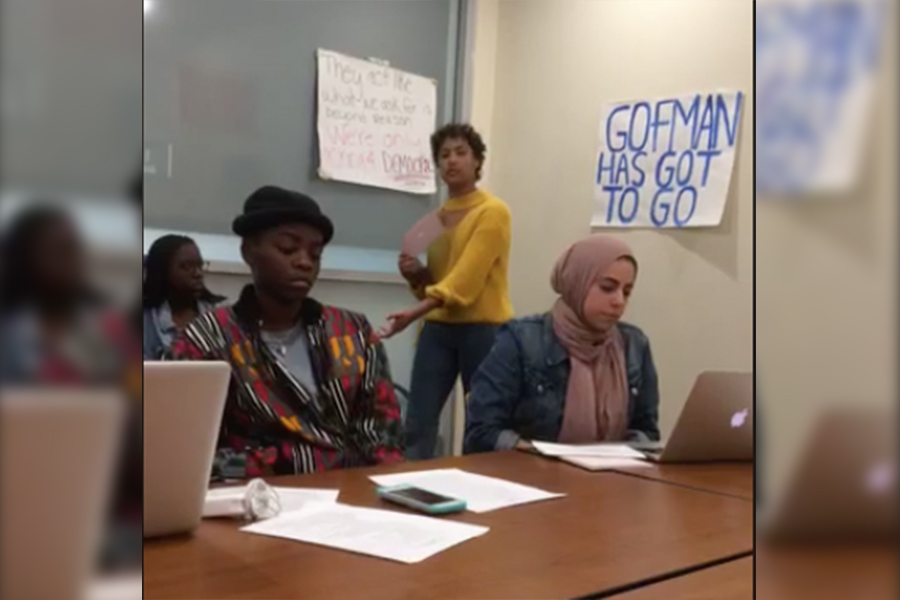 Meeting framed around Stephon Clark Remembrance Week preceding Picnic Day in relation to police de-escalation
On April 13, Students for a Democratic Society held a third meeting with administration in conjunction with other student organizations. The meeting discussed the targeting of Black students by police in relation to the recent Sacramento police shooting of Stephon Clark.
Stephon Clark Remembrance Week, organized by the Black Leadership Council, Black Lives Matter Sacramento and the Pan Afro Student Organization, was held from April 9 to 12 and included events from the Black Student Union, including a die-in on the Quad to visually draw attention to police violence.
The officers who shot an unarmed Clark 20 times in his grandmother's backyard and muted their body-camera 16 times have returned to work. Students in attendance related Clark's killing to the militarization of UC Davis police and their own lack of body-camera usage. One example of this violent militarization, according to attendees, was the Picnic Day five.
The "Picnic Day 5" refers to a group of five individuals of color who were engaged in a brawl with undercover police officers on Picnic Day in 2017. The police officers have been accused of engaging with the individuals in an provocatory and aggressive way.
Students framed the meeting's narrative around addressing how UC Davis administration can work to de-escalate police presence and at the very least around communities of color. This includes the removal of weapons on campus and increased training.
Meeting attendees from the student groups BSU, SDS, Student Workers Ending Racial Violence and other organizations held a printed itinerary with goals and an outline of topics to address, titled "Update on Student Needs."
First-year sociology major AJ Ballesteros, the current leader of SDS, talked about the basis for the meetings with administration.
"These meetings with the administration organized monthly are […] to address student concerns, primarily with marginalized communities, to make sure that the administration of the UC is being held accountable to these communities," Ballesteros said.
Ballesteros said the BSU came up with the list of needs through collaboration with Students for Justice in Palestine, the Muslim Student Association, El Movimiento Estudiantil Chicana/o de Aztlán, SWERV and the Davis College Democrats.
Everyone in the room then read the needs. The largest focus was working on police de-escalation, increased mental health and cultural competency training and de-weaponization on campus. Students argued that a higher education institution does not need officers with guns, and this does not prevent violence but adds to it.
Demands on the sheet related to police de-escalation included adding the establishment of a police-free zone on campus, the removal of officers from Picnic Day and encouraging UC Davis to make a statement about the Picnic Day 5. Another need that many attendees spoke about was the removal of police from residence halls, especially floors that house African American students. Ballesteros acknowledged how these are needs asked by one marginalized group on campus and that there are many others with their own specific and individualized needs.
Students said that police targeting students of color over other white students can reconfirm statistics of police profiling.
According to "an analysis of the available FBI data," it was found "that U.S. police kill black people at disproportionate rates." The analysis discovered that "Black people accounted for 31 percent of police killing victims in 2012, even though they made up just 13 percent of the U.S. population." And a study conducted by the University of Chicago found that violence against civilians by police officers is "an extremely or very serious problem according to nearly three-quarters of blacks,"  but "less than 20 percent of whites."
Student attendees also said police officers are not trained to handle people going through mental crises, which could result in escalated outcomes. Amara Miller, a Ph.D. student in sociology, said that when she was an RA, an individual tried to jump out of the window due to a suicidal mental health crisis. Miller's coworker had to talk that person out of the window, a task far beyond the job requirements of an RA.
"It is not the job of RA's to be mental health professionals, and it's also not the job of police to be mental health professionals," Miller said. "They do not have the skills to talk people out of those situations."
Attendees discussed increasing mental health funding and bolstering Community Advising Network counselors who are culturally trained. Students found cutting initiatives like the Mind Spa unacceptable, especially without administrative notification.
Miller said that administration should demand police officers be trained in cultural competency, mental health and de-escalation skills, which could address institutional racism.
"How are you hiring them?" Miller asked. "What training are you requiring them to have? What actions are they being asking to do on Picnic Day and how does that impact black and brown bodies?
Kelechi Ohiri, a third-year organizational studies major and a student assistant to the chancellor, spoke about the intense racial targeting she has experienced as a black woman.
"I have never been more profiled in my life than on Picnic Day," Ohiri said. "There are [police] everywhere."
Another student talked about seeing around 40 officers in front of a black fraternity throwing a party.
"If black folks are having a party, they're at the house," Ohiri said. "That's not really a UCPD as much as a Davis PD issue, but there should be a message to the Davis PD saying, 'OK, our students are here with their family and friends.' The aggression that gets shown by police officers on Picnic Day is very concerning."
Ohiri mentioned how an overarching issue is the institutionally racist and micro-aggressive policies and lack of cultural training for police officers. According to Ohiri, administration needs to look at what the purpose of a university police department is at a public learning institution meant to prop up marginalized communities, not target them.
Students in attendance also discussed redistributing funds in order to restructure policing, citing a community in Colorado that has been helped by replacing the police force with social workers. Replacing officers with social workers was a need listed.
Students talked about how a bare minimum would be a restriction on undercover police. According to one student, it is not just Picnic Day that contains undercover officers, alleging they saw a plain-clothes police officer at the recent Mental Health Town Hall last quarter.
Ballesteros asked everyone on the table what students can do in working with administration to de-escalate police presence, a presence that students of color say has largely been on them. Sheri Atkinson, the executive director of Community Resource and Retention Centers, admitted "Davis City Police" have long been accused of targeting Black students and other students of colors.
According to a student at the meeting, it can be triggering for students of color to see white students intoxicated and acting raucous on Picnic Day avoiding any consequences.
The end of the meeting pertained to the last Regents meeting and revisited topics discussed in the second meeting with administration, where SDS advocated for university-paid busing of students to UC Regents meetings.
Mayra Llamas, the interim executive director of the Community Resource and Retention Centers, said that, by the end of the process, only one student attended the Regents meeting. This student received university-sponsored travel, hotel and food. SDS members wanted further explanation as to why more students who signed up didn't go.
Students then asked how administration reached out to marginalized students centers about going to Regents meeting. As was mentioned at previous events, some SDS members and other campus group members revisited goals of sending out campus-wide emails. Atkinson and Llamas said that only the Chancellor's office and a few others have access to campus-wide emails.
Written by: Aaron Liss — campus@theaggie.org