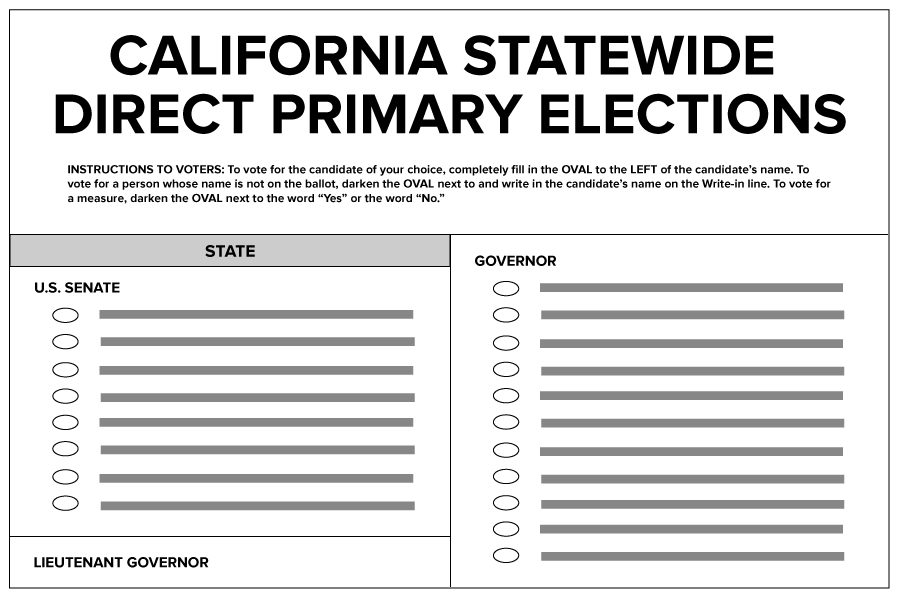 The importance of voting in these elections
Mark those calendars, Aggies — the California statewide direct primary and general municipal elections will be held on June 5 this year. The statewide direct primary ballot allows voters to decide among a host of different ballot initiatives and potential candidates. The last day to register to vote is May 21.  
"For the primaries, that's pretty much the election that happens before the general election," said Victoria Garduno, a fourth-year political science major, the co-chair of membership for the Davis College Democrats and member of the Yolo County Central Committee. "We're pretty much picking the top two candidates for every position. In the state of California, the top two vote-getters for Governor, assembly member, or state Senator will then advance to the general election which happens in November."
In addition to what Garduno described, the California statewide primaries give voters the opportunity to vote on multiple other offices and ballot measures, including House members, Lieutenant Governor, Secretary of State, Controller, Treasurer, Attorney General, Insurance Commissioner and Superintendent of Public Instruction (a full list can be found here). If students are registered to vote in Davis, they also have the opportunity to vote on a more refined level, deciding on matters pertaining directly to the city of Davis through the citywide municipal elections.
"In the municipal elections, we [vote for] the Nishi project and [other] measures and the city council," said Andrew Mendoza, second-year political science major and chair of the Davis College Republicans.
There are multiple ways in which students can register to vote in the city of Davis. Several groups of UC Davis students have even organized voter registration drives to mobilize the student-population to effectively utilize their votes.
"There's many different ways [to register to vote]," Garduno said. "You can register online. You can also register at post offices and there's also ways on campus. My club has teamed up with other clubs and organizations and certain city council candidates, and together we're always tabling to try to get people registered to vote."
General midterm elections already have fairly low voter turnout rates, with roughly 40 percent of eligible voters actually utilizing their voting power in the polls. Statewide primary elections, however, have substantially lower turnout rates — according to the Public Policy Institute of California, only approximately 25 percent of the eligible voting population in California actually votes in statewide primary elections. Mendoza attributes this low voter turnout to the lack of information provided about statewide offices.
"It is about information," Mendoza said. "Even now the media still focuses 24/7 on national politics, and they never talk about the state legislature. People come to college and they don't even know it exists; they don't know what the state assembly is or the state senate. I think that if more people were educated on the issues that affect them, then they would naturally have a say."
According to Garduno, the current political climate places a significant amount of weight on national politics, shifting the focus away from political affairs happening on the state and local levels.
"I think a lot of it has to do with the amount of publicity that happens when general elections happen," Garduno said. "We know when candidates are deciding to run for President pretty much two years in advance. With state elections and primaries, there's less media involvement, so it's not on [people's] radars all the time."
The lack of participation in state and local elections has become of huge concern to many individuals. Many UC Davis students see their time in Davis as only temporary, so they see no real value in voting on citywide issues that will cease to affect them in the distant future. Mendoza emphasizes the importance of voting on local issues such as affordable housing because they directly impact current students as well as future ones.
"Affordable student housing is an issue to everyone living in Davis because there's a huge housing crisis going on here," Mendoza said. "There are students that are living in their cars because they can't afford housing. Issues like affordable student housing is affected on the local level the most, because cities have the biggest say in development."
Garduno believes that if students use their voting power to voice their opinions on matters that they care about, they harness the power to enact tangible change.
"I feel it's important because, especially if you're barely starting your time here, you're going to be here for a while," Garduno said. "And a lot of the issues that are brought up can be fixed within the time that you're here. It's really important to pay attention to these things because by the time you [leave Davis], these problems can be fixed for the next group of students. To better the situation for future students, it's really important that we take the initiative."
Aska Fujimora, first-year political science major and field representative for ASUCD Senator Ko Ser Lu Htoo, believes that voting is a privilege that should not be taken for granted.
"Voting in the United States is a right that we have; people in other countries do not
experience this same right," Fujimora said. "I think it's important to realize that it is almost like our civic duty to go to and vote. Even if you are not directly impacting your life, in the future you could influence future UC Davis students' lifestyles, which I think is also very important."
Written by: Emily Nguyen — features@theaggie.org