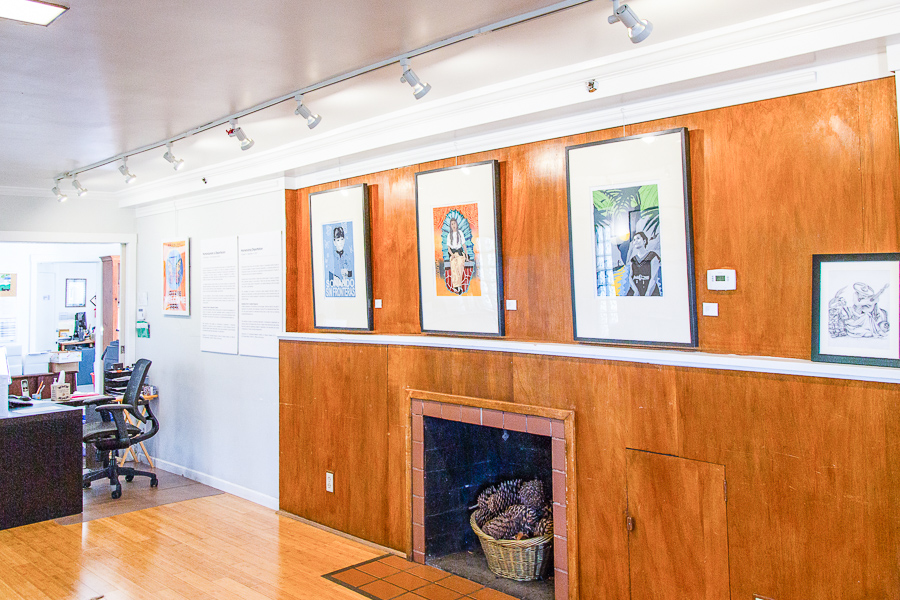 Multimedia exhibition featured at International House until November
Until Nov. 6, the walls of the International House will be adorned with portraits of deported immigrants, videos of their stories and silkscreens. Stories of deportation across the border are being showcased as part of their "Humanizing Deportation" multimedia exhibit. The exhibition is a collaboration with the project of the same name.
The project "Humanizing Deportation" is an online collection of firsthand accounts that illustrate the experience of the deportation process. It began as a response to "a lack of firsthand knowledge regarding the experience of deportation and removal," according to the project's website. The stories are each five-to-10 minute videos that serve to give deportation a face.
Humanizing Deportation received its original funding in early 2016, and the first group of storytellers were trained in Nov. 2016. The training occured a week after the presidential elections, which, according to Project Coordinator Robert Irwin, had left a significant dilemma surrounding the future of immigration.
"Those of us who had signed up for the project — whatever ideas we had in mind, what kind of problematic things were happening — suddenly became much more grave and serious after the elections happened," Irwin said. "We were all kinda shaken up by that. To spend that next week in Tijuana was pretty devastating."
The research team was comprised of graduate students who have worked in different parts of Mexico, according to Sarah Hart, a member of the research team. They created stories that chronicled the experiences of people in cities across Mexico, including Tijuana, Juárez and Guadalajara.
Each story was recorded and transposed onto a photo-video presentation.
"[The stories are] very meaningful for the participants to see themselves, to hear their voice represented in the words that they want to use," Hart said. "Many times, people are represented in negative ways or through statistics or in ways that they have no control over, so [the project is] trying to create a 'do it yourself' way for people to tell their stories."
According to Hart, the accessibility of the videos stems from how simple it is to share them. Anyone with a phone or computer can access the videos and share them. Rijin Sahakian, the executive director for the International House, explained how when she came in last year, she was interested in doing an event on deportation because it was an issue that was prevalent in Davis and the surrounding areas. She reached out to Irwin in hopes of doing an iteration of the online archive as an exhibition.
"I definitely wanted to do something around this issue because it was an issue that was affecting a lot of people in our communities — [and it was] an issue that people were talking about — but also one that is very resonant with our community," Sahakian said.
The exhibition includes programming throughout the course of its run, including a workshop on how to be a legal observer. The International House exhibition is also collaborating with the silkscreen studio Taller Arte de Nuevo Amanecer.
The exhibition is part of an ongoing mission of the International House to spread experiences surrounding issues that affect both our community and those around the globe. The International House will host a second part to this event in the spring, in which they'll showcase responses to this exhibit from local artists.
"What we're really trying to do is provide experiences that really engage people, connect people, that work with a global framework and address the fact that most of us have ties with different countries, with different cities, with different areas," Sahakian said. "We want space to explore that and to tell our stories, in an engaging and interesting way, that's really what we're trying to do here at I-House."
Irwin hopes that the viewers of the exhibit will become curious and spend time going through the collection and looking at more videos. He wants people to learn through these first-hand perspectives.
"Many of them are very moving because they're [about] people talking about their lives and the things they've gone through, suffered and in many cases how they've overcome," Irwin said. "They're really moving wonderful stories."
More information on the exhibition can be found on the International House website.
Written by: Hannan Waliullah – city@theaggie.org