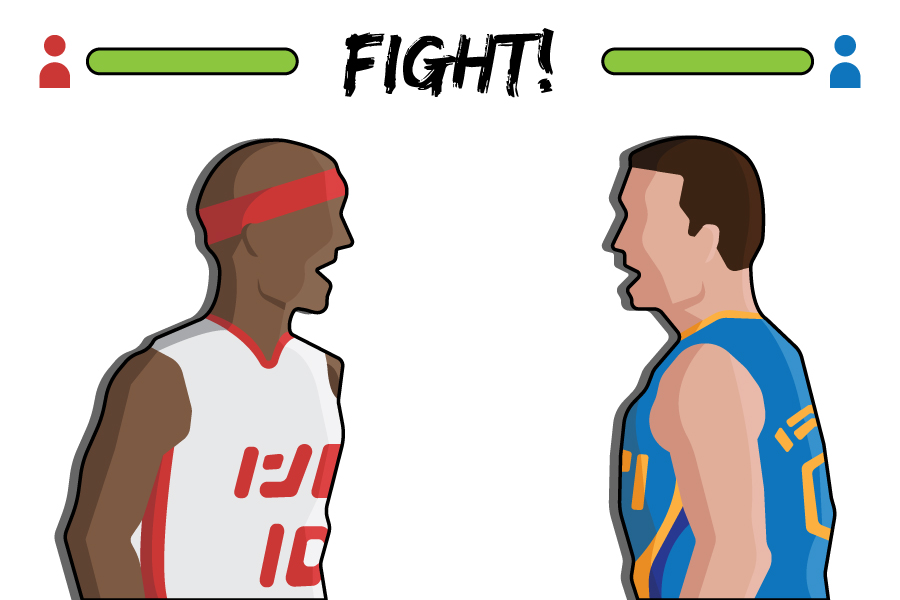 Conflict harkens back to days where tensions flared more frequently
In the closing moments of an Oct. 20 game pitting the Houston Rockets against the Los Angeles Lakers, Lakers guards Rajon Rondo and Brandon Ingram got into a heated exchange with Rocket guard Chris Paul.The game ended with punches, allegations of spitting and suspensions for the players involved.
Although the fight was rather tame, it harkened back to a time when fights of varying intensity were a mainstay of the NBA. Although the NBA has spent much of the last decade doing everything to prevent another "Malice at the Palace," a few times each year tensions seem to rise, briefly turning a game of basketball into a battle royale. Usually these skirmishes end up only being a shoving match, but occasionally they move off the rails and become something more.
Fighting in the NBA is often viewed as a sideshow. Sometimes, these fights turn out to be comedic, such as an incident involving current "Inside the NBA" co-hosts Shaquille O'Neal and Charles Barkley, where the two tackled each other to the ground during a game in 1999. The fight broke out after Barkley threw a ball at O'Neal's head and has now become a video played often on their show for laughs.
Other times, these fights can border on tragedy. In 1977, Kermit Washington infamously punched Rudy Tomjanovich which sent the latter to the hospital with multiple breaks on his face and a legitimate fear for his life. Washington received a 26 game suspension, which was the longest suspension for an on-court incident at the time. Though anything past a shoving-match has become increasingly rare, anytime competition, testosterone and tension come together, the possibility of a violent fight is still present.
The 1980's are well-known as an era where fights were not only commonplace but a part of the game itself. The "Bad Boy" Detroit Pistons built a reputation as fighters thanks to on-court enforcers such as Bill Laimbeer and Rick Mahorn. These players punished opponents in ways which were typically reserved for a boxing ring instead of a basketball court.
Barkley had another memorable on-court tussle, this time as a supporting player in 1984, when fellow Hall of Famers Julius Erving and Larry Bird exchanged elbows, punches and what some perceived to be chokes. Both players received $7,500 fines and no suspensions. Barkley — who once made headlines after saying that his only regret for throwing a man out of a bar window was that "we weren't on a higher floor" — received his own fine for what he claims was holding back Bird but what the NBA saw as holding him for Erving, his teammate, to punch.
The Lakers and the Sacramento Kings got into their own notable fracas in 2002, when Kings guard Doug Christie took exception to Laker Rick Fox knocking him down with an elbow just two minutes into a preseason game. The two teams became rivals the previous June after a contentious seven-game series ended in the Lakers favor, and it seemed that the intensity of that series carried over many months after.
Christie got up off the ground and hit Fox with an uppercut, causing a scuffle which resulted in the ejection of both players. Upon exiting the court, Christie was surprised to see that Fox had ran through the tunnels of the Staples Center and met him on the other side. By the end of this fight, Lakers center Shaquille O'Neal was pushing Christie's teammate in the tunnel, and Christie's wife, Jackie, was hitting Fox with her purse.
Arguably the most notable fight in NBA history, the aforementioned "Malice at the Palace," occurred on Nov. 19, 2004 when Pistons center Ben Wallace took exception to a foul from Indiana Pacers forward Ron Artest –– who has since changed his name to Metta World Peace. Wallace had a reputation as a tough defender, and Artest had a history of erratic behavior. Wallace shoved Artest across the court, causing Artest to lie down on the scorer's table while the two teams cleared the benches.
As everything began to settle down, a fan threw a cup of beer at Artest who took off into the crowd and tackled a nearby heckler. This erupted into a chaotic scene. Artest's teammate Stephen Jackson stormed after him and hit several spectators. One Pistons fan was punched by both Artest and his teammate Jermaine O'Neal. Ultimately, the game was called before the final buzzer. Artest got suspended for the remainder of the season and several other players received hefty fines and suspensions themselves.
It was the "Malice at the Palace" which caused the NBA to really crack down on fighting. Players were fined for leaving the bench if they were not in the game. Hostile acts within games were enforced more strictly, and fan behavior was more closely monitored.
Though there have been fights since then, such as an infamous brawl in 2006 between the Denver Nuggets and the New York Knicks, physical altercations in the NBA have become more rare and typically take a form more akin to this year's Lakers-Rockets fight than the Malice at the Palace. The NBA has had plenty of memorable fights throughout the years. Some make for good stories while others work as cautionary tales. Whether the NBA approves of it or not, fighting has a well-established place inside the league's history.
Written by: Bradley Geiser — sports@theaggie.org