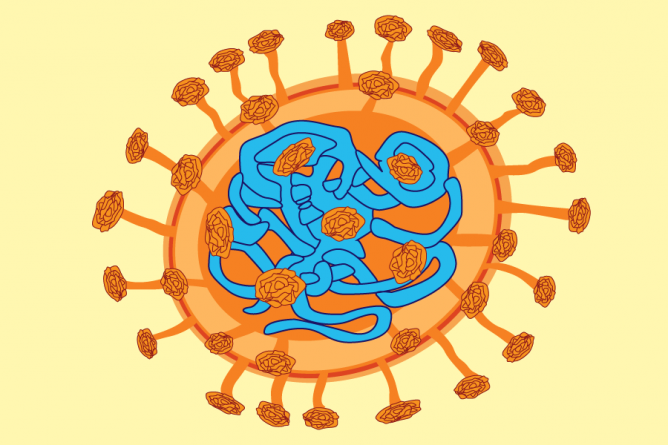 Davis for Hong Kong speaks out about coronavirus
Photo Credits: TESSA KOGA / AGGIE
International students express concern about Chinese government's lack of transparency
International students affiliated with Davis for Hong Kong recently spoke to The California Aggie about the intersection of mainland Chinese politics with the coronavirus outbreak. These students remain concerned about the Chinese government's lack of transparency about the illness, noting that the outbreak has spread to Hong Kong, where a burgeoning pro-democracy movement is advocating for more political autonomy and, now, for further protection from the virus.
"The [Chinese] government knew that there was some seriousness of the problem, but they didn't tell [people]," said Steve, an applied mathematics Ph.D. student from Hong Kong who declined to share his full name. "They put politics before the life and health of people."
The Chinese Student Association could not be reached for comment about the matter.
Currently, medical workers in Hong Kong are striking due to the government's refusal to close the border with China to prevent more infections.
"Recently, the protests have shifted from striking for democracy to striking for protecting people themselves," Steve noted. "Because if you want to strike for democracy, you have to make sure that we are safe and we can survive this epidemic crisis."
Steve said that the Hong Kong government "wanted the hospital authority to punish those strikers, to terminate their position for some other things. And so [the strikers] gathered in a place and they called for the government to fully shut the border down completely."
The movement has gathered momentum, with over 2,500 hospital employees striking, according to The New York Times. Although several checkpoints at the border have been closed, Carrie Lam, the chief executive of Hong Kong, has "resisted prohibiting all mainland arrivals," suggesting it could be discriminatory. Lam was also critical of the strikers, saying they were making things more difficult for patients and hospital officials alike.
In Wuhan, the epicenter of the mainland outbreak, the local police detained a doctor, Li Wenliang, for criticizing the government's sluggish response to the virus in a private group chat, accusing him of spreading rumors about the illness. Although Wuhan officials later apologized to Wenliang, he died of coronavirus earlier this February, sparking further anger directed toward the Chinese government.
"To us, from Hong Kong people's perspective, we feel like [the reporting of] this whole epidemic is delayed, […] and people discovered that if it had been recognized earlier, it would be more beneficial," said Simon, a Ph.D. student in the sciences from Hong Kong who also declined to give his full name.
Simon views the struggle with coronavirus as both a political issue and a health issue, noting the shortage of masks in the city to protect from the virus.
"We know that there are protective gears you can [wear] for medical workers, but more of these protective gears are delivered to police instead of medical workers," Simon said. "And there is huge distrust between the medical workers, the police, and the Hong Kong government. It makes absolutely no sense, because [the masks] and the gear [are] supposed to be used for medical workers in direct contact with those patients."
He also speculated that mainland China was underreporting the number of cases, referring to an academic paper that suggests just 5% of cases in Wuhan have been reported.
The proposed model in the paper posits that stopping travel to and from Wuhan would do little to mitigate the spreading of the virus.
"If no change in control or transmission happens, then we expect further outbreaks to occur in other Chinese cities, and that infections will continue to be exported to international destinations at an increasing rate," the paper said.
This statement has proven to be correct. In California, a patient is currently being treated for coronavirus at UC Davis Medical Center. The Center for Disease Control (CDC) is investigating the case to determine whether it is the first instance of coronavirus being contracted "from exposure in the community."
Additionally, three students who live in Kearney Hall on campus were isolated due to potential exposure to the virus, although the student who was tested for the virus tested negative and all three students were released from isolation. No one in Yolo County or on UC Davis' main campus have tested positive for the disease.
"I believe UC Davis is doing a decent job with the outbreak," Simon said, noting that he hadn't experienced any discrimination on campus due to the origin of the virus in his native country.
Steve also said he hadn't experienced issues on campus regarding public perceptions of the virus.
"But I do want to say that if you see people wearing masks, just please don't judge them, [or think] that they haveI some disease," Steve said. "It's not the cause. It's a protection of others and him or herself."
Meanwhile, UC Davis Global Affairs updated its travel advisory with new guidelines from the Department of Homeland Security. A study abroad program to China scheduled for late June is currently under review and may be cancelled. University officials will reach a conclusion by early April so that students will have time to apply for other programs in case the program is canceled.
According to the new regulations, U.S. citizens traveling from Hubei province in China may be quarantined for up to 14 days. Foreigners who have traveled to China within the last two weeks will be denied entry into the country.
The Chinese government criticized these measures publicly, with foreign ministry spokesperson Hua Chunying rebuking the U.S.' "lack of substantive assistance" at an online press conference on Feb. 3. Chunying said that while the U.S. was quick to evacuate personnel from the American consulate in Wuhan and to propose withdrawal of some embassy staff members, it simultaneously "[imposed] a travel ban on Chinese travelers."

Written by: Rebecca Bihn-Wallace — campus@theaggie.org