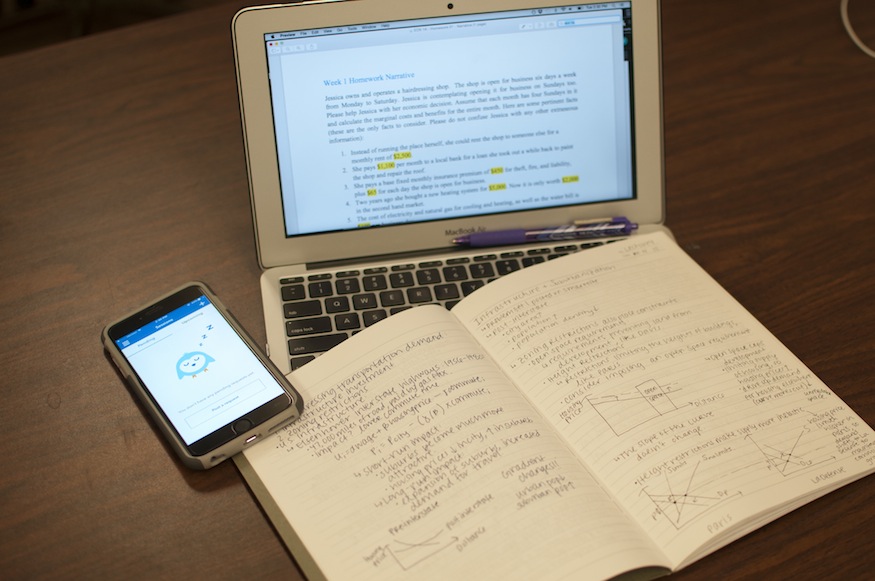 Exclusive UC Davis app currently available for download
A group of UC Davis students and alumni have teamed up to create Penji, a peer-to-peer study app that will connect Davis students to a community of tutors.
The two founders of the app, Ben Holmquist, a UC Davis alum, and Ben Morrison, a fourth-year biology major, explained how they came up with the concept behind the app.
"Ben and I were seniors at the time and we recognized that, myself being a tutor and him going through the ranks of college, there are a lot of times when you're really struggling and need help," Morrison said. "Once you get to upper division [courses] you realize you have the potential to teach a lot of other people on campus who are struggling with the material you understand."
They want Penji to create an academic community that would connect students at UC Davis. Ricardo Matsui, who works as one of the app's developers, explained how the user interface of the app will function. According to Matsui, the app will work in a similar way to the car service Uber, in the sense that students are able to request tutors for specific courses. Similarly, tutors who specialize in those subjects will be matched with the corresponding students.
"As a learner you can post a request; the app will ask you which class you want help in and what specifically in that class you want to know more about. You can pick which location preferences you have and what times you're available," Matsui said. "Then any teachers that are looking in the app can filter through which class they're looking to teach and see which classes the learners want. The learner and the teachers can see if there is a time when both of them available, then they can make an offer for that time."
Holmquist continued where Matsui left off, specifically explaining how the payment system will work. He explained that rates will begin with either a $15 or $20 per hour spread depending on what the tutor believes he/she deserves. Holmquist also confirmed that the app is now live in the Apple App Store and Google Play Store.
The app, which is currently exclusive for UC Davis students, is available for assisting students in limited courses and subjects. Morrison stated that the courses that it will first serve during the beta phase are Math 16A, 17A and 21A, as well as Chem 2A.
Morrison mentioned that the payment will be completely digitally processed, which he believes makes the process easy and effective. He also revealed that Penji will take an unspecified small percentage of the pay to account for the use of the app.
"UC Davis students can get $10 off their first session by using the promo code 'learn,'" Morrison said. It is going to be awesome."
Soon after conceiving their idea, Morrison and Holmquist began to build a team of app designers and developers. UC Davis alumni Matsui, Sumayyah Ahmed, Naji Dmeiri and Bobby Zhang joined in the effort to make the concept a reality.
According to Ahmed, the lead Android developer, the team finished the prototype in March 2015. Once the partially-finished prototype was pitched to investors, the team was able to collect enough funds to develop the completed app.
"[Morrison and Holmquist] used the prototype when they approached investors and displayed the business plan, letting them know which features were working and which were not," Ahmed said.
Now that Penji is a functional app, Morrison and Holmquist hope their app will impact the lives of students who are going to use it.
"Sometimes it's hard to make friends and study partners and eventually meet people who can help you along the way during college," Holmquist said.
The pair stressed the importance of building a community at Davis. They intended for the app to allow students to increase their social and academic interactions.
"Penji facilitates this sort of interaction and encourages students to help each other and share their knowledge," Morrison said.
The Penji team showed great excitement about the beta launch of their app. They also expressed their plans of further app development and eventual expansion to other universities.
"This app is very centered around the academic year," Holmquist said. "Over the summer we will do a lot of improving."