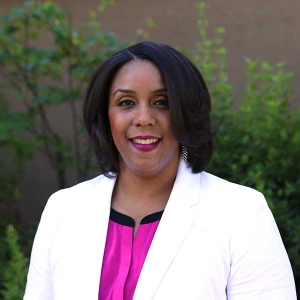 UC Davis is home to 23 different sports and hundreds of student athletes. A fleet of staff works behind the scenes to ensure that every aspect of each sporting event runs smoothly on a day-to-day basis. An essential part to the athletic operation is the health department that cares for injured athletes, helping them get back on their feet in as short a time and in as safe of a manner as possible.
A recent addition to the UC Davis Athletics Sports Medicine Department is Dr. Melita N. Moore, who became Head Team Physician for the Aggies in June 2015. Dr. Moore is the first African American female in the country to hold this position in college athletics.
An Ohio native, Dr. Moore grew up around sports and always dreamt of becoming a doctor in sports medicine. She was a three-sport athlete in high school and moved on to play collegiate volleyball at Hampton University in Virginia. Being active in sports, as well as being the only girl on her baseball team as a child, Moore was familiar with living in a "man's world."
Moore said that being a female in the "man's world" of sports medicine, however, comes with even greater challenges.
"There are a lot of roadblocks that come when you are a woman representing a professional team or a collegiate team, in the perception of how you can take care of an athlete, in the perception of how you should carry yourself as a woman being in a male-dominated field," Moore said. "I don't pay attention to any of that. I choose to wear whatever colored shirt I want, wear lipstick, and wear nail polish. I'm still my authentic self, which is sometimes hard to do as a female in sports medicine."
Throughout the course of her career, Dr. Moore said she has not faced any serious issues in dealing with male patients or coworkers. After her fellowship at the UC Davis Medical Center, Dr. Moore said she was fortunate enough to have a great career in sports medicine without encountering any sort of gender discrimination.
"At UC Davis Sports Medicine, my mentors have set the tone that everyone is on an equal playing field, whether you are a woman or a male, regardless of race," Moore said. "They have created this inviting environment. They created this culture, which has made my transition to sports medicine not as hard being a female. At UC Davis, our athletes have always been respectful because of the culture that the coaches try to establish as well."
Although she knew that women in her field can face discrimination, Dr. Moore persevered, fulfilled her dream and made history in sports medicine.
"It didn't stop me. It shouldn't stop anyone," Moore said. "It's not a barrier; it's just a small road block."
Written by Patrice Yap – sports@theaggie.org