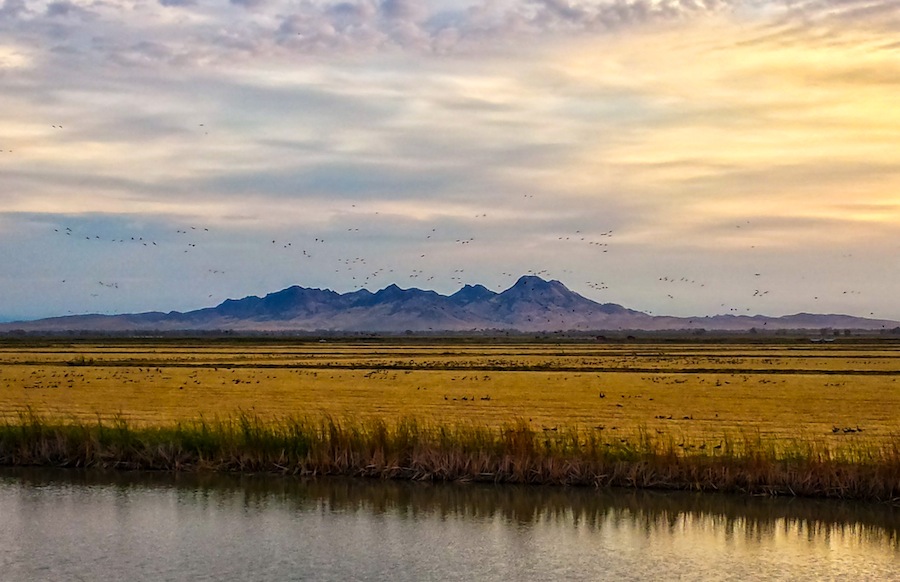 Gardening tips for drought season
Sustainable methods of transportation, building and farming are seen on a daily basis in Davis. The city has more bikes than people, is home to one of the top 10 ten farmers markets in the nation and the UC Davis campus has 17 LEED certified buildings.
Davis Ranches in Colusa, Calif. is dedicated to promoting good stewardship of local land by implementing sustainable farming practices on the ranch.
"Farming for the 22nd century" is the motto that motivates Davis Ranches to conserve land and resources to ensure that future generations have the ability to meet their needs.
The ranch plants cover crops that help prevent soil erosion and enhance soil health, and has also installed a drip irrigation system that saves water and helps plants absorb more nutrients. Davis Ranches distributes rice, walnuts, tomatoes, sunflower and corn both domestically and internationally.
UC Davis and the UC Davis Extension recognized the native hedgerows that line the Davis Ranches property for the restorative benefits they provide for the habitat. The hedgerows have also provided educational opportunities for farmers and conservationists.
"Hedgerows provide a native habitat to pollinators, and we have a lot of pollinated plants in the hedgerows," said Emily James, agricultural consultant at Davis Ranches.
Hedgerows also conserve water, enhance wildlife and serve as pest control.
These sustainable practices are not just for large scale farming, but they can also be incorporated in home gardens.
According to the University of California's California Garden Web, over-irrigation is very common during times of drought.Water usage can be reduced 20 to 40 percent by gradually decreasing the amount of water applied over a few weeks, giving trees and other plants time to adjust.
"[One thing people can do is] include native species which are more adapted to this area and use less water. You can see that a lot in Davis with the Arboretum," James said.
Native species can survive extreme drought conditions with minimal watering and, according to Save Our Water, native plants can reduce the average homeowner's water consumption by 60 percent. James explains that Davis Ranches has implemented this strategy with the hedgerows.
"Once they're established, we actually never water our hedgerows because they're self sufficient," James said.
The Tree Ring Irrigation Contraption (TRIC), a watering device that allows residents to adequately water their trees to a depth of three feet, is one method to improve home gardening and save water during drought season.
Another alternative to a traditional sprinkler system is drip irrigation, which allows water to drip slowly to the roots of many different plants through tubes and pipes and saves water and fertilizer.
"Installing a micro drip irrigation system allows you to deliver your fertilizer directly into your soil," James said.
At Davis Ranches, soil organic matter is used to naturally sustain the land during the season.  
"It is also helpful to keep organic matter in the plants, especially if you don't use synthetic fertilizers. We need the leaves on the lawn," said John Brennan, agricultural consultant at Davis Ranches.
Brennan explained that often times people like to remove the leaves off their lawns, but keeping them there is actually beneficial.
Keeping crop residue in soil or composted plant material can enhance the quality of the soil and increase yields. The organic matter releases nutrients into the soil, absorbs water and releases it directly to the plants and protects against soil erosion.
"You're giving a food source to the microbes in your soil by keeping the organic matter in there," James said.
Organic matter levels can be improved by reducing or eliminating tillage, which increases erosion.
"[At Davis Ranches] we try to minimize how much we disturb the ground, which maintains microbes, more nutrients and decreases erosion," James said.
On Feb. 13, a free workshop will take place from 9 to 10 a.m. to teach participants how to properly care for trees during drought conditions. The workshop will take place at the Grace Garden behind the Davis United Methodist Church, located at 1620 Anderson Road.
The event will be hosted by Master Gardeners of Yolo County, a volunteer group trained by the University of California Cooperative Extension (UCCE) to inform the public about home gardening issues.  
"We talk about pests, how to grow everything from a house plant or a vegetable to a fruit tree, any kind of home garden," said Gerry Hernandez, UCCE Master Gardeners of Colusa County coordinator.
The UC Master Gardener Program provides UC research-based information about home horticulture to the general public. They teach people about the proper care and placement of plants, sustainable landscape practices, water conservation and they work with the public to protect local ecosystems.
Written by: CARLA ARANGO – city@theaggie.org