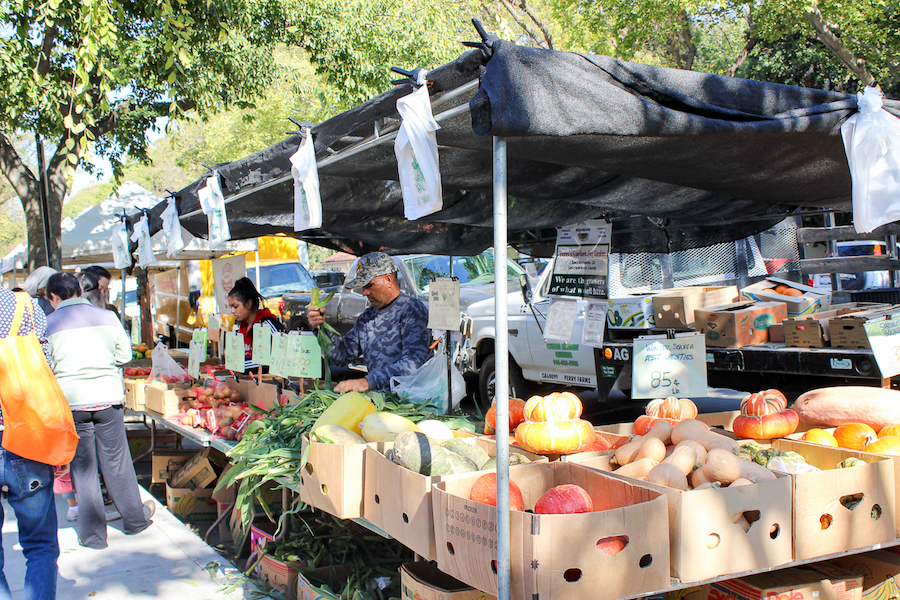 City of Davis' downtown farmers' market continues to bring feel-good food
The Davis Farmers' Market (DFM), which was one of the first four California Department of Food and Agriculture (CFDA) certified markets in the state, is celebrating 40 years of weekly fresh food and fun.
The market is held year-round, rain or shine — thanks to the uniquely covered Pavilion located at Central Park — and includes the traditional farmers' market offerings of fresh produce as well as bread, cheese, meat and local food trucks.
A few recent UC Davis graduates, including Martin Barnes, Jeff and Annie Main, Henry Esbenshade and Ann Evans, came together to form the DFM back in 1976.
"Today, the Davis Farmers' Market runs two markets in Central Park, as well as the UC Davis Farmers' Market, and since June 2011, the Sutter Davis Hospital Farmers' Market," Evans said in "Story of the Davis Farmers' Market." "Over 70 percent of the vendors come from within a one-hour hour drive of the market, and 50 percent stay year-round."
The DFM collectively draws an estimated 10,000 visitors weekly.
"I went a few times [to Picnic at the Park] last year, which was actually my first year ever going," said Elissa Diep, a second-year biological sciences major. "It was really fun to hang out with friends and also get a chance to try food from local farmers and bakeries. As a freshman, it was a great way to get away from food at the [dining commons]."
The Central Park Farmers' Market location has a year-round morning market on Saturdays from 8 a.m. to 1 p.m. There is also a Picnic in the Park event on Wednesdays from 4:30 to 8:30 p.m., featuring music, local restaurants and regular farmers' market vendors at Central Park.
"We're going to stay, and I think we figured out [a] plan [of] what students like," said market manager Randii MacNear. "We sell 'market dollars' and students can also use Aggie Cash [in exchange for market dollars]."
This is especially convenient for freshmen who receive Aggie Cash as part of their dining plan. MacNear went on to explain that first-year students can also receive a voucher through the dining commons and the UC Davis Student Health and Wellness Center for a free fruit or vegetable at the market.
The DFM comes to the UC Davis Quad area (in front of the ASUCD Coffee House) on Wednesdays before Picnic at the Park during Fall and Spring Quarters. There is also a smaller market at the Sutter Davis Hospital on Thursdays from 10 a.m. to 1 p.m.
Written by: Bianca Antunez — city@theaggie.org