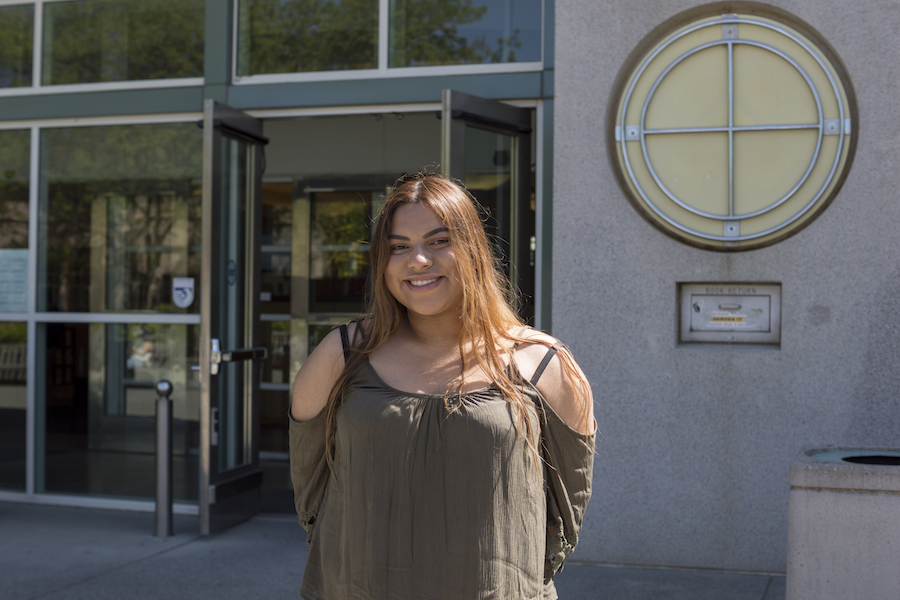 Pre-Law stories, paths, organizations on campus
A series of different conversations, exchanges and choices often converge to create what students call a career path. After having traveled very different paths, Alejandra Roman, Brittney Samuels and Jennifer Wilson all arrived at the decision to pursue pre-law undergraduate degrees.
Alejandra Roman suffered a tragic loss in seventh grade; she lost her sister in a car accident, and when her family tried to get justice for her death, the case was closed as a fatal accident. The driver responsible for her death walked free, and Roman's family was stripped of justice for their daughter.
"It's [this] personal experience that made me take the pre-law route route," Roman said. "I come from a low-income family, [and we] couldn't afford a lawyer, so we were assigned lawyers, [and they] weren't effective to my sister's case. [It] was labeled as a fatal accident when it wasn't her fault."
Roman believes that her family's inability to afford a lawyer placed them at a disadvantage in achieving the justice her sister deserved. The pain and anger from this loss has manifested itself as an inner drive and passion to become a public defender and to give back to the community that supported her family through this time.
"I know how much it means to people to at least have closure — to know that your family got justice," Roman said. "Every person deserves an effective lawyer. When my family was going through such a tragic moment, my community was always there for me. I […] want to give back for all the help I received when I need it the most."
Roman believes joining the La Raza Pre-Law Student Association has been one of her best decisions, allowing her to find a safe space of people with whom she shares the same ambitions. The group, geared toward increasing the number of Chicanxs and Latinxs in the profession helps its members through the process of getting into law school; students often share internships and beneficial opportunities with each other.
"La Raza, I guess in a sense means 'our people,' [in that] my people are coming together and trying to excel in life together," Roman said.
Another organization on campus that also strives to create a space for pre-law students is the Pre-Law Association. Brittney Samuels, a third-year sociology and African American and African studies double major and co-vice president of the organization, has wanted to pursue law since she was 7 years old.
"When I was in elementary school, I used to come home everyday and my aunt would be watching Law and Order," Samuels said. "So I'd be watching that [too] until my mom came and picked me up. And I thought, 'oh my God this is perfect!'"
Upon hearing her speak, people would ask young Samuels if she hoped to be an attorney someday, as she was not afraid to ask questions and challenge what was true and just.
"When I was 9 [years old], I called Sprint customer service, and [argued] about a charge on my bill," Samuels said. "I saw the bill on the table and [realized] it wasn't right, because I didn't do this and if my parents found out I'd get in trouble. So called them and I handled it myself."
Samuels' active and confrontational personality enable her to approach contentious  situations fearlessly and seek a solution, never acting solely as a bystander.
"I probably call places […] almost every two weeks," Samuels said. "If something isn't right I never just sit there and say 'it's okay, next time.' No. I don't do that. I'm gonna get my justice."
Jennifer Wilson, a fourth-year psychology and communication double major, has recently accepted an offer from the University of Southern California's Gould School of Law. A former member of UC Davis' Pre-Law Association, Wilson is now a success story and someone her community can look to for advice.
"I didn't come into Davis thinking that I wanted to do law school," Wilson said. "I kind of just came in. I decided to take a legal writing course here to try to see if there was something that I was interested in, and ended up really liking. The next quarter I took an investigative journalism class — that's the best class I've ever taken here. It was so rewarding. That's when I kind of decided law school is for me."
After navigating through different courses and interests, Wilson discovered a passion in law. However, she admits that this journey is not without its tests — quite literally.
"I took the LSAT prep course. That really sucked. [The whole journey] sounds really jumbled up, but [there] was a lot more crying and confusion between there," Wilson said. "But I really have to say, when I toured law schools last year, whenever I sat in a law school, I just feel it in myself. I feel like I belong there, and it's just somewhere I want to be."
Many pre-law students pursue bachelor's degrees in philosophy, english, history or even economics. However, Wilson and Roman both chose to major in psychology.
"A lot of people go the traditional route with studying political science, history or English," Wilson said. "Honestly, I didn't do any of the pre-law things that they say to do. I majored in what I wanted to do."
Roman believes that studying psychology will give her an edge in understanding the human psyche, motives people have behind their actions and, most importantly, whether or not someone is lying. This mindset is an example of how UC Davis students mold their unique backgrounds to complement their individual career goals and set themselves apart from the "typical" pre-law student.
"The biggest thing is knowing if your client or someone else is lying to you," Roman said. "I feel that through psychology, you are able to detect [and] start to learn the techniques of why people act the way they do. That'd be a very good advantage to have as a lawyer."
Wilson aspires to practice entertainment law, Samuels aspires to practice sports law and Roman aspires to become a public defender.
"I want to do this to empower my community, to empower my people," Roman said. "And to show people that even though life gets hard, there's still hope. We are the change and we are the future."
Written by: Sahiti Vemula — features@theaggie.org