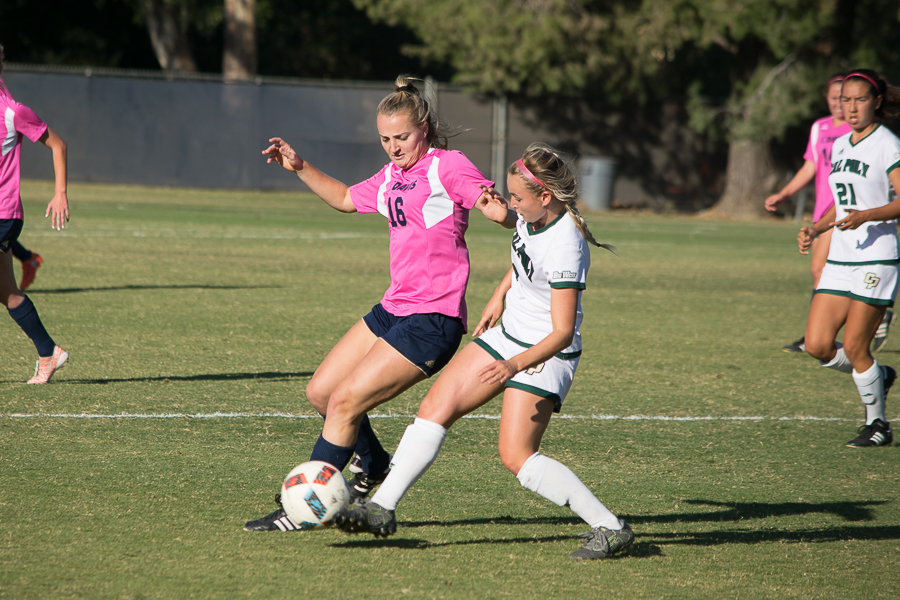 Aggies win 2-1 over Mustangs, now 2-0 in conference play
The UC Davis women's soccer team remains undefeated in the Big West Conference after an exciting 2-1 win over the Cal Poly Mustangs, who are now 0-3 in Big West play. While sporting pink jerseys for their "Play Pink" game in honor of Breast Cancer Awareness Month, the Aggies overcame a rocky preseason, a red card and a questionable goal on their way to victory.
Within the first few minutes of play, sophomore defender McKenna Moriarty kept up her momentum from the Hawaii game and scored on the Mustangs, putting the Aggies on the board. The Aggies would remain the only team on the board for the remainder of the first half.
The second half of the game saw a lot of tension and aggression on the field. With 28 minutes left in the game, the Mustangs scored on the Aggies. Cal Poly's sophomore defender Senna Brennan's corner kick snuck its way into the goal from the left side. With some players thinking the ball went out of bounds, the ball was lost in the confusion and eluded the defense. Coming off that tying goal, sophomore defender Haileigh Rose was red-carded and the team was left a player short.
"This team has dealt with so much this year," said head coach Twila Kaufman. "They just find different ways to handle it. I'm really proud of Haileigh Rose. She handled it like a champ, and our team stepped up and figured out a way to score a goal."
With eight minutes left on the clock, freshman forward Mahlah Catline scored the game-winning goal. This goal was her first career game-winner. Coming in from the left side of the net, Catline fought off Cal Poly's sophomore goalkeeper Sophia Brown.
"That was nice," Catline said of her goal. "It's kind of my job, though, isn't it? If I don't score, I've done something wrong. It's always nice to score, but I think it's a team thing. There are ten other people on the pitch, and I wouldn't be able to [do it without them]."
The Aggies ran out the remaining eight minutes on the clock. Junior goalkeeper Alexis Smith blocked a final corner attempt by the Mustangs' Brennan.
"I think it was a great team win," Smith said. "[It was] definitely a team effort, especially those last eight minutes there. We've been talking a lot this week about taking games moment by moment, so that's what I was doing."
Catline echoed her teammate, "I feel it went really well," she said. "I thought we persevered. I don't think it was our strongest game, but I think, we won and and that's what we're here to do. I think great teams win when they're not playing their best and it's only up from here."
This weekend, the Aggies will head south for games against UC Irvine and Cal State Fullerton.
"We'll have to shuffle the deck again," Kaufman said, in anticipation of the weekend's games. "We're going to be working on things a little differently. Once you get to this part of the season, there's a lot of familiarity. So we kind of know what our next opponents do and we've already kind of sneakily, with our team, been layering things in that we need to do to be successful with our next two opponents. It's going to be a great game."
Written by: Liz Jacobson — sports@theaggie.org