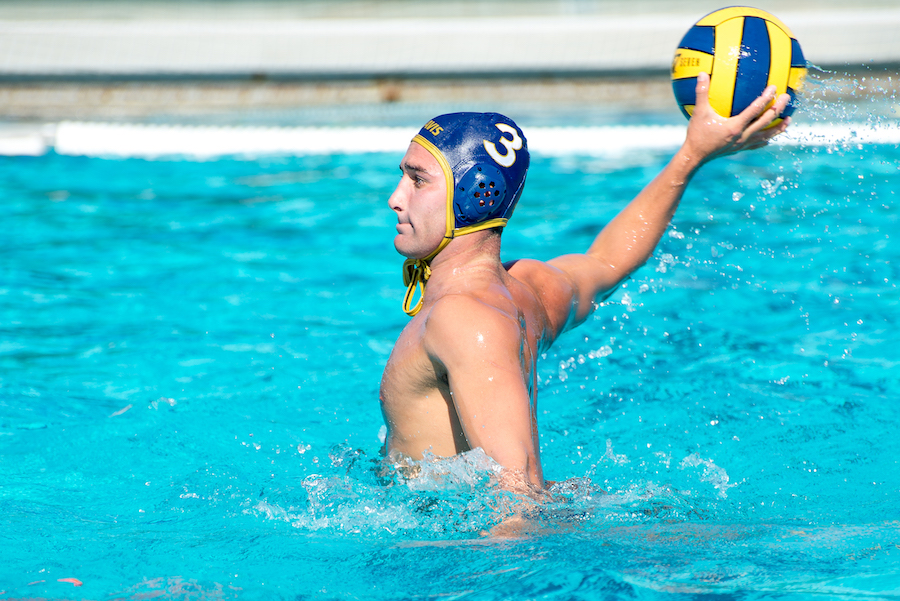 Aggies extend winning streak to eight in final home game
Coming into its final home game against Fresno Pacific University, the UC Davis men's water polo team was hoping to extend its seven game winning-streak as it headed into its final three games on the road before the Western Water Polo Association Championship. With the extra motivation of senior day and a large crowd behind them, the Aggies responded with a flurry, scoring 24 goals while allowing just two. It was an emotional day at the pool, especially for the seniors, as this would be the last time they performed in front of their home crowd. Head coach Dan Leyson heaped praise on to his team, acknowledging the heavy hearts.

"It's a sentimental day," Leysen said. "On one hand it's great — the victory today was great — on the other hand I'm really going to miss these guys, so it's a little bit — there's kind of like some melancholy associated with it."

That melancholy mood was not evident once the ball was dropped. The Aggies came out strong, and after four straight goals to kick off the first four minutes, the outcome was never in doubt. Sophomore center Eric Martel and junior attacker Marcus Anderson led the Aggies with three goals apiece, with Anderson recording a hat trick. It was overall a team effort, however, as six other Aggies scored multiple goals themselves. This sort of offensive domination is a welcome sight for first-year goalkeeper Jonah Addington, who split time in the goal with junior R.J. Quigley. Addington, who had three saves of his own, praised his team's relentlessness in going after the other team's goal, shooting the ball 38 times to get 24 goals.

"It makes things so much easier," Addington said. "The game was flowing really well, and we were firing on all cylinders, so it was great."

Though senior day is typically the final game for seniors such as center Morgan Olson-Fabbro, there's still a possibility that the Aggies take their home pool one more time.

"Hopefully we can get one more if we can beat UOP and get that play-in game here," Olson-Fabbro said. "But that's looking a little far ahead."

Senior day still added motivation for the Aggie team. Olson-Fabbro loved seeing the crowd fill up the stands and noted the benefits of having such a great support behind the team, noting that while it was bittersweet to know this could be the last time, it was a great way to close out the home season with such a dominant win.

"It's always fun to play for a crowd, and play for people cheering you on," Olson-Fabbro said. "It's always a good time, and when you get a good crowd like that, you've kind of got to play up and perform well."

Reflecting on his time playing with the seniors on his team, Addington praised his teammates for all their years of hard work and relentless attitude toward building a winning culture which would spread throughout the team.

"They've stuck through it four years — five years for some of the other cases," Addington said. "They just come to practice, grind every day, put it all out there, and they're just awesome guys."

Despite all these festivities, and the sentimental goodbyes to their home crowd, the season is not over. The Aggies have three more games on the road before they head into the postseason, and Leyson hopes to build off their now eight-game winning streak going forward into the final three games of regular season, two of which are against their conference opponents.

"There's always things we can get better at," Leyson said. "Our goal is to win, and that's what we want to do, and there's a lot of things that we can work on."

The Aggies will travel to Loyola Marymount today and will play at UC San Diego on Nov. 4.
Written by: Bradley Geiser — sports@theaggie.org