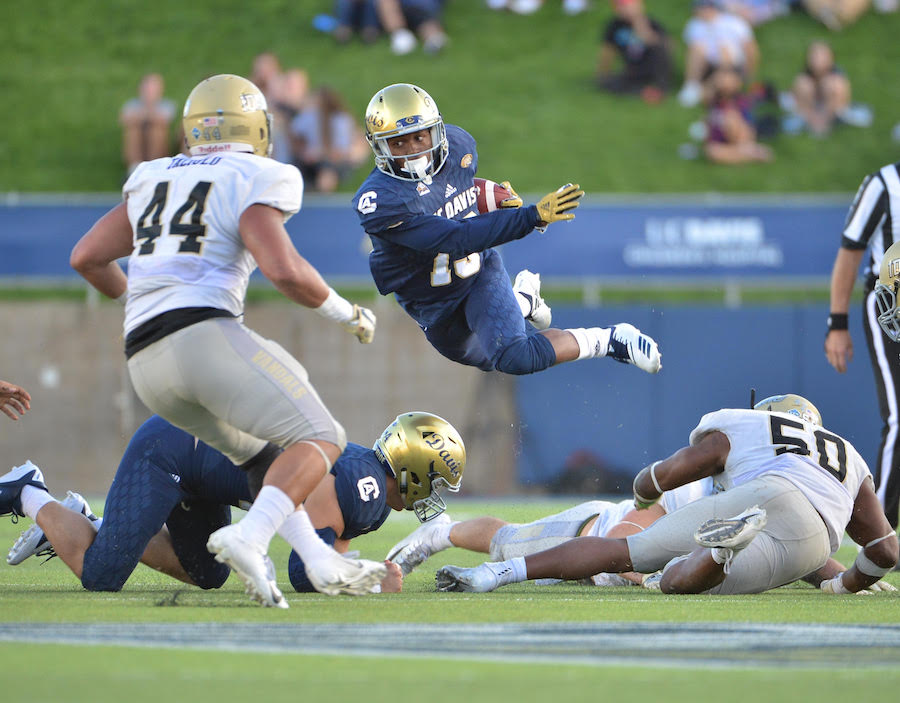 UC Davis football firing on all cylinders in Big West opener
The UC Davis football team cruised to its third win of the season on Saturday evening at Aggie Stadium, pounding visiting Idaho by a final score of 44-21.
Even after a 20-point loss to Pac-12 power Stanford last weekend, the Aggies felt they battled hard and carried a lot of positive momentum into this week's affair. They believed it was vital to begin Big Sky play with a win and protect their home field.
"We just try to keep getting better and improve," said UC Davis Head Coach Dan Hawkins. "Our guys are in a really good place where they're happy to compete and win, but always thinking they can play better. That's a really blissful place to be as a football player and a coach."
UC Davis built up a 44-7 lead after three quarters and thoroughly outplayed their competition in all three facets of the game.
The offense led the way with 512 total yards, including a season-high 256 yards on the ground. The team's ability to establish the run proved critical in opening up passes and lanes and allowing other teammates on the offense to prosper.
"We can be pretty unstoppable," said sophomore running back Tehran Thomas. "There's just too many things to worry about and guys that can make plays. When we're able to run the ball like this, it opens up so many opportunities for others."
The running back tandem of Thomas and redshirt freshman Ulonzo Gilliam combined to rush for 203 yards while averaging over 6.5 yards per carry. Both backs present slightly different running styles to the attack which complemented each other nicely on the night.
"I think that since I'm a bigger back, I bring more of a downhill force," Thomas said. "Ulonzo is really shifty and he makes a lot of guys miss in one-on-one opportunities. I think we all have unique skill sets that we're able to bring to the table, that make us so diverse and hard to stop."
Through the air, junior quarterback Jake Maier was extremely efficient overall and very precise on long throws down the field, completing seven passes of 15 yards or more. Sophomore wide receiver Jared Harrell led the receiving corps with four receptions for 66 yards.
The special teams unit also made a huge impact in Saturday's victory, scoring a touchdown on a blocked punt and converting on all three field goal attempts. Early in the second quarter, sophomore linebacker Connor Airey reached his arm out and blocked an Idaho punt at the goal line, which was scooped up by senior Namane Modise to give the Aggies a 21-0 advantage at the time.
Defensively, UC Davis completely dictated the flow of the Idaho offense, which was held scoreless up until the final two minutes of the first half. They came up with two turnovers inside their own five-yard line to deny the Vandals of points, including a forced fumble by sophomore linebacker Khanii Lesane at the three-yard line and an interception by senior linebacker Mason Moe at the one-yard line. Overall, the defense forced five three-and-outs and hardly seemed to be on the field in the middle of the game.
"I think it's a credit to the coaches getting us in the right spot and to us for being here all summer gelling and meshing with the guys," said senior cornerback Isaiah Olave, who led the team with nine tackles. "I think we're a lot deeper and faster on the field this year.
"We have about 25 guys that could start on defense," Olave said. "Having that mindset out on the field helps a lot and the confidence that you can play with anyone out there."
In addition to the usual playmakers on offense, sophomore wide receiver Darius Livingston recorded his first career touchdown catch on a 16-yard grab late in the third quarter. This was a huge moment for Livingston, a player who has fought through a lot of adversity and overcome many obstacles to get where he is today. After making the roster two years ago as a walk-on and sitting out a season as a redshirt, he tore his ACL and was forced to miss all of last season. His performance on Saturday evening was a big milestone for how far he's come in a difficult journey.
"This spring, I showed what I can do and now all this hard work is paying off," Livingston said. "No matter what you go through, you've got to keep your head up."
The Aggies received the opening kickoff and promptly marched 75 yards down the field in just over three minutes to take an early 7-0 lead. Harrell and fellow sophomore wide receiver Khris Vaughn both made long receptions to keep the chains moving, before senior wide receiver Keelan Doss streaked open down the seam for an easy 20-yard touchdown catch, his first of the season.
The UC Davis offense started to assert its dominance up front and establish the run on its third possession of the game. The team leaned on Thomas, who carried the ball six times for 30 yards on the drive and capped things off with a four-yard score in the final minute of the opening quarter.
After the blocked punt, the Aggies managed to tack on six more points before halftime on a pair of field goals by junior kicker Max O'Rourke.
UC Davis slammed the door shut in the third quarter with 17 unanswered points, paving the way for a stress-free fourth quarter that allowed some younger backup players to see the field.
"It's fun when you can play a lot of guys," Hawkins said. "We want to get a lot of people in the game, let them contribute, and reward them for working hard."
Idaho came out of the locker room and looked to get back into the game with a commanding 10-play drive, but the UC Davis defense came through with another big play to turn away the visitors deep in the red zone. Sophomore defensive back Isaiah Thomas tipped a pass over the middle and Moe picked it off at the one-yard line, before returning it 24 yards the other way.
Soon after, UC Davis settled for another field goal from 35 yards out to push their lead to 30-7 midway through the third quarter.
After another three-and-out on defense, the Aggies found the end zone on the very next play as Gilliam showed off his versatility in the backfield and took a quick dump-off 34 yards for a touchdown.  
A pair of late touchdowns by Idaho in the fourth quarter weren't enough to ruin the spirits in the Aggie locker room. The team will enter its by-week after four solid performances to start the year and feels that it has a lot to look forward to as its slate of conference games progresses.
"I feel like the sky's the limit and we haven't played up to our potential yet," Gilliam said. "We can be number one in the conference soon and we have a lot of good things going for us right now."
The team will return to action on Oct. 6 with a road game at Northern Colorado.
Written by: Brendan Ogburn — sports@theaggie.org