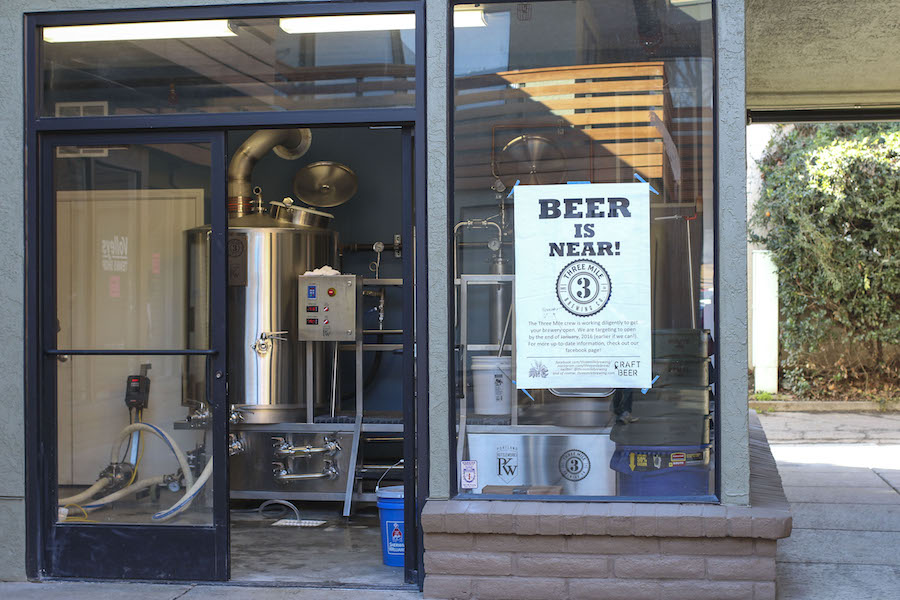 Located on G Street, brewery will be first in Downtown Davis.
Davis beer enthusiasts will have a new reason to celebrate when Three Mile Brewing Company opens in Downtown Davis next month. With Sudwerk Brewery currently being the only brewery in Davis, Three Mile Brewing Company will be the second, and the first to open in Downtown Davis. It will contribute to Davis' already thriving beer culture, which includes a multitude of bars and pubs, as well as festivals including the Bike and Brew Fest and Davis Beer week, both of which are in August.
The seven founding members of Three Mile  have been friends and brewing beer together for 15 years. The business name was inspired by the ban on alcohol within a three-mile radius of the UC Davis campus, which was in effect from 1911 to 1979.
The Three Mile team started a Kickstarter campaign in the beginning of November 2015 to raise funds to open the business. By the end of the month,  the team had already surpassed their fundraising goal, raising over $16,000.
"Three Mile Brewing Company is headquartered in Davis, CA. Land of bikes, cool hippies, UC Davis and a ton of beer lovers that are clamoring for another local, dynamic, craft brewing company that delivers top notch beer," says the team's Kickstarter page.
Founder Joe Runner cited the company's unique production system as a distinguishing factor of Three Mile Brewing Company.
"What we are doing that's unique is producing every beer we serve within 25 feet from the tap room. We have a very small brewing system, so we have more agility in what we do," Runner said. "We don't need many ingredients per batch, and every time we brew we make approximately seven kegs of beer. With this small system, we can use unique, quality ingredients and be 100 percent in control of our beer."
Runner made it clear that breweries in the greater Davis area have been very welcoming to the Three Mile team.
"It's really fun being in the industry," Runner said. "You would think it would be that some people would be hesitant to welcome us into the industry because of the competition, but the opposite has happened. Local companies including Sudwerks and Berryessa Brewing Company in Winters have been helpful and willing to provide advice from their business models, even offering to sell us equipment. It's a tight knit community and we have a good relationship with all of the local breweries."
Runner and several other founders currently work in the pharmaceutical industry, which he said lends itself well to brewing beer due to similarities in the production process.
Tim Mech, another founder, noted that each of the founders brings a different skill set to the founding team.
"I am still working at Wells Fargo, and this is a side venture for me," Mech said. "I will be the finance guy for Three Mile. I love beer, finance and Davis, so I was happy to come on board."
Mech also said that Three Mile will have an expansive menu, catering to customers' individual preferences .
"A lot of people in Davis like West Coast IPAs so we will have a lot of those, but we will have a full spectrum of beers including stouts and browns," Mech said. "Anyone who likes beer or wants to try beer will be able to try out a lot of quality beers at Three Mile."
Three Mile will be part of a remodeled retail and office center called The Courtyard, which was formerly called Court 'N Cedar.  It's part of a series of improvements at the intersection of 3rd St. and G St., including the new 3+G building featuring Temple Coffee Roasters.
The Courtyard and 3+G are owned by the Ruebner family. Property owner Anthony Ruebner said that the buildings have sentimental value because his family has deep ties in Davis as his father was a founding faculty member of the UC Davis Medical Center in the late 1960s. Ruebner explains that the values of Three Mile align with the vision his family has had for the area.
"We met the team from Three Mile, and they are rooted in the community, too. They are passionate about brewing beer and having a community oriented business," Ruebner said. "It brings something that doesn't exist to our downtown. They have sophisticated and creative ideas; it's not just another bar in town."
The brewery is set to launch its soft opening mid-February. For updates, see Three Mile Brewery on Facebook, or follow the brewery on Instagram and Twitter @ThreeMileBrew.
Written By: CAROLINE STAUDENRAUS – city@theaggie.org