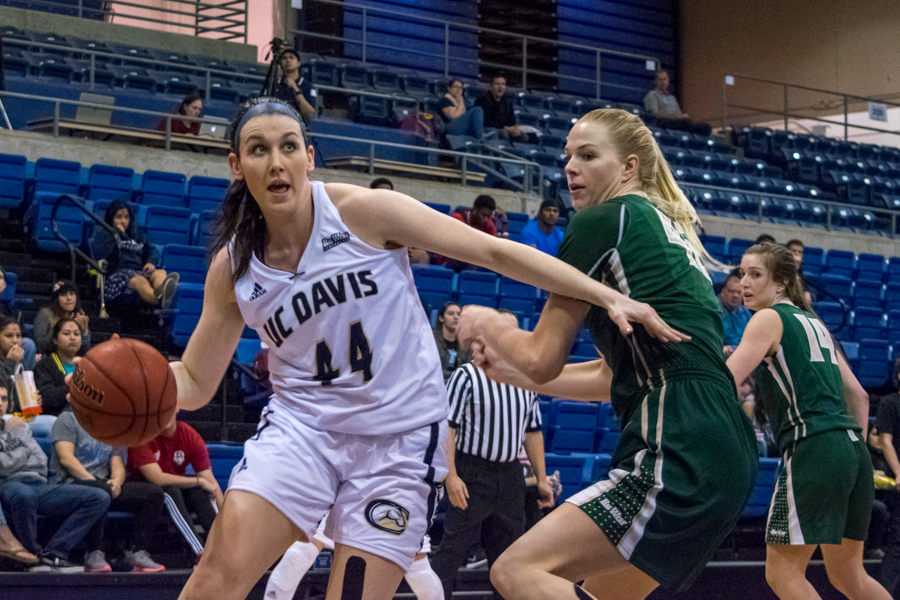 Career night by Rachel Nagel lifts Aggies to second straight conference victory
It's not even halfway through February, but the Aggies are ready for March. The UC Davis women's basketball team is firing on all cylinders, coasting through Wednesday night's matchup against the visiting Cal Poly Mustangs. Sophomore guard Rachel Nagel led the charge with a season-high 19 points off the bench in an 82-71 victory over conference rival San Luis Obispo.
Nagel beat the buzzer, sinking a near-half court three-pointer to end the first quarter, tying the game at 18. Nagel's night was far from over however, as she carried the momentum into the second quarter with two quick layups en route to what turned out to be a career-best performance.
"We had different players step up and make plays," Head Coach Jennifer Gross said. "I thought Rachel Nagel was tremendous. Just when we needed it, she seemed to make a play, whether it was on defense or offense."
The Aggies' offense is strong. With five double digit scorers, and one athlete missing by just a point, the offensive threats are endless. The Mustang defense was forced to focus on the inside, as senior forward Alyson Doherty heated up in the paint in the fourth quarter, leaving the perimeter vulnerable to a barrage of three pointers at the hands of sophomore forward Pele Gianotti and senior forward Celia Marfone.
With 7:02 remaining in the contest, Marfone connected from three point land, giving the Aggies a double digit lead and sealing the fate of the overmatched Mustangs. Despite an impressive outing by the Mustang's 5'3" point guard Lisa Marie Sanchez, who led all scorers with 21 points, Cal Poly was unable to recover from the UC Davis fourth quarter surge.
"It's hard to decide who to get the ball to because we have so many threats. We try to go inside out and let our production inside create opportunities for us outside," Gross said. "But it is fun trying to figure out how to use all of these parts, and how to use them together, and I think they're really coming together nicely."
UC Davis won the battle in the paint, 44-32, out-rebounding Cal Poly 39-36, while shooting 45 percent from the field.
The Aggies' next opponent is Cal State Fullerton, who they defeated less than a week ago in Orange County. A win at the Pavilion this Saturday, coupled with a Long Beach loss, would propel the Aggies into second place in the Big West standings after the weekend.
"The Fullerton game is a huge one for us," Nagel said. "We want to come out with as much fire as we can. After just playing them last week, we're ready for them. We just need to play our hardest."
Written by: George McConnell – sports@theaggie.org