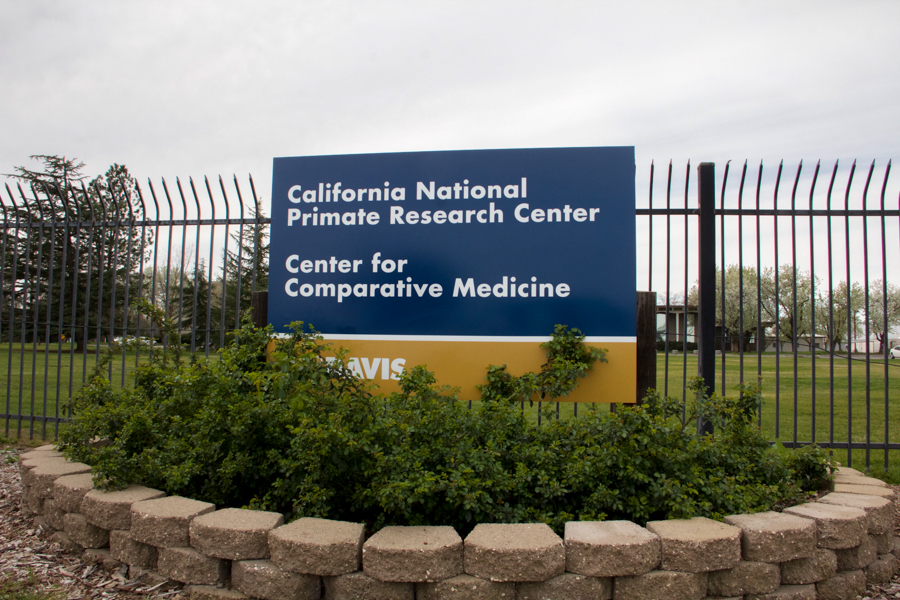 Researchers hope to discover developmental impacts, test potential vaccines for virus
UC Davis' California National Primate Research Center (CNPRC) will commence its study on the effects of the Zika virus on primates on March 16. Led by virologist Dr. Koen Van Rompay, the research team will work toward discovering the developmental impacts of Zika virus and eventually test potential vaccines.
The project is split into two phases; the first examines how the Zika virus is transmitted and its physiological effects on primates, while the second studies the virus' effects on the fetuses of pregnant primates. The primates in this experiment, rhesus macaques, will be injected with the Zika virus in a controlled environment.
"From this study, we hope to confirm the proof of concept: firstly, that the Zika virus can infect macaques, and secondly, to see if it has any effects on the fetus," Van Rompay said. "Once we have that proof, we can go into further study to see how the virus moves into the brain and also test vaccines."
Van Rompay has previous experience studying viruses and testing vaccinations at CNPRC. In the 1990s, he contributed to the development of the antiretroviral drug Tenofovir, which is commonly used today to treat Hepatitis B and HIV. In one study, Van Rompay recorded the effects of Tenofovir on HIV-positive pregnant rhesus macaques. The results determined that the drug could reduce the chances of a fetus contracting HIV in utero.
Since its discovery in 1947 in the Zika forest of Uganda, the Zika virus has infected millions throughout the world. According to the Centers for Disease Control and Prevention, Zika virus outbreaks occurred in areas including Africa, Southeast Asia and the Pacific Islands prior to 2015. More recently, outbreaks have occurred throughout Central and South America, specifically in Brazil. Researchers expect the virus to spread with increased traveling rates.
Zika virus symptoms include joint or muscle pain and feverish fatigue. It is most commonly transmitted via mosquitos. The Zika virus causes an acute disease, rather than an autoimmune disease like HIV, which means that adults may be able to clear the virus within a few weeks through the strength of their own immune systems.
"Zika virus is similar to measles in that they cause very acute diseases," Van Rompay said. "Most people will get over them because their immune systems make a good immune response that controls the virus. So, what we need to do with the vaccine is just imitate that."
Van Rompay said that studying fetuses with Zika-infected mothers is important in order to develop a vaccine for unborn children that risk developmental issues by this virus. Based on previous studies, Zika virus has been correlated with a negative impact on the placenta and amniotic fluids of pregnant women, and it also may increase the risk of microcephaly (deformed head shape of newborn).
Van Rompay also said that the Zika virus can be sexually transmitted. From his research, despite the virus being acute, it appears to survive longer when using sperm cells as hosts.
Some members of the UC Davis community have voiced their concerns for the well-being of the primates under experimentation at the CNPRC.
"There will always be more diseases to study and more humans suffering from illness, but it is time to stop using this fact of life to justify the enslavement, torture and murder of innocent beings," said Caroline Webb, a geology graduate student and member of the activist group Free Davis Primates. "We have the intelligence and technology to develop better ways to improve our medicine and maintain our ethical integrity."
Others have expressed how a stressful and unnatural laboratory environment may contribute to skewed results. Stop Animal Exploitation Now (SAEN), an organization that strongly advocates the cessation of animal cruelty and exploitation, believes that using animals for scientific research creates an ethical dilemma.
"Any study of Zika is essentially an infectious disease study, which is dependent on the immune system of the animals," said Michael Budkie, the director of SAEN. "The stress of the laboratory environment is sufficient to cause many primates to become self-destructive. Similarly, the stress of the laboratory setting is also sufficient to have a major impact on the immune systems of the monkeys. Therefore, you would likely not be able to generalize any study of captive primates even to a population of primates in their natural habitat, let alone to humans."
Van Rompay and his research team have stated that the primates will be quarantined in order to prevent outside disturbances that could affect the experiment, and that the research team will protect the primates from harm to the best of their ability.
Van Rompay hopes to have some sort of vaccine developed for the Zika virus by next year. He believes that his strong connection with his research team will contribute to finding more sufficient data.
"I have a lot of hope for the future," Van Rompay said. "Especially with the Zika virus research, I'm very impressed with how much people are interested to share their data. We're working with different groups and contacting them every day about their findings. I am hoping that this will set a good example for future researchers."
To keep updated on this study, the CNPRC is providing real-time updates on their website.
Written by: Emma Sadlowski – campus@theaggie.org