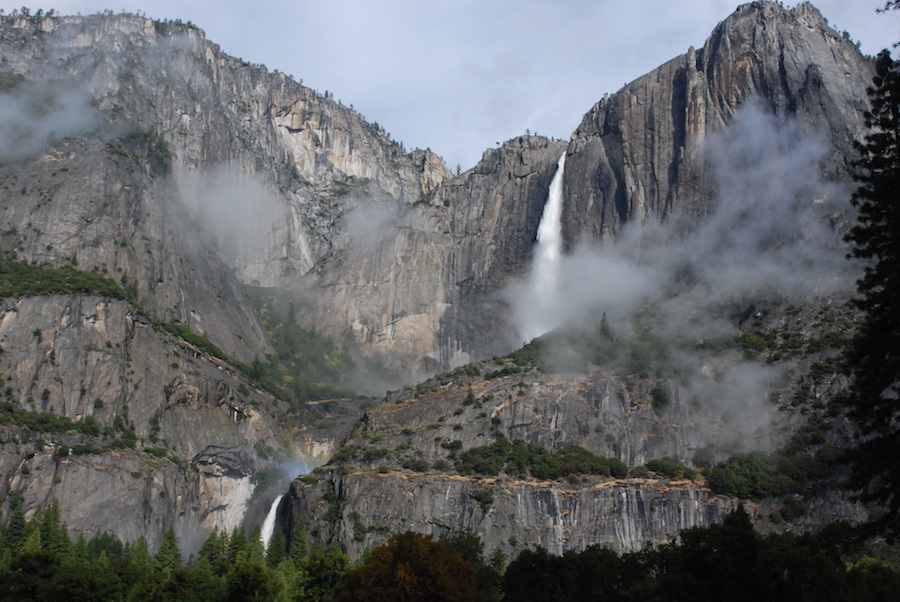 Battle over trademark causes name changes to historic property sites at Yosemite National Park
On Jan. 14 the National Park Service (NPS) announced that the names of several historic properties at Yosemite National Park will be changing due to a trademark dispute with the previous concessioner, Delaware North. The name changes will affect many iconic landmarks in Yosemite, including the historic Ahwahnee Hotel (which has hosted guests including Queen Elizabeth II, Walt Disney, Steve Jobs and Charlie Chaplin), which will be renamed The Majestic Yosemite Hotel.
Hospitality company Delaware North, which has run the visitor's services for the park since 1993, lost the contract to Aramark in June 2015. In September 2015, Delaware North initiated a lawsuit against the NPS for failing to force Aramark to purchase the trademark names that Delaware North owned. In response to this, the NPS allowed Aramark to change the names of many historic property sites at Yosemite National Park to avoid paying Delaware North for the names.
At the heart of the issue is a battle over the ownership and value of the trademarks to these properties. Delaware North values their trademarks at $50 million and claims that Aramark should be forced to pay for them. However, the NPS claims that the trademarks are worth $3.5 million and that some of those trademarks for nationally significant sites should not have been approved by the U.S. Patent Office.
One of the most significant trademarks that Delaware North claims ownership of is the use of the name "Yosemite National Park" for commercial purposes. There have been reports that all T-shirts bearing that name have been removed from Yosemite National Parks' gift store.
Despite the controversy, Dan Jensen, former president of Delaware North at Yosemite, argues that Delaware North has done nothing wrong and that there was no need for the NPS to change any of the names.
"In my view, the Park Service did not have to change the names, [but] they decided they wanted to. We sent them a letter telling them that we would give them unlimited use of the names while this was being resolved; they declined to accept," Jensen said.
Another argument Jensen makes to defend the company is that when Delaware North originally signed their contract with the NPS in 1993, they had to pay $61.5 million for all the physical and trademark assets of the previous contractor. Jensen argues that the new contractor's terms should have been the same and that, while the NPS has said that Aramark must buy assets from Delaware North, it has failed to specify which ones.
Jensen also claims that there is a misconception that Delaware North is requesting money from the NPS, rather than from Aramark.
"It's really a shame, it's really horrible, and it's horrible that the names have changed. It's horrible that the public has to go through this, it's horrible that Delaware North is being vilified for their role in this," Jensen said.
He also claims that some of the name changes that took place were deliberately changed to names which were not historically relevant, in order to further stigmatize Delaware North. He notes that the NPS could have changed the name of the iconic camping ground, Curry Village, to its original name, Camp Curry, without infringing on any trademarks. Instead, NPS chose to completely move away from the property's historic roots, calling the camp ground Half Dome Village.
"I think that that is way more a question of PR than it is of principle… [And] it has nothing to do with the issue," Jensen said.
Despite Jensen's claims that this issue is about rightful ownership, the NPS has issued a statement saying that it does not believe that Delaware North's trademarks for historic properties were done with the knowledge of the NPS. The NPS has since petitioned the U.S. Patent Office to revoke many of the trademarks for Yosemite's historic properties.
David Freireich, who works in the Aramark Corporate Communications Office, admits that the company was disappointed that the names had to change, but stresses that the properties will retain their historical status.
"We would have liked for this matter to have been resolved prior to March 1. However, when it became apparent that that was not going to happen, the NPS was left with no choice but to change the names to ensure a smooth transition for visitors," said Freireich in an email interview.
This trademark dispute has caused many people to question how it is possible for a private company to trademark the names of historic sites within National Parks.
Katherine Stevenson, a board member of the Coalition to Protect America's National Parks, a nonprofit advocacy group, also questions the moral legitimacy of trademarking these historic names.
While Stevenson does admit that there are some intellectual property rights that come with the contract that Delaware North signed in 1993, she strongly agrees with the NPS's beliefs that these historic names should never have been allowed to be trademarked.
"[The properties are] national treasures and we believe that as national treasures, those names ought to remain in the public domain. They're national treasures, they're not just ordinary names that could be copyrighted, and they're not someone's logo or something like that; they're the historic names of historic properties within national parks," Stevenson said.
Stevenson explains that she has also spoken to many members of the public who have expressed concern over the name changes.
"We've had a lot of people saying 'we were married there,' or 'we went there as children and we don't want those names changes,' and 'they're important names to us and the Park Service should not have to pay for them,'" Stevenson said.
While Delaware North's lawsuit against the NPS continues and the NPS awaits a response to its petition to revoke the trademarks for these properties, many people will have to continue to adapt to the name changes that have taken place. While Stevenson is hopeful that the original names will return, she sees it as Delaware North's responsibility to allow them to be restored.
"I certainly do hope that they change back, but that will only happen if Delaware North drops its lawsuit or gives up the rights to those names," Stevenson said.
For the time being, it appears that neither Delaware North nor the NPS are backing down on their claims that they are the rightful owners. It remains to be seen which position the court will take and whether the NPS will change the names back.   
Written by: JUNO BHARDWAJ-SHAH