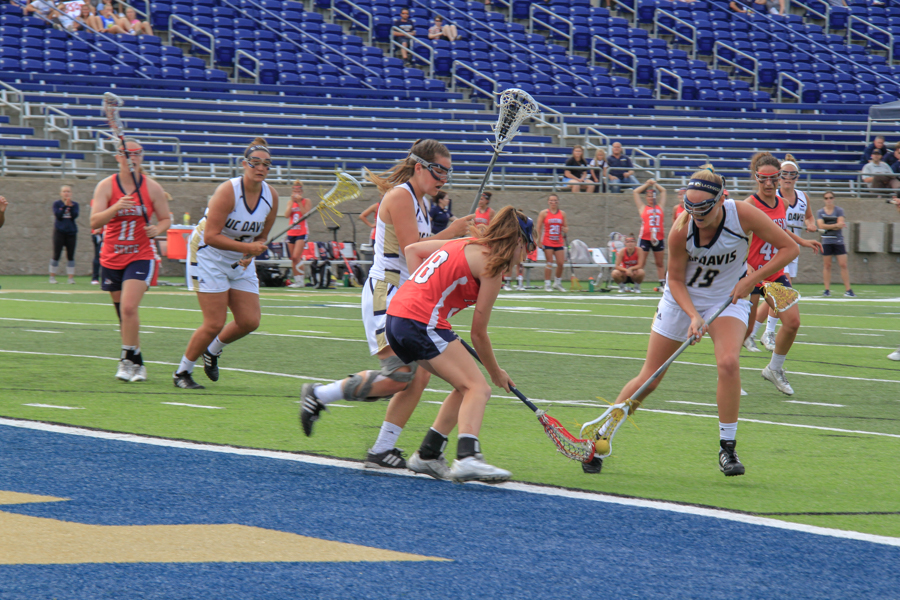 Delich leads team in game and to graduation with 16-6 win
Six is a recurring number in the women's lacrosse world as the Aggies' six seniors controlled the final home game of the season, overworking Fresno State for a 16-6 win and advancing to a 6-6 overall record.
Four of the six players of the night put up a point or more against the Bulldogs. Senior attacker Ellie Delich, a Canadian native and star of the night, led the team in both points and assists, putting up three and 11, respectively. However, the bright light casted by the sky of Aggies was not just from Delich, but from seniors midfielder Courtney Neff and attacker Sam Axenroth, who each put up two points from hat tricks. Axenroth proved to be shooting star in the game and picked up a career high four goals, three of which were scored in a short four minute span in the second half.
Senior midfielders Mary Doyle, Savannah Hadley and Morgan Sissler were also honored on the senior night. Doyle, who put up a point to contribute to the Aggie win while Hadley and Sissler caused a nearly impenetrable black hole on the defensive end, posting a ground ball and causing a turnover, respectively, and holding the Bulldogs to a low score of six.
Bidding adieu to the six seniors, freshman midfielder Shannon Cross and junior attacker Melissa Kellan added two points each to the win and junior attacker Kelly Chuck added one.
While the hot and bright day featured a sky of stars on the field, the Aggies wrap up their home season in the shadow of six silver balloons, each casting the number of a senior, with a 4-3 Mountain Pacific Sports Federation record. The team will conclude their regular season on the road against San Diego State and USC this Friday and Sunday with hopes of securing one of six spots at the Stanford hosted MPSF tournament.
Written by: Veronica Vargo – sports@theaggie.org