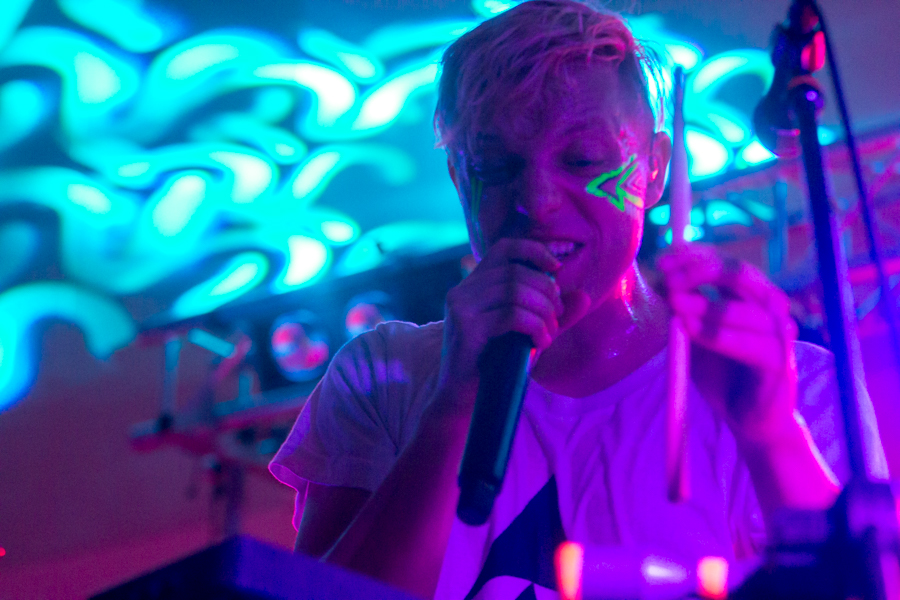 Entertainment Council hosts Robert DeLong in intimate venue
On Tuesday, April 19, UC Davis students enjoyed a performance by Wii controller-wielding one-man band Robert DeLong. ASUCD's Entertainment Council (EC) sponsored the show, which was held in the Activities and Recreation Center (ARC) Ballroom.
EC pitched the event from their Facebook page, proclaiming that they booked a Coachella artist. Students, as predicted, were excited and pleased when it was announced that the performer would be Robert DeLong, however, some were disappointed, comparing this year's performer with last year's appearance by electronic dance music (EDM) sensation Flume. Flume's concert was held in the ARC Pavilion, whereas the Robert DeLong set took place in the ARC ballroom — a much smaller venue — and still did not sell out. While DeLong did not generate the hype from last year, the smaller venue made the concert more intimate, allowing fans to get an up-close and personal experience.
One of Robert DeLong's pre-show traditions is providing free face-painting for audience members. Students arrived early to the venue to have their faces painted in brightly-colored geometric patterns. This tradition is offered at all his performances, including those at major music festivals like Outside Lands and Coachella.
DeLong took the stage at 9:20 p.m., sporting blue face paint in a design similar to the ones on his fans' faces. The first 10 minutes of his set featured an intense, future bass sound, leaving many students looking confused as to how to dance along. DeLong then dropped a deep bassline, and the crowd immediately started moving. Sensing the excitement of the crowd, he yelled, "Davis, I have one question for you: can you hear me?" letting the end of his sentence reverberate through
the speakers.
DeLong played "Acid Rain," one of his first big hits, fairly early in his set. The crowd was visibly energized from hearing a more familiar song, and loosened up as the performance continued. Robert DeLong ran across the stage, intermittently singing, playing guitar and beating his drum set. His signature brand of electronic-influenced rock made for an entertaining and lively set, but left some students confused by how to move to his beats.
"Long Way Down" and "Global Concepts" both received huge positive reactions from the crowd. "Long Way Down," perhaps DeLong's biggest hit from his sophomore album In the Cards, has heavy trance influences and chill vibes that are reminiscent of tropical house. When DeLong dropped these two tracks, students pulled out their phones and sang along; many students had purchased their tickets to the event because of these songs.
Some performers let their music speak for itself. Robert DeLong is not one of these performers. His music is inseparable from his persona, whether it's the way he uses video game remotes to make beats or runs around the stage while singing his larger-than-life songs. Although the crowd may have been less than sure about how to respond to his dynamic presence, one thing is for sure — they enjoyed it.
Written by: Sara Williams – arts@theaggie.org