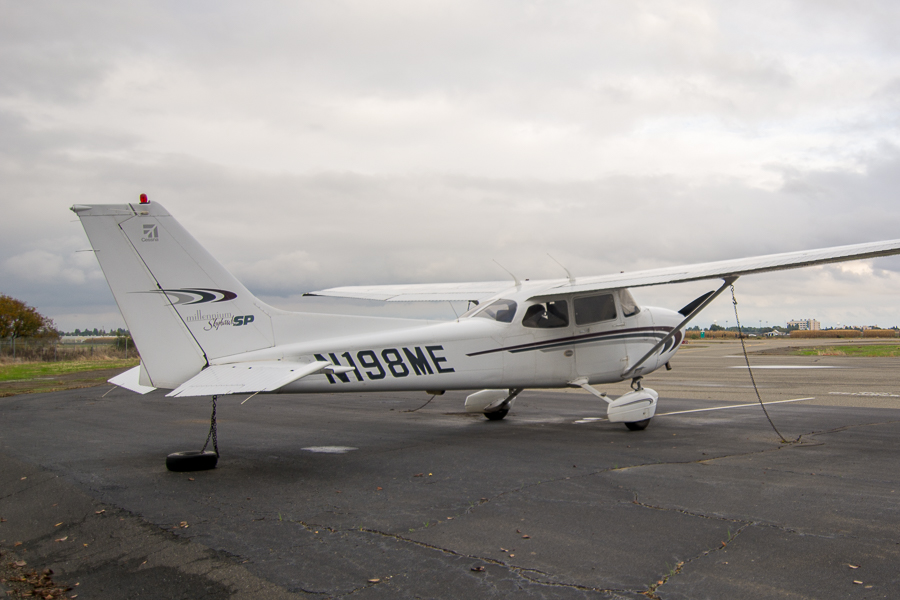 University Airport of UC Davis provides aircraft services, flight training for community
An airplane takes off and flies miles above Davis. The student operating the plane looks out the window at an aerial view of campus, identifying the oval shape of the Aggie Stadium, the roof of the Mondavi Center and the painted bike circle logos. For students who want to experience flying an airplane, the University Airport of UC Davis is the ideal destination.
Managed by UC Davis Transportation and Parking Services (TAPS), the University Airport is a public general aviation airport located on the west side of Davis. The airport was first founded by C. Harold Hopkins in 1946 and officially became part of UC Davis in 1950. It provides various aviation services, from aircraft storage to fueling.
Aircrafts that do not exceed 12,500 pounds are allowed to operate at the airport. The airport hosts approximately 35,000 take-offs and landings each year, and stores about 60 based aircrafts. For storage, the airport offers rentals for hangars and tie-down spaces.
Moreover, the airport is home to the Davis Air Repair and the Cal Aggie Flying Farmers, which offer additional services to the aviation community. The Davis Air Repair provides repair and maintenance services for aircraft, while the Cal Aggie Flying Farmers offers flight instruction to anyone who is interested in learning how to fly an airplane or even obtaining a pilot's license.
"[The Cal Aggie Flying Farmers] is a flying club," said Cliff Contreras, director of TAPS. "It is a host of pilots that provide instructions [to the public] on how to fly, whether you're a student, staff, faculty or someone within the community."
There is no set amount of lessons that a student is required to take. Students can register for as many classes as they need to develop the skills necessary to obtain their pilot's licenses. Students who only wish to fly once may ask for a demo flight, in which they get 30 minutes in the air. Flight instruction at the University Airport consists of both classroom training and air training.
"Each time you go there, you have a brief demo with a little toy plane, and the instructor will tell you […] how the air flows and what you can do with the plane," said David Fung, a fourth-year applied statistics major and former student of the flight school. "Then you go into lesson and you practice those skills. It's a mixture of both class and going in the air — and then coming back down and having a debrief of what you did right and what you did wrong."
In addition to offering flight training, the Cal Aggie Flying Farmers also provides aircraft rentals for licensed pilots.
There are only about 20 airports nationwide that are university-affiliated. UC Davis is the only UC campus to own an airport.
"The fact that [the airport is] owned by a public university [is] almost unprecedented," Fung said. "Also, the flight school [is] non-profit, so if you were to get a training course for a [pilot] license, this would probably be the cheapest place to get your flight lessons."
Students believe that the University Airport and its training classes are a great way for those with an interest in aviation to gain hands-on experience with aircraft flying.
"I believe there's a liability in the [flying] classes, but I think that it's a good idea because it opens opportunities for people," said Kasy Tu, a third-year managerial economics major. "I think it just depends on the regulations — who can be teaching the classes, who can fly and when — but overall I think it's a good idea."
With the airport's many resources in aviation training, Contreras hopes to establish a stronger connection between the airport's programs and UC Davis academics.
"We think it's quite the jewel within the university resources to have our own airport," Contreras said. "We are starting to build more interest from the academic community, and seeing the airport as something that can help the university serve its mission. If we can tie ourselves more closely to academics, then that's our goal."
More information about the airport and its services can be found on TAPS' official website.
Written by: Jennie Chang — features@theaggie.org