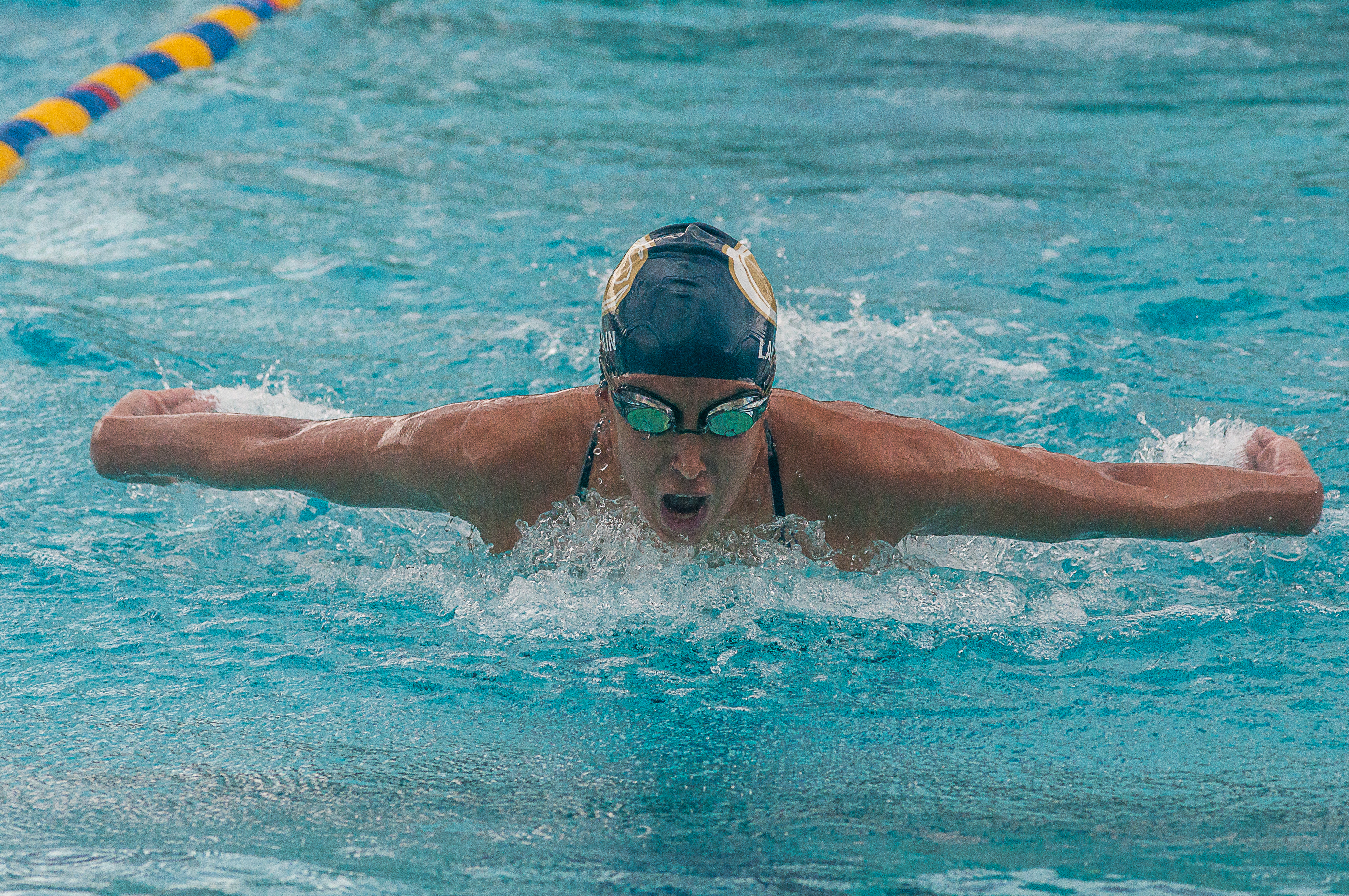 Seven of team's outgoing seniors close out regular season with one last win
When the University of the Pacific came to town on Saturday, Feb. 4 under a gray, cloudy sky, it was the last time that many members of UC Davis swimming and diving would compete in front of their home crowd.
The duel, which was the final regular season match of the season, marked an emotional goodbye for all seven of the team's outgoing seniors — Kirsten Brand, Marissa Brown, Hilvy Cheung, Marrisa LaFreniere, Kaitlin Leung, Elise Roberts and Serena Yee. All the seniors were honored at the first break for their contributions to the program during their time with the swim team.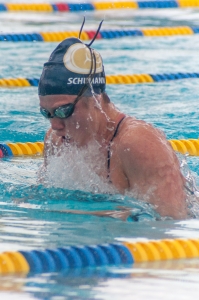 "It's just a very talented group of young women who are just starting off now," said head coach Barbara Jahn. "We're sorry to see them go. We're always sorry to see seniors leave."
For outgoing redshirt senior Marissa Brown, it will be a time that she looks back upon fondly.
"I've made a lot of really good friends," Brown said. "People who have been gone for a few years that I still keep in touch with. The coaches are amazing, and I think I've grown a lot as a person here."
However, with all of the festivities and extracurricular activities surrounding the event, there was still a competition to be played, and the team showed up en route to its convincing 182-118 victory.
To non-seniors, such as sophomore Eva Chung, it was important to send her teammates off on a positive note.
"It definitely helps with the atmosphere," Chung said. "A bunch of us came here early to help with the seniors, and we got really excited."
Though Pacific held an early lead, the Aggies soon took control and built upon the lead as the competition moved along, placing first in 10 of 15 possible heats, including two first place finishes by diver Serena Yee, one of which was a school record of 301.05 in the 3-meter.
Brown (500 freestyle, 5:04.14, and 1,000 freestyle, 10:21.38), Chung (200 butterfly, 2:06.24, and 200 individual medley, 2:06.37) and sophomore Kristin Schumann (200 breaststroke, 2:19.11, and 100 breastroke, 1:05.08) all showed up strong on the day, each bringing their team two first-place finishes. Iris Brand (200 backstroke, 2:05.29), and Solie Laughlin (100 backstroke, 57.31) also brought in first place finishes.
For Chung's first-place finish in the 200-yard individual medley, in which she inched out her opponent by a mere .07 seconds, Chung knew that she was going to have to finish strong to beat Pacific's Whitney Jorgensen. In close races like that, she looks back on her training.
"It's almost there," Chung said. "I just race to the finish. I know we all worked really hard. We push each other every day, and it's not any different than pushing each other in practice. Someone's still next to me."
Jahn was proud of her team, which now has its eyes set on Mountain Pacific Sports Federation title. The championships will be held from Feb. 15 to 18 in Pasadena, Calif, but she knows that repeating last year's title run will not be an easy task.
"We're not a shoo-in, even though we are the defending champions," Jahn said. "There are three other teams that have just as much chance to take the title from us."
Written by Bradley Geiser — sports@theaggie.org