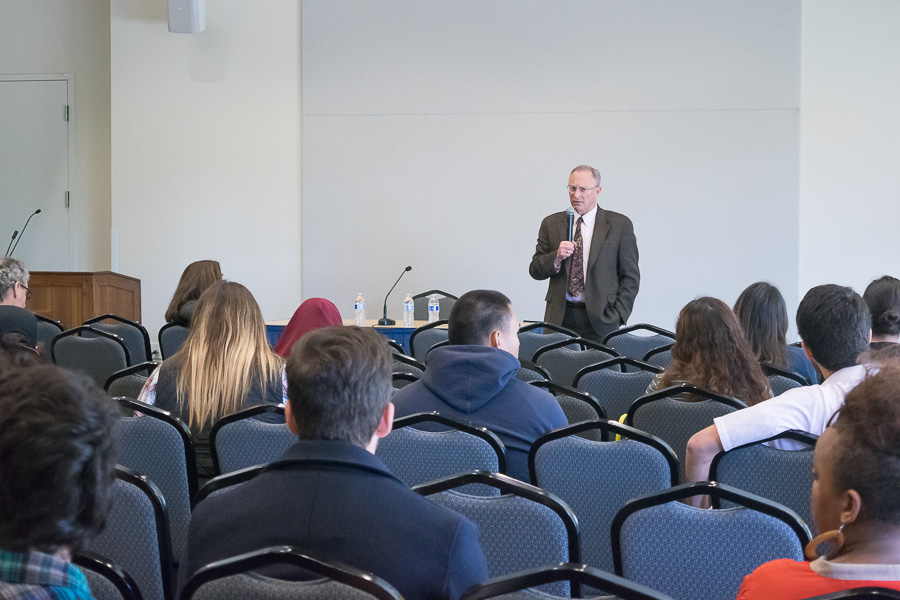 Hexter accommodates questions, concerns from students
The student town hall hosted on Feb. 14 from 12 to 1 p.m. in the Student Community Center provided a public forum and an open dialogue with Interim Chancellor Ralph J. Hexter to discuss student concerns and questions. Hexter was joined by vice chancellors, faculty, administration members — to whom he deferred some of the more specific questions — and students.
"This event is an opportunity for the students to hear from the chancellor, hear our vision, our goal as the institution and how we're moving forward with support services for our students but also to talk about campus climate concerns and opportunities to hear back from the students about campus climate," said Rahim Reed, the associate executive vice chancellor of Campus for Community Relations. "We want to engage in a dialogue, a sharing of information, and continue moving forward together."
During the town hall, students brought up concerns including student housing, increased advocacy for students with disabilities and sexual assault prevention.
Many questions from students were also focused on the recent Milo Yiannopoulos event cancellation and protest. Hexter said that he was ashamed by the community and student's protest of Yiannopoulos' talk.
"I was very disappointed he wasn't able to speak," Hexter said. "We don't have to agree with things, but in preventing a speech from taking place, I personally think what happened was a dark mark on our campus, and I've heard that from a lot of people."
Hexter opened up to the audience about his personal life and his own relationship to the current debate with regard to free speech and sexuality.
"Just so everyone knows, I am a gay man," Hexter said. "It has never occurred to me to stop the Westboro Baptist Church from speaking on our campus, even though they are quite homophobic and aggressive. I would never inhibit their ability to come onto campus, but it gives me great pride that we have students who would protest them."
Hexter repeatedly defended Yiannopoulos' right to speak on campus and explained how this fit into his educational philosophy.
"It is not the role of the University to prohibit speech, but rather to explain and study why it's contrary to what we believe," Hexter said. "The season of Milo's tour has stressed us all, but I made it very clear that the group who invited Milo had the right to do so. We do not restrain speech in advance, and we accommodate the constitutional right of free speech, even if Milo has said elsewhere and in his published writing things that we find obnoxious and even quite hateful."
Multiple questions centered around the boundary between free speech and discrimination, President Donald Trump's administration and the recent executive order restricting immigration. Many students wanted to know what types of speech would be protected by the University, with one student questioning if neo-Nazis would be allowed on campus if they were nonviolent. Students cited how Yiannopoulos had publically outed transgender students, undocumented immigrants and others.
In the packed room, various students were emotionally charged, mentioning how they were hurt by Hexter's disappointment in the Yiannopoulos protests and allowing Yiannopoulos to come onto campus in the first place.
Hexter continued his educationally-contexted philosophy on free speech and democracy.
"Our university's Principles of Community aren't enforced, they're aspirational — I know that some people will take that as a very weak stance," Hexter said. "When people say to prevent, I'm going to take the position that we are not here to prevent. I am here to educate through Principles of Community. I would be certainly willing to meet with students."
Connor Gorman, a physics graduate student and a UC Student Workers union organizer, said that Hexter has, in the past, proved an inability to discuss prevalent student issues on students' terms, rather than just his own.
"Hexter claimed at this town hall that he's open to discussing things with students, but when students emailed him multiple times to try to get a meeting about Milo, he didn't respond," Gorman said. "However, he was tweeting throughout that whole time, so it's not like he was disengaged from things, he just didn't respond to the emails to meet with him. [The administration] are at the front of the room here, in a tower, with a speaking ability and can leave whenever they want. We tried the official channels and [they] unsurprisingly, didn't work, so here we are."
In a response to a statement saying that people have been shot, bullied and outed over Yiannopoulos' words and that self-defense is needed to prevent these incidents, Hexter replied firmly that he was committed to allowing all nonviolent guests on campus under free speech.
"I think the fair thing to say is that we have very different views," Hexter said, "I only condemned the point at which various protesters acted physically. I think we'll have to agree to disagree on a fundamental issue."
During the student's response to Hexter's stance, Hexter replied, "We disagree. Thank you," wrapping up the hourlong town hall.
Written by: Aaron Liss  — campus@theaggie.org