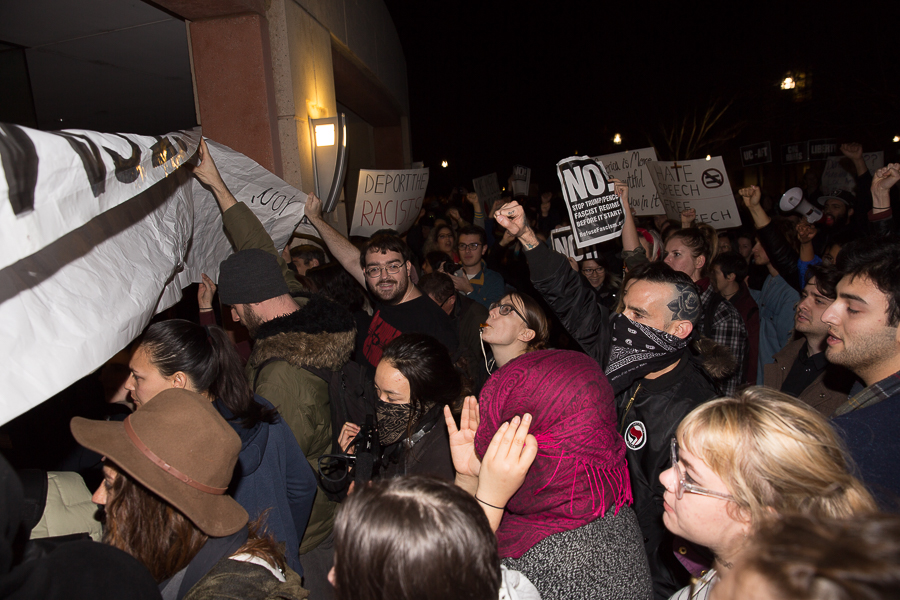 Protests against far-right conservative Milo Yiannopoulos' visit to UC Davis this evening have led to its cancellation. The event, which was to be held at 7:30 p.m. in the Sciences Lecture Hall, drew hundreds of protesters. Before 7 p.m., it was announced that the event had been cancelled.
"My event at UC Davis tonight has been cancelled after violence from left-wing protesters," read a post on Yiannopoulos' Facebook page. "There are reports of hammers, smashed windows and barricades being torn away. The campus police can't guarantee anyone's safety so I'm not being allowed anywhere near the building. Stay safe, everyone."
However, according to a statement released by Interim Chancellor Ralph J. Hexter, there was no property damage as a result of the protest.
"Despite some reports, there were no broken windows or other property damage during the protest," read the statement. "Earlier in the evening, one person was arrested inside the venue. No further arrests were made."
In the statement, Hexter said he wished that the community had respected everyone's right to free speech.
"I am deeply disappointed with the events of this evening," Hexter said. "Our community is founded on principles of respect for all views, even those that we personally find repellent. As I have stated repeatedly, a university is at its best when it listens to and critically engages opposing views, especially ones that many of us find upsetting or even offensive."
Martin Shkreli, who was going to be featured at the event, took selfies with students outside of the venue despite its cancellation.
"To be honest, I think this is embarrassing for the school," Shkreli said. "I was going to have a pro-feminism discussion, believe it or not. […] I was going to rip on [Yiannopoulos] because he doesn't know anything about feminism."
More information to come.
Written by: Alyssa Vandenberg  — campus@theaggie.org