The California Aggie's first diversity report illustrates newsroom demographics as of Spring Quarter 2020 and is an effort to increase transparency.
All text written by Janelle Marie Salanga, Kenton Goldsby and Hannan Waliullah
Introduction
The California Aggie newsroom is filled with student storytellers: journalists, editors, photographers, designers and layout artists. We strive to present the truth with nuance, keeping students informed while listening to the campus community.

This is especially important right now: Though systemic racism has been present since America was founded, it has re-entered mainstream conversation with the police killings of George Floyd, Breonna Taylor, Tony McDade and other Black and Indigenous people of color. News organizations have recently come under scrutiny for how they issue story assignments — The Pittsburgh Post-Gazette, for instance, barred a Black reporter from covering protests over a "biased" tweet. Such incidents have forced media institutions, from Bon Appétit to The New York Times, to grapple with their histories of unequal and tokenizing treatment of people of color.

Having reporters who personally face marginalization is important because they offer the empathy to tell complex narratives of underreported communities and push others to improve their own storytelling. Racism, homophobia and sexism are present in our world, and journalists have the obligation to tell the stories of marginalized and underserved groups with nuance and respect. Diverse newsrooms are the best equipped to do this.

The value of diversity motivated us to produce this report, which illustrates our newsroom demographics. Acknowledging the different communities that staffers come from means we can better address blind spots in our reporting. This diversity report is another effort to increase accountability and transparency with the people who and communities on which we regularly report.

---
"The work that we do means nothing if we are not building relationships with our community. Our workplace should look like our community. If we don't, it means that we are missing out on essential perspectives and are not able to cover our community fairly and accurately. The more we know, the more people we know, the more attuned we are to our community's needs, the better journalists we will be."
— Survey Respondent
---
Methodology
The survey that we sent out to Aggie staffers was voluntary and anonymized. It was distributed through the newsroom Slack channel multiple times and to individual staffers' emails. There were 97 staff members as of Spring Quarter 2020, of which 50 responded. None of the questions were mandatory, so not all respondents answered each question.
---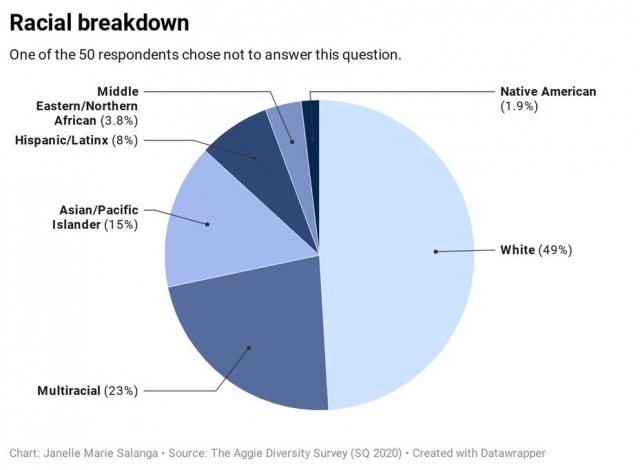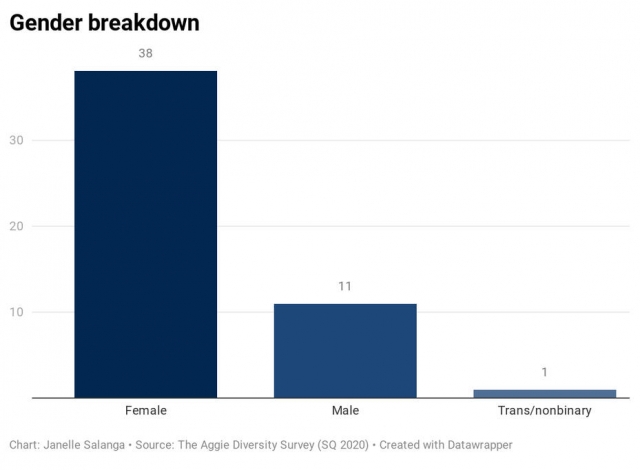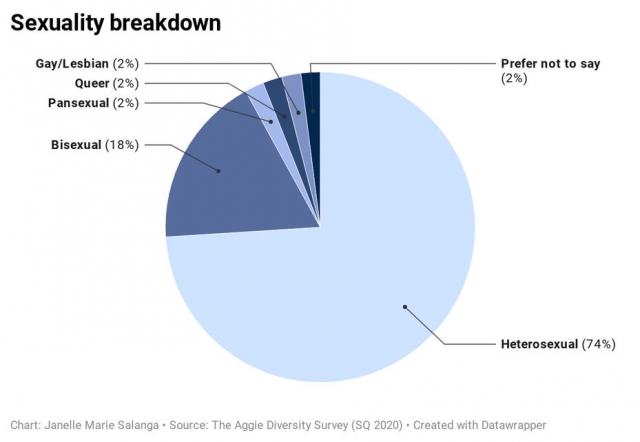 ---
"[Diversity in journalism] means not having one voice determine coverage, angle, intent and perspective of news. It matters because this paints a more accurate image of the world around us and informs people in a different way that is more representative and equal than seeing news and the world in one way and through one lens."
— Survey respondent

---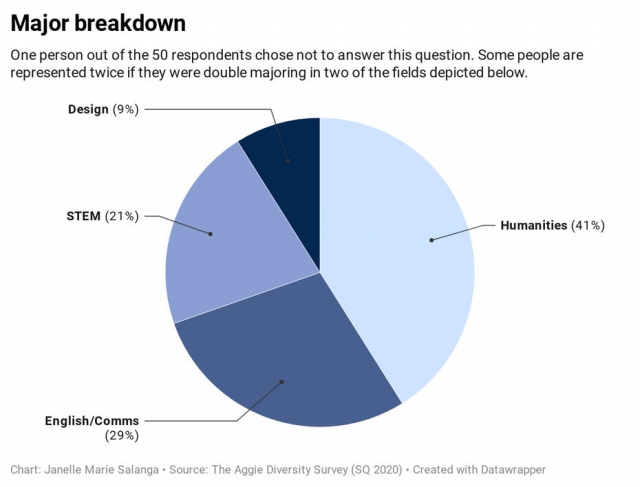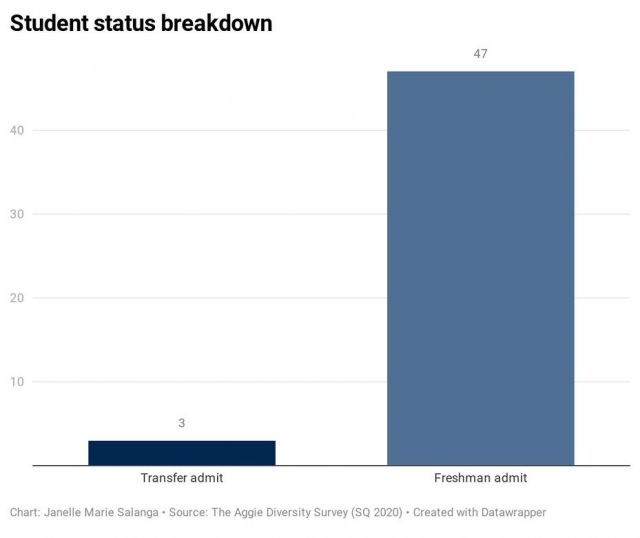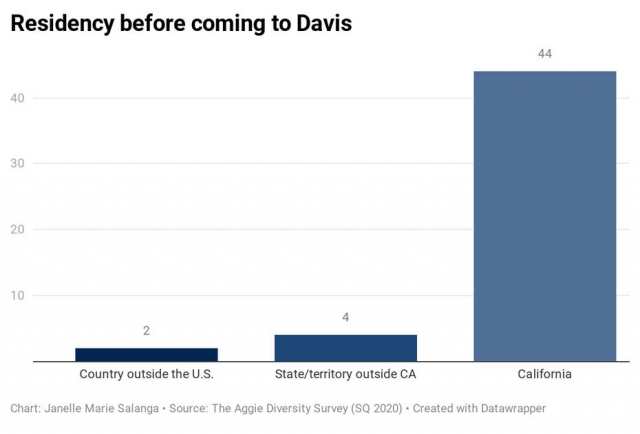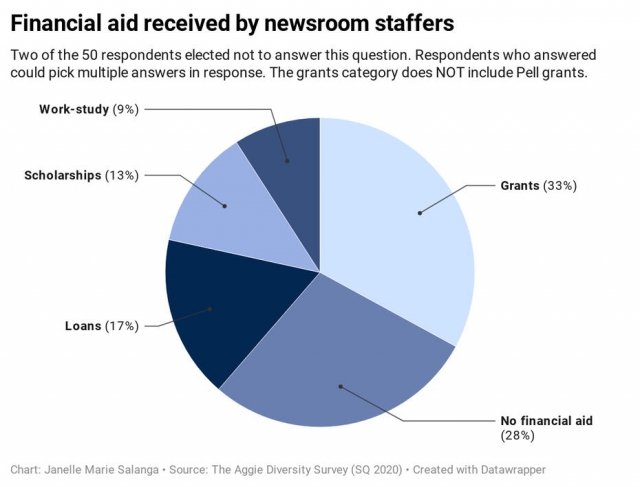 ---
"There will always be one person who is dying for their opinion to be heard, for someone who thinks like them to speak out, and diversity in journalism rewards that."
— Survey respondent

---
Analysis
At least one staffer from each department of The Aggie, excluding distribution/business and advertisement, responded to the survey.
7 respondents were from the Campus News desk.
6 respondents were from the Arts & Culture desk.
5 respondents were from the City News desk.
5 respondents were from the Opinion desk.
4 respondents were from the Features desk.
4 respondents were from the Photo desk.
4 respondents were from the Copy desk.
3 respondents were from the Sports desk.
3 respondents were from the Design desk.
2 respondents were from the Science & Technology desk.
2 respondents were from the EIC/Managing Editor.
1 respondent was from the New Media team.

The last question asked was "What does diversity in journalism mean to you?" The overwhelming majority of responses said that diversity in the newsroom, sourcing and story selection were important for representing the breadth of campus community and helping people better understand how outside events affected their lives. Respondents also voiced that newsroom diversity makes reporting less biased and allows for reporters to consider race, gender, socioeconomic status and sexuality as context for stories. Another theme present in the responses was that diversity in a newsroom helps the rest of the newsroom be more consistently mindful about whose stories are being told and what kinds of narratives are being centered.

The majority of the staff who responded are white, although people of other races and ethnicities could be present in our newsroom — just not in this data.

Even though this means that the data doesn't completely represent our staff's demographics, the breakdown of the responses that did exist tells us that we need to be more proactive to ensure we cultivate and support a diverse staff. This knowledge means we can now move forward with greater awareness and intention. While journalists are expected to hold institutions and communities accountable, we recognize that our readers need to hold us accountable, too.