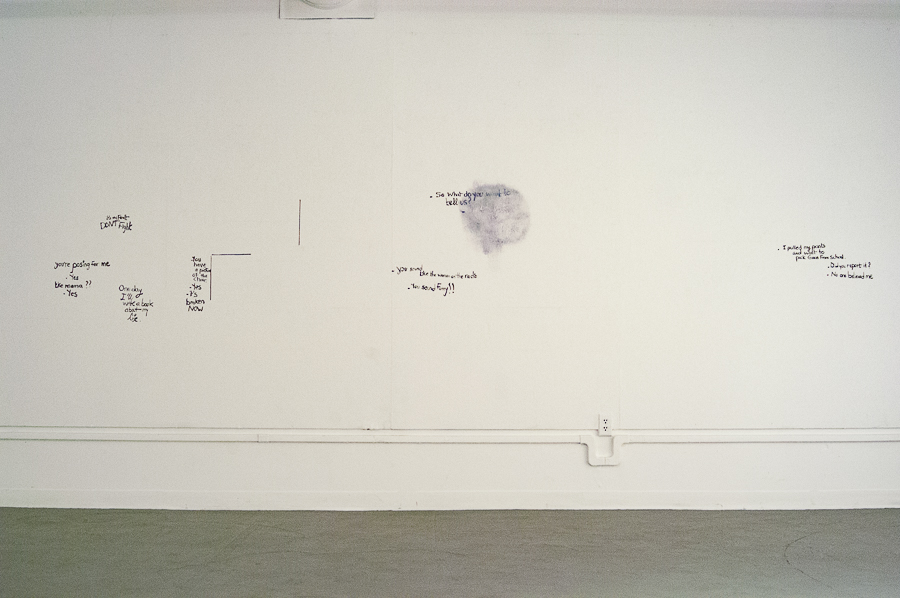 Artists use work to confront harsh obstacles in lives
We all possess intimate coping mechanisms to push through personal hardships. Whether it is a family strain or another gut-wrenching worry, it's easier to escape those negative emotions. Some face them head-on and use these obstacles to create something beautiful. Each of the five participating artists in the upcoming Basement Gallery exhibit, Remedy, have experienced such adversity — and art became their ultimate source of self-empowerment.
Sabrina Castaneda, a fourth-year animal science and studio art double major, used mixed-media materials such as acrylics, oils, paper, charcoal, sand, plants, wood and yarn to convey her message. She believes her wide range of mediums will best explain the emotions she's felt through her personal journey.
"My piece is inspired by the many years searching for my absent father. During this time, I have accumulated many pieces of information about him and our culture, some of which will be evident in this particular piece itself," Castaneda said. "This piece is the most recent component of a series I have been working on for nearly a year now. It has really helped me cope with the many intense, mixed emotions that I have experienced on this journey searching for him and has helped me learn more about myself and my roots in a way as well."
Wendy Liu, a fourth-year design and studio art double major, used silkscreen, charcoal, sumi ink and graphite as her mediums to make sense of her grandmother's recent health situation and its effect on people close to her, including herself.
"Honestly, over the summer I made a pretty big and immersive piece about my grandmother, but I was given the time and space to do it in the art building because it was over summer session. Now that school has started, classes are filling up rooms and other resources at the art building," Liu said. "I've been itching to work on this current piece right now, which is an expansion of this other piece I did over the summer. I just needed the space to install it, and I realized that the Basement Gallery wasn't being used at the moment. After I was able to get permission, my vision for a show was becoming closer to a reality."
This exhibit was made possible through strong collaborative effort. Friends first and foremost, the artists gathered their experiences, passion and creativity to kickstart what would become the exhibit. Each masterpiece is inspired by an incident or emotion that is relatable to everyone in some way or another.
"I suspect that our exhibit and its topics will be very relatable to the public because our experiences, while unique and to each our own, are still universal, and I believe many can connect with our individual topics, or concept for Remedy as a whole, on some level," Castaneda said.
The Basement Gallery creates opportunities for budding artists like Castaneda and Liu to showcase their work. Although it's an unofficial gallery, the space allows students to gain the experience of organizing a real gallery and for artists to exhibit their work.
Helena Zittel, a fourth-year English and art history double major and the public relations and marketing director of the Basement Gallery, has learned the steps required to transform a space into an exhibit.
"The gallery is definitely an opportunity for all artists, not just for art studio majors. Even though it's not really an official gallery space, it does give students this opportunity for students to just have a show, almost at a beginner's level. As the basement gallery team, we're learning how to run a gallery and how to coordinate events and prepare a space for the artists," Zittel said. "In the same way, artists are able to gain experience in having an art show and working with a team to get an event going. We also get a lot more freedom because we're not selling art or getting paid. It's lower stakes because it's solely for the experience."
Prior to Remedy, Liu didn't realize how complex the exhibiting process was and now anticipates the final results of all her hard work.
"I've learned a lot. There's many small factors you don't think about when going to an art show: things can range from the limited dimensions our pieces can be to what kind of food should we have at the reception," Liu said. "I'm honestly most looking forward to the reception day […] I feel like this show in and of itself is a work of art I'm working on right now, and I can't wait until I get the finishing touches done and share it with the world."
The Basement Gallery directing team is continuing to work on making it an open space for the entire community.
"We've been trying to get student art on the walls and make shows that students of all different types of disciplines and majors would want to go see. There's still a lot of growth we're trying achieve to make it even more of a place that's on people's radar," Zittel said. "Actually, before the quarter ends, I'm hoping to organize a kind of forum meeting that anybody can come to and get suggestions for events people would want and things that they'd want to see there for free."
The upcoming exhibit is a particularly inclusive space because the artists reveal deeply personal experiences in their work and simultaneously share their coping mechanisms with an audience that may be enduring similar struggles.
"There's a kind of vulnerability that we're all putting out on display in this show," Liu said. "Each of our topics are things that are extremely personal and something we've pondered and struggled with for a while. There's a kind of self-discovery and self-acceptance that we are creating through our pieces. I think we want the audience to get personal with us, and hopefully in their own way and own problems [they] can find a sense of 'Remedy."
Written by: Becky Lee — arts@theaggie.org